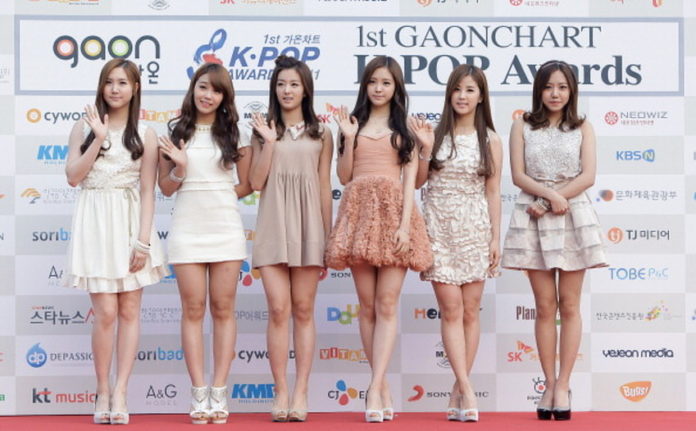 Welcome to 2019! It's going to be another year packed full of releases. In the first full week of the year, we don't start slow, with Apink, iKON and WJSN all releasing music. Let's preview the upcoming week in K-pop.
A Preview of This Week's K-Pop Releases
1/7/19: Apink – PERCENT
Six months after the release of mini-album ONE & SIX and title track "I'm so sick," girl group Apink is returning with another mini-album titled PERCENT. The six-track project will include title track "%%," which takes on a similar style to its predecessor. The last release won the group five music show awards, which didn't surpass their song "Luv," which has 13 wins but set the bar high for this release.
The first teaser for this video (see link below) looks like it's out of a horror movie. It didn't feel scary per se, but it felt discomforting. The second one wasn't as mysterious, as we got to hear some of the beat and only a tad bit of singing. It looks like the group will be very involved with the colour pink in this video, as nearly every setting is surrounded in the colour. The other songs in the mini-album sound like they have potential to be pretty good. Putting out a medley of an EP or album before putting it out is something I wish everyone did.
| | |
| --- | --- |
| 12/25/18 | |
| 12/26/18 | |
| 12/27/18 | |
| 12/28/18 | |
| 12/29/18 | |
| 12/30/18 | |
| 12/31/18 | |
| 1/1/19 | |
| 1/2/19 | |
| 1/3/19 | |
| 1/6/19 | |
1/7/19: iKON – New Kids Repackage
Starting and finishing their New Kids project in 2018, iKON issues a repackage to start the new year. The release is loaded with music, having 23 tracks spread across two discs. The repackage comes with new title track "I'M OK." The teaser for the video features what could be the intro part of the song and a part of the music video, including a car exploding.
The group's biggest two songs in 2018, "Love Scenario" and "Goodbye Road," are two hard acts to follow. The two songs combined gave the group 19 music show wins in 2018. Recently at the Melon Music Awards, "Love Scenario" was awarded song of the year. Both of the songs are included in the track listing for this repackage.
What could be the final chapter in the New Kids saga has a different sound when compared to the three songs before. It doesn't have the joy that "Love Scenario" has, it doesn't have the upbeat intenseness of "Killing Me," and doesn't have the ballad sound of "Goodbye Road."
| | |
| --- | --- |
| 12/26/18 | |
| 12/27/18 | |
| 1/1/19 | |
| 1/2/19 | |
| 1/3/19 | |
| 1/4/19 | |
| 1/5/19 | |
| 1/6/19 | |
1/8/19: WJSN – WJ STAY?
WJSN is back with a mini-album called WJ STAY? The music video to be released will be called "La La Love." It seems to go with a circus concept, with some scenes looking like a performance stage or a circus tent. You also see bird cages, playing cards, a horse, and much more. While their last song "Save Me, Save You" had colourful outdoor visuals, this one seems darker. Not in a sad or evil way, but more in a "party at night" sort of way. There are certain samples that give off a vibe that the beat took inspiration from a club sort of sound, but who knows. It's just a teaser, so you can only take so much from it.
| | |
| --- | --- |
| 12/23/18 | |
| 12/25/18 | |
| 12/26/18 | |
| 12/27/18 | |
| 12/28/18 | |
| 12/29/18 | |
| 12/30/18 | |
| 12/31/18 | |
| 1/4/19 | |
| 1/6/19 | |
Japanese Releases from Red Velvet & Oh My Girl
In Japan, the two big releases this week are from Red Velvet and Oh My Girl. Red Velvet already put out their music video for "SAPPY," but the official release isn't until this week. As for Oh My Girl, they will be putting out their debut Japanese song called "Remember Me." Their song has been out for an even longer time but doesn't actually come out until the 9th.
Next week there will be a lot to discuss, as ASTRO and GFriend both put out full length albums! Stay tuned to LWOS.Life: Music to stay up to date with these releases!
Main Image Credit: