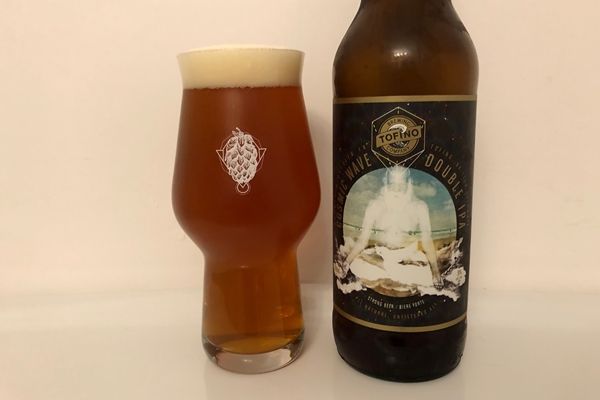 Tofino Brewing is one of the breweries on the island that can claim tenure. What (sometimes) comes with tenure is good beer, and this is often the case with Tofino. Cosmic Wave is a Double IPA that the brewery has been making regularly, so B.C. Beer Reviews is here to examine if time and tenure equate to a good beer.
B.C. Beer Reviews: Tofino Brewing – Cosmic Wave Double IPA
Colour
This beer pours a clear golden colour that is almost dark enough to be considered copper in hue. In the glass, it gets a bit darker and leans more towards the copper. It retains its clarity throughout.
Nose/Aroma
There is a noticeable dank aromatic to this beer that you would expect from the style. It is not at all overpowering like it can be with many Double IPAs, but it is undeniably noticeable throughout.
There is also a strong tropical fruit aromatic at play here. Mango comes to mind when you smell this deliciously dank brew. It gives the strong dank aromatic a bit of balance in this beer.
Tasting Notes
The mango note follows through fantastically. You get an immediate and strong mango taste to this beer that adds a wonderful note of tropical citrus fruit.
The dank aromatics also follow through. While it starts off fruity and tropical, it finishes with a dank and resinous characteristic that leaves the hophead in you wanting more.
There is a noticeable pine note throughout, but it is very much a role player and does not overpower the other notes in this brew.
Other Notes
The label from Tofino Brewing is spot on with the name of Cosmic Wave. There is a ghost-like man meditating in front of the ocean and surrounded by stars. Very nice branding overall.
There are thick rings of lacing to mark where you finished each sip of this beer. They do not coat the glass, but rather the head of the beer leaves behind a ring each time.
The head this beer pours is quite impressive. The retention of that head is equally as impressive.
Rundown
This is a fantastically tropical and dank Double IPA that will quench the thirst of any hophead out there. It has strong notes of mango, pine and a dank characteristic you expect from the style. Overall, this is a very tasty beer.
Want to see a beer featured in B.C. Beer Reviews? Comment below with your suggestion.
And if you want to see all of the photos featured in these articles, and other awesome beer pictures, you can do so by following me on Instagram: nhendy5. You can also see much more concise versions of these reviews by adding me on Untappd: RedArmyNic.
Main photo by Nic Hendrickson, Lastword Inc., all rights reserved