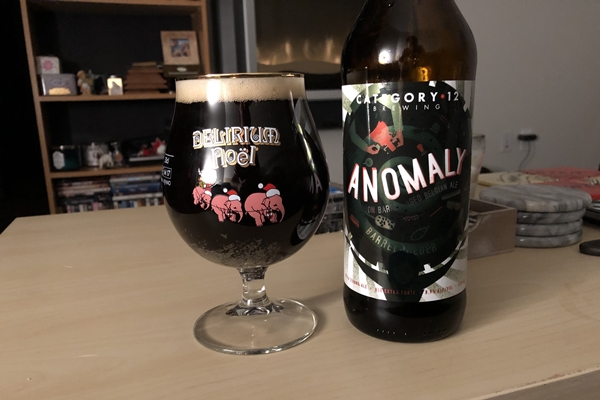 Category 12 Brewing has made a reputation for themselves as a very science-forward brewery. This is something very few non-production breweries can lay claim to. And it is because of this that they consistently churn out solid beers. B.C. Beer Reviews is here today to take a look at Anomaly Barrelholder, their barrel-aged Belgian Golden Strong.
B.C. Beer Reviews: Category 12 Brewing – Anomaly Barrelholder
Colour
This beer pours a very enticing dark brown with a slightly ruby tint from the bottle. In the glass, this beer is a deep and opaque brown. When held to the light it starts to show off the aforementioned ruby colour.
Nose/Aroma
You are hit by a one-two combination of deep caramel and bread crust notes and a spicy characteristic that sings of a beautiful phenolic profile. And while these hit you right off the bat, they do not overtake the other nights that shine through.
There are two sweet aromatics at play here. The first is a noticeably sweet bourbon character. The second is that of dark stone fruit, best categorized as plum. These notes help to balance the spicy phenolics you get immediately.
Tasting Notes
This beer is beautiful in its complexity, but does not hit you over the head with any one note it gives you. It is almost like having a touch of everything, all in harmonious balance with each other.
There is the touch of spicy phenolics and a dark fruit character that could either be from the use of Special B (a specialty malt that can impart notes of raisin or fig), or it is a nice ester profile on your palate. Regardless of where it comes from, it is extremely pleasant.
The other notes you are presented with are the sweetness of bourbon and a light touch of vanilla, almost certainly imparted by the barrel used for this beer.
Other Notes
As always, Category 12 has a mad scientist vibe for their label. It is eye-catching without being abrasive. Very nicely done here.
This beer initially pours a thick head that could best be described as being off-white. The retention is below average, but the barrel aging process could have had a negative effect on this.
Rundown
This beer is beautifully, to put it simply. The nose is a complex and layered blend of spicy phenols, bourbon, dark stone fruit and caramel. You are then greeted with a smooth and medium-high bodied brew that gives you phenols, dark stone fruit, bourbon and vanilla all in harmony. If you see this, buy it.
Want to see a beer featured in B.C. Beer Reviews? Comment below with your suggestion.
And if you want to see all of the photos featured in these articles, and other awesome beer pictures, you can do so by following me on Instagram: nhendy5. You can also see much more concise versions of these reviews by adding me on Untappd: RedArmyNic.
Main photo by Nic Hendrickson, Lastword Inc., all rights reserved