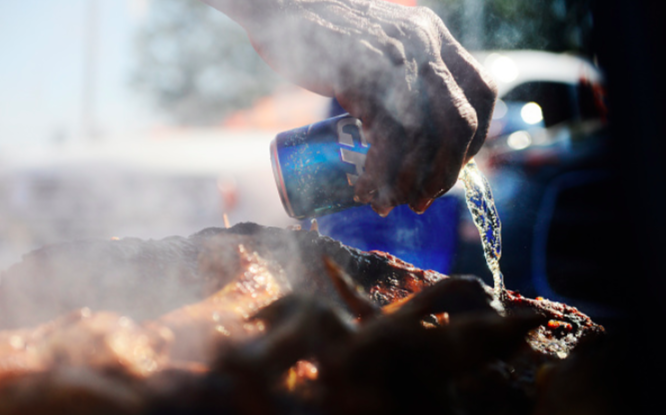 The NFL Super Bowl is set for February 3rd in Atlanta. The two teams playing for the world's most famous sports trophy are the New England Patriots and the Los Angeles Rams and it's time to finalize your Super Bowl tailgate party. All season long, our game day menus have provided you with culinary inspiration as you hosted your tailgate parties. Whether your team made it to the Super Bowl or not, you still need to game plan in order to make Super Sunday a memorable day for your guests.
Game Day Super Bowl Party Plan
Today we're going to break it down into football terminology to keep with the theme of the day. We're going from pre-game, though all four quarters, and then into overtime with your complete Super Bowl Party game plan.
To see a complete list of my recipes for game day, check out my Super Bowl LIII recipes, featuring Rams Spam Sliders and Boston Baked Beans!
Game Day Pre-Game = Prep Work
Prep work involves handling the invites, choosing your menu, shopping for everything needed, and making sure your cooking gear and supplies are ready to go. The week before the game you should check your charcoal/grilling supplies, as well as your oil and fryer if you're frying anything. You do not want to be that person at the store buying charcoal the morning of the Super Bowl. People will point and snicker, believe me on this one.
Your Super Bowl menu will decide how many trips to the store will be needed. If possible, buy ahead of time when your menu items are on sale and freeze them until needed. Every grocery store in America will be running sales the week before the Super Bowl. Don't wait until the last minute, start shopping early to make the hectic day go better. Another word to the wise, be sure to use disposable cups, plates, and utensils for your guests. Trust me, this will come into play later on in the day.
Game Day First Quarter = Cooking Time
Depending on your time zone and menu, cooking may start very early in the day or even the day before. Be sure to start Super Sunday with a good breakfast for you and any people volunteering to help. A good food base in the morning will certainly help if there are early cocktails involved. If mimosas and Bloody Marys are the norms to start off the day, just be careful to stay on top of your game. Everyone is counting on the chef to provide a day-long feast, not end up face down next to the grill before the game starts. You do not want to be an internet sensation!
Game Day Second Quarter = Appetizers
These are what start the day off right. No Super Bowl party is complete without a great spread ready to go as the guests arrive. Everyone loves to nibble on appetizers after showing up. Having a great assortment ready to go is a big part of starting the party off the right way. Prep your appetizers ahead of time whenever possible, even the day before if you can.
Game Day Halftime = Mingle Time
After your cooking/grilling duties are underway, be sure to take time to work the crowd. Everyone is there to enjoy what you're bringing to the table. Most of them have been with you all season and expect another incredible feast prepared by their favorite cook. Be sure to keep them updated on what your cooking, any new twists on recipes, and the ETA for dinner. By now most of your guests are done with the appetizers and are staking out their spot to watch the game. They're also probably drooling over the menu you chose so be sure to offer samples to anyone hanging with you by the grill. You know that's why they're there!
Game Day Third Quarter = Main Meal
Your guests are settled in and have enjoyed your wonderful appetizers. Now is time to wow them with your main menu as the start of the game is getting near. They've all been keenly watching you prepare their feast and are dying to dig in. The table is set, and all the food should be ready to eat. This can be the trickiest part of a major feast: timing.
Trying to time all the items to be ready near the same time is an art and takes a lot of practice. Planning your menu according to the cooking times involved are necessary so that the whole meal is ready to be served at once. However, you can use chafing dishes warmed by Sterno cans to keep any food that is done early hot and ready. If you do not have chafing dishes, the oven will work too.
Game Day Fourth Quarter = Desserts
The main meal has been served, and your guests are probably full. Desserts still play an important part of the finish to the feast. Since Super Bowl Sunday is busy enough, you can get some help from the guests in this area. My suggestion is that you accept all offers of, "What can I bring?" and say, "A dessert would be great!" Their offers take one big part of the menu away from the chef, which will ease some of the burden on you.
Game Day Overtime = Cleanup Time
This is certainly the worst part of the day. It's at this point that you will be happy everything used is disposable. Bagging up garbage is so much easier than having multiple loads running in the dishwasher or by hand in the sink. Cleanup time is also another area where any offers of help from the guests should be accepted and appreciated.
Game Day Super Bowl Recipes
In the second part of this two-part series, you will find some suggested menu items and recipes. We will certainly have recipes related to the Patriots and Rams as well as some of our Game Day classics. We're also going to have one recipe in honor of the New Orleans Saints who should be playing in the Super Bowl but… we'll save that story for another day.
Main Image Credit: