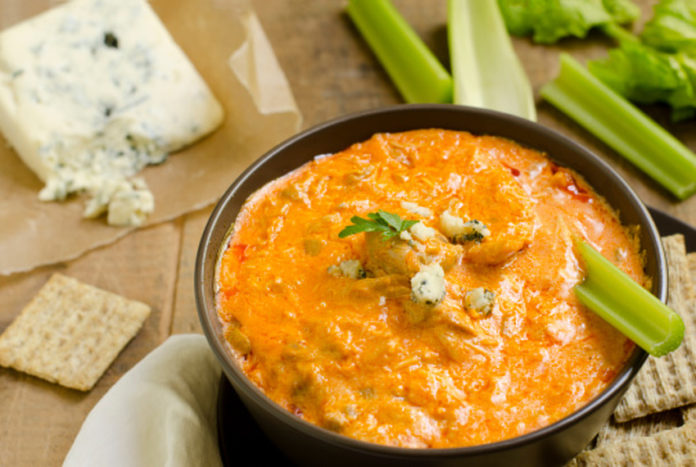 Whether you're supporting the underdog or cheering on the heavy favorite, no ballgame watch party would be complete without the classic spice of buffalo chicken. But making your own wings can be a tricky, time-consuming task and buying wings in bulk can break the bank. Satisfy your spicy cravings with some set-and-forget slow cooker buffalo chicken dip!
Stay Spicy With Some Slow Cooker Buffalo Chicken Dip
Slow Cooker Buffalo Chicken Dip
Ingredients
Note: Ingredient measurements are for use in a 3-quart slow cooker. 
2 8 oz. packages of cream cheese
1/2 cup of ranch dressing
ioer467¸1/2 cup of sour cream
1/3 cup of blue cheese crumbles
1/2 cup of FRANK'S REDHOT® Wings Sauce
8 oz. of cheddar cheese
2 large boneless, skinless chicken breasts
Instructions
First up, we need to shred the chicken. Place your chicken breasts side-by-side in a saucepan, and season with salt and pepper. Add enough water to cover the chicken. Bring the water to a rolling boil, and then reduce heat and let the chicken simmer for 15 minutes. Use a meat thermometer to ensure doneness.
Drain the chicken and let cool until you can comfortably touch the chicken with your hands. Don't let it cool completely! Use two forks to shred the chicken into manageable shreds. Remember, your guests need to be able to get pieces of chicken on their chips! If the shreds are too big, they'll be too difficult to scoop.
Soften the cream cheese by removing it from the fridge 15 minutes before beginning the dip assembly. Shred the cheddar cheese. (8 ounces should yield roughly two cups.)
Combine the softened cream cheese, ranch dressing, blue cheese crumbles and sour cream in a bowl. Spread half of the resulting mixture on the bottom of the slow cooker.
Combine the other half with 1/4 cup of Frank's Red Hot, 1 cup of the shredded chicken and 1 cup of shredded cheddar. Spread the resultant mixture evenly atop the existing layer.
Layer the remaining chicken and sauce, and top the whole affair with the remaining cheese.
If you're in a hurry, set the slow cooker to high for an hour, but keep an eye out to make sure the edges don't burn. This dish is best cooked for 2 hours on low or until the top layer of cheese is thoroughly melted.
Serve with tortilla chips, celery sticks or carrot chips.
Notes
I recommend purchasing the cheese in a block and shredding it by hand. Most pre-shredded cheeses contain potato starch to keep the individual shreds from sticking together. This will adversely affect the meltiness of your cheese.
There are several easy substitutions you can make to this dip. If you want to save a couple of bucks on blue cheese, swap out the ranch dressing and blue cheese crumbles for 2/3 cup of blue cheese dressing. If you're really not into cheddar cheese or grating it yourself, I recommend pre-shredded Mexican-blend cheese. If shredding the chicken sounds like a process, bake the chicken breasts and dice them into small cubes.
If you want to get fancy and add some greenery to your dip, a single green onion, sliced very thinly, looks and tastes terrific when sprinkled atop your final layer of cheese.
Vegan Buffalo Chicken Dip
Vegans like sports too, and we're all about inclusion in 2019. This vegan buffalo dip takes almost no time to make, making it a perfect inclusive addition to your game day menu. This recipe comes to you courtesy of my lifelong friend, Caleb, and his fiancée, Gabby.
Ingredients
2 8 oz. packages of vegan cream cheese
1 can of jackfruit
1 cup of shredded vegan cheese
FRANK'S REDHOT® Original Sauce
Instructions
Soften the vegan cream cheese by removing it from the fridge 15 minutes before beginning the dip assembly.
Preheat the oven to 350 degrees Fahrenheit.
Strain the jackfruit from the can and begin to "pull" the jackfruit into shreds. Pick out any hard bits or seeds.
Combine the jackfruit and cream cheese in a bowl. Add hot sauce to taste. I recommend starting with about 1/2 cup. Mix until ingredients are thoroughly incorporated.
Spread the dip in a glass baking dish and top with shredded vegan cheese. Bake for 15 minutes or until the edges begin to bubble.
Serve with your favorite dippables.
Notes
Frank's Red Hot Original sauce is unquestionably vegan-friendly as it only contains peppers, vinegar, water, salt, and garlic powder. Frank's Red Hot Wing Sauce includes "Natural Butter Type Flavor" in the ingredients list, and there seems to be no public official confirmation that the wing sauce is vegan.
I recommend using jackfruit instead of tofu for buffalo chicken dip. Jackfruit will soak up the hot sauce much more easily than tofu will. Jackfruit also basically shreds itself, a characteristic tofu lacks. But, if you're a hardcore tofu junkie and the thought of fruit in your buffalo dip disgusts you, dice your preferred 'fu into small pieces and marinate the pieces in your hot sauce overnight.
For more gameday eats, check out the Super Bowl LII Gameday Menu from the Grill Guy!
For more vegan gameday eats, check out Christina Griffin's vegan Super Bowl appetizers!
Main Image Credit: