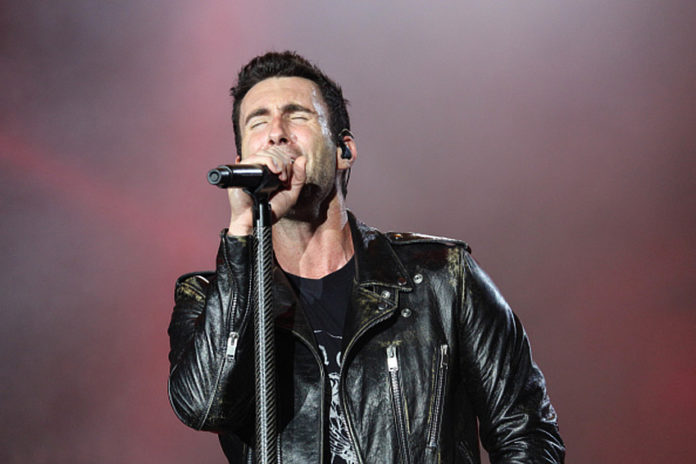 While some are saying that the Super Bowl Halftime Show no longer has its legitimacy as a cultural institution, the NFL will trust Maroon 5 and company to silence critics and prove to opponents that they're both still at the top of their industries.
What to Expect From The Super Bowl LIII Halftime Show
To learn more about the context of this year's halftime show, check out Juwan's contextualization of the big event. 
Super Bowl LIII Halftime Show
While Maroon 5's path to the show may not have been smooth, they will most likely still be able to put on an exceptional show. Here's what you should expect to see from the band when they perform this Sunday:
Expect heavy pop and hip-hop song choices — and not many early Maroon 5 songs.
With media critics claiming that the Super Bowl no longer holds legitimacy as a cultural institution, the NFL will trot out Maroon 5, Travis Scott and Big Boi to prove them all wrong. As this band's current lineup of seven is expanded and different from the five they started with in 2001, they will mostly perform songs from the band's last three albums: 2017's Red Pill Blues, 2014's V, and 2012's Overexposed.
The rest will probably cater to the hometown audience and satisfy the hopes and expectations of viewers. Sure, you can expect one or two Maroon 5 rock classics like a football evening-themed "Sunday Morning" or a crowd-led "This Love", or even chart-topper "Moves Like Jagger," but Maroon 5 purists should not expect to be satisfied with even one full performance of a pre-2011 song. The show will work best with more recent and popular songs and the lyrical content from early Maroon 5 songs alone wouldn't bode well — besides, there can only be so many songs in a 10-15 minute set for a headliner on one of the world's biggest and most watched stages.
Their main goal will be to appeal to the hordes of people watching that aren't already fans of theirs, and convince them to listen to them more.
Atlanta, the "Capital of the South" and nation's third largest entertainment city, is home to many of hip hop and R&B's most successful acts, including Big Boi's OutKast, Ludacris, T.I., Migos, Ciara, TLC and more. It helps that hip hop became the nation's most popular genre in 2017. This would make it the halftime show's first open venture into hip-hop since The Black Eyed Peas' in 2011 and Nicki Minaj, LMFAO, Cee-Lo Green and M.I.A. as Madonna's guests in 2012, neither of which went well. Most artists in recent years attempt to go the mostly family-friendly, established, popular and more recent route with a few classics among the songs or covers to keep the crowd energized and avoid tripping over expletives or confusing unreleased songs.
Expect at least one surprise special guest — but nobody too obvious.
The surprise Super Bowl performer is always an interesting choice to go alongside headliners and announced guests — Katy Perry hit the jackpot with Missy Elliot to perform alongside her and Lenny Kravitz in 2013, while Madonna probably regretted her choice as M.I.A. flipped off cameras in 2012. Since Beyoncé and Bruno Mars in 2016, Lady Gaga and Justin Timberlake both forewent announced or surprised guests the last two years, but Maroon 5 has already broken half that trend, and they likely will completely end it on Sunday.
It may not be a very huge or obvious name, though. You probably shouldn't expect OutKast co-member André 3000 to appear alongside Big Boi since he has reportedly turned it down twice before (but, he could have changed his mind); don't hope for past Maroon 5 collaborators Rihanna, Mary J. Blige, Nicki Minaj, or Cardi B to show up, either, as they've all (allegedly) said no already.
Maybe another coach of "The Voice"? Maybe they forego a traditional 'outside' guest and let keyboardist PJ Morton perform one of his own Grammy-nominated songs? If it's going to be an established artist, it's most likely going to be one with something to promote, such as former "Voice" coach and "Moves Like Jagger" featured artist Christina Aguilera, who just announced a Las Vegas residency which tickets go on sale this Saturday, or Gwen Stefani, who is already in the midst of one. Both have previously performed at the halftime show.
Expect there to be at least one gaffe or viral moment.
Last year, Timberlake sang alongside a young side fan taking a selfie video, and before him, Gaga jumped off the roof of Houston's NRG Stadium (in reality, it was a pre-recorded stunt). Every artist leaves the performance with some kind of iconic, unique moment that is their "footprint" in the Super Bowl Halftime history. If you're Prince, you perform with a guitar behind a large, fanned white sheet, leaving a…'suggestive' silhouette; if you're Katy Perry, you dance with large, disoriented sharks.
If done right, these moments go over mostly positive, but every performance, especially on this big of a stage, has a major possibility of having a negative moment. I don't think I need to go over the "Nipplegate" or middle finger mishaps again, but less eye-covering moments may occur, like a performer tripping (Beyoncé, Gaga, and Perry are among a few this has happened to) or not knowing some of the words to clean versions (looking at you, Black Eyed Peas).
Something awkward or weird, even, like the "magic of the millennium" monologue delivered by Edward James Olmos in 2000 or the Indiana Jones-themed stolen Lombardi trophy chase performance in 1995 put on by Disney.
It could even come after the show, like when Beyoncé's PR management tried to get an "unflattering" photo removed from the internet (hint: it backfired.) Hopefully nothing too bad happens, but since this is Pepsi and Kirshner's 12th Halftime Show, I think they've prepared pretty well.
Expect a political statement to sneak in.
Many of the modern Super Bowl halftime shows have been somewhat political in nature. While the NFL probably directed the producers and artists to stray away from making political statements during the show, they can't really prevent the artists from expressing themselves. PJ Morton admitted he had mixed feelings performing on the show under these circumstances, but said "I guess I had to come to the conclusion that you can be employed by a corporation and still support the things that are being fought against…[o]ur job as musicians is to provide a service and make people feel good, and I think that's going to be our mission — just to have a good time and do what we do."
Rolling Stones guitarist Roger Waters and his current band released a statement and video earlier in the week asking the performers to take a knee on stage to show solidarity with Colin Kaepernick. The pressure is heavily on the first-named and more popular of the guests, Travis Scott, especially from his peers and influencers Meek Mill, JAY Z, and Common. Even after Scott suggested he had talked to Kaepernick and he was okay with it, the negative publicity did not dissipate, especially after Kaepernick's camp refuted that.
The group may try to go in a similar route that U2 or Lady Gaga did during their takes at the gig, by floating an overall "unifying" message; there's also a chance that one of the many performers might wear or show something — expose a shirt they're wearing, for example — that shows support for Kaepernick, speaks out against police brutality, or mentions President Donald Trump, who will appear in an interview on CBS prior to the Super Bowl.
They could avoid the topic altogether, but that doesn't prevent others like advertisers or other performers, background singers, dancers or cheerleaders from speaking up before, during, or after the show.
Even something inadvertent that could be perceived as a political message may happen, but if you're hoping that the artists stick to the music, you'll be holding your breath along with league officials. We'll just have to brace ourselves to see on Sunday.
Expect the show to be one of the top three viewed and tweeted shows of all time.
Plenty of bad publicity and a year of bad ratings peaked for the NFL at Super Bowl LII, when the league "only" received an absolute total of 106 million viewers between NBC and streaming services — still top 10 in network television history, but their biggest drop from year-to-year Super Bowl festivities and their lowest total since 2011.
This year's ratings have been much kinder to the league, and with time having passed since the boycott-heavy 2017 and 2018 seasons and controversial Super Bowl 50 performance of 2016, the numbers are likely to improve for CBS and the NFL. The 106.6 million viewers that Justin Timberlake received in his 15 minutes last year was down 9 percent from Lady Gaga's pull in during her 2017 set.
The league claimed that Gaga's show was the most-viewed event in history, with 150 million unique viewers by calculating TV ratings, NFL streaming partners and services, and social media impressions; the 116 million TV viewers places it as the second most traditionally viewed show behind Katy Perry's 120 Million worldwide views in 2015.
As the television industry has become more acquainted with dealing with counter-programming and losing TV provider subscriptions, CBS and the NFL will provide the game over internet services and affiliated mobile apps to maximize views, especially during the halftime show. With more and more people gaining internet access, digital numbers are basically guaranteed to go up. Over 50 Terabytes of data were used in-stadium at Super Bowl LII alone, and Mercedes-Benz Stadium has over 4,000 miles of network fiber prepared to deal with the heavy internet usage at the game.
Expect all of these numbers to make significant increases at this year's game, which will definitely be more intriguing than past contests, undoubtedly helping Maroon 5's numbers during halftime.
Expect tributes — to hip hop, yes — but also to SpongeBob.
As mentioned before, almost every show pays homage to something or someone. As CBS Sports and Fox News reported, Maroon 5's video release announcing their headlining performance at the halftime show features a brief appearance of SpongeBob SquarePants, an animated character that first aired on Nickelodeon in 1999.
Show creator and executive producer Stephen Hillenburg also passed away in November 2018, and since Spongebob's turning 20, it wouldn't be a surprise if someone pays tribute to the cartoon at the show. Some have speculated that they will attempt to recreate one of the show's iconic episodes, where Spongebob and company make an excellent, last-minute performance of "Sweet Victory" at a football halftime ceremony.
An online petition created in November asking the then-unknown halftime performers to pay homage to Hillenburg and Spongebob gained over 1 million signatures. The voice actor behind Squidward has even confirmed that the cartoon characters will be involved in the Halftime performance.
The show will definitely feature some hip hop and rap music within the setlist. How much is hard to gauge, as Maroon 5 doesn't have any established collaborations with the two guest rappers and their own music is mostly pop or alternative rock, with occasional rap features.
Will they handle it similarly to how Coldplay did, by giving 6 minutes of their set to Beyoncé and Bruno Mars before they both sung together on stage alongside the band? Will they allow themselves to play second fiddle for a song or two like Perry did with Missy Elliot?
Maybe they'll just play their own music with some new verses or hip-hop sound remixes and keep as much of the focus on them as possible. Maybe Gladys Knight will join them after singing the national anthem and lead her rendition of "Midnight Train to Georgia." The speculation leaves room for plenty of possibilities.
Expect it to be elaborate, but not over the top.
While there is plenty precedent for good and bad halftime shows, Maroon 5 may study the likes of U2, Paul McCartney, Bruce Springsteen, or Aerosmith on how to best put on their show.
Since the main act is comprised of seven instrumentalists and vocalists as members, don't expect too much running or flying around to come from the band. Scott and Big Boi will probably provide most of the movement, but don't expect Adam Levine to sprint up and down stairs or make too many Jagger-esque moves. It's the biggest concert of the year, so there'll be money and time to display plenty of special effects and fireworks, but the band should be centered in one fixed location.
Good luck to Maroon 5, Travis Scott, and Big Boi this Sunday!
Main Image Credit: