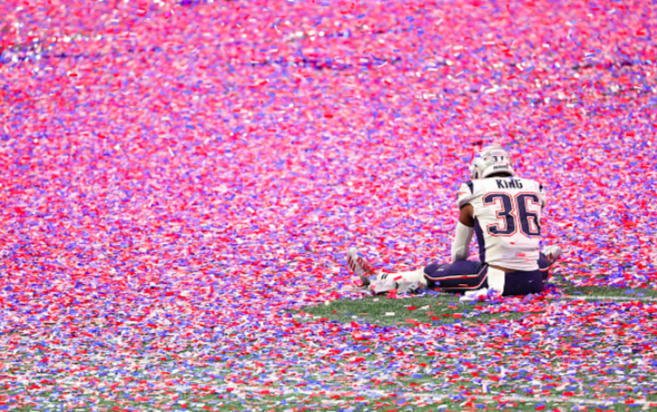 The feelings about this year's Super Bowl are mixed ones. From a slow game resulting in the New England Patriots winning their sixth national title, this time against the Los Angeles Rams to the unimpressive Maroon 5 halftime show, nobody is feeling the same level of excitement met in previous years.
The commercials, however, have always been a favorite Super Bowl tradition. So we're going to take a look at my Top 10 personal favorite ads from Super Bowl LIII. Their ranking is based on my three levels of criteria for good Super Bowl commercials: delivery, selling technique, and entertainment value. So here we go!
10. M&M'S Chocolate Bar Super Bowl Commercial 2019 (featuring Christina Applegate) – 'Bad Passengers'
It's a very simple and arguably predictable setup, but still very funny. Besides, who doesn't love the M&M's characters? In this ad, we see actress Christina Applegate driving while telling her "kids" to calm down and stop fighting in the back seat. It is then obviously revealed to be the red, yellow, and orange M&M's stuck in a chocolate bar, which is now their latest product. It already sounds like a tasty treat and thankfully it has a hilarious commercial to go with it.
9. Budweiser | Wind Never Felt Better | 2019 Super Bowl Commercial
The Budweiser Clydesdales have always been a tradition of Super Bowl commercials. This year's ad may not live on to be the most memorable, but it's quite sweet. Here we see a Dalmatian riding on a horse-drawn carriage in the countryside, all presented in one shot while Bob Dylan's "Blowin' in the Wind" plays. The idea was to get across how Budweiser is brewed with wind power, zooming out to show wind turbines, hence the song. It's a play on words, but it also feels nostalgic and effective.
https://www.youtube.com/watch?v=B6VciSoR1iQ
8. AVENGERS 4 – Official TV Spot
This will be one of two trailers on this list. Even though it's only 30-seconds long, the latest teaser for Marvel's Avengers: Endgame delivers new footage not previously seen in the first teaser. In a nearly post-apocalyptic Earth filled with darkness and uncertainty after Thanos's Snap, we see our heroes gearing up for their latest fight to save humanity. Only one line is spoken, by Captain America himself: "Some people move on. But not us. Not us." This does what Super Bowl teasers do best – showing little, but making it look grand.
7. Planters | "Mr. Peanut is Always There in Crunch Time" | 2019 Big Game Commercial (Extended)
Apparently, the latest ad from Planters is getting a divided reaction online, and it's pretty mind-boggling. Planters doesn't make many commercials, so this was quite the surprising treat. It features its mascot, Mr. Peanut, driving somehow maniacally and politely at the same time down the street in a peanut-mobile to replace a bowl of chips with a bowl of peanuts at a viewing party makes one of the more funnier commercials of this year. Throw in Charlie Sheen saying "… And people think I'm nuts;" it's nice to see he still has a sense of humor.
6. The Elevator | 2019 Super Bowl Commercial | Hyundai
Even more celebrities are entering the mix with Jason Bateman starring in a super funny and creative spot for Hyundai. He plays an elevator operator stopping at different floors of services such as jury duty, a vegan dinner party, and a father about to have "the talk" with his son; but this one couple just wants to buy a Hyundai vehicle. With each floor having its funny moments, followed by Bateman's dry delivery, it makes wanting to buy a Hyundai seem all the more entertaining. It wouldn't be the Super Bowl without a funny car commercial, right?
5. The 100-Year Game | SBLIII
Even if you're not a major football fan, you can't help but a crack a smile at this one. It's in celebration for the NFL and its 100th anniversary. This ad featuring a black-tie event with both current and former football players being interrupted by a golden football falling from a cake, resulting in a brawl of hilarious results. The cameos include Peyton Manning, Eli Manning, Tom Brady, Barry Sanders, Marshawn Lynch, Joe Montana, and Brian Urlacher, to name a few. It even features viral female football sensation Sam Gordon. When do we get to see her in the NFL?
4. Microsoft Super Bowl Commercial 2019: We All Win (Extended Version)
We've got a bit of a tearjerker here. Microsoft's latest spot focuses on the new Adaptive Controller for Xbox, designed for children with physical disabilities to show that "when everybody plays, we all win." It's important now more than ever for inclusion in today's society, especially for children. And when you can show them that they do anything, even just having fun playing video games, anything is possible. Many commercials are going for more socially-conscious themes these days. Glad to see Microsoft joining in.
3. The Twilight Zone – Super Bowl Promo | Extended Cut
So who else thought that something was wrong with their TVs at first? You noticed what appeared to be a bad connection returning from commercial break, but you then learned you're about to enter a new dimension of mystery, presented by Jordan Peele. Since this year's Super Bowl was broadcasted on CBS, it made sense to promote their upcoming reboot of the classic series "The Twilight Zone," with Peele filling in the shoes of the late Rod Serling as executive producer and host. The series will be streaming on CBS All Access starting April 1st, 2019.
2. 100 Billion Words | Google Super Bowl Commercial 2019
Unlike Microsoft, Google's new ad is less inclined to make you cry, but more likely to inspire you. The idea was to show how even though everyone around the world has their differences, we all still very much communicate in the same way. All you have to do is use Google Translate and you start feeling those connections. Ads like these are also important because, much like Microsoft's, Google wants to spread positivity in a culturally divided world and show how beauty can be obtained in even the smallest ways. With the Super Bowl, this is one of the best ways to show it.
1. Game of Thrones X Bud Light | Official Super Bowl LIII Ad | Extended Version | HBO
What a twist! In a series of Bud Light ads spreading throughout the entire broadcast, the best and most memorable comes in the form of cross-promotional bliss with a jousting tournament in medieval times suddenly engulfing in head-smashing and a fire-breathing dragon. Then we hear the "Game of Thrones" theme and we know exactly what to expect. These medieval Bud Light ads went from having a Monty Python and the Holy Grail-esque tone to capturing the might and atmosphere of Westeros. All to promote a brand of beer and to remind everyone that their favorite show is coming to an end. Bud Light teaming up with HBO to promote the final season of "Game of Thrones" nails exactly what people expect from a Super Bowl commercial: humor, intrigue, and persuasion. It's the best commercial of Super Bowl LIII.
Those were my favorites. What were yours?