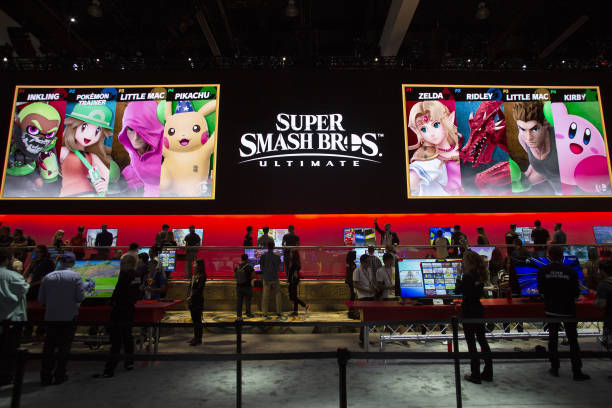 The Crowne Plaza in Detroit, Michigan held the second biggest Super Smash Brothers Ultimate tournament of the year this past weekend. A total of 1239 players competed for the opportunity to call themselves the best in the world. After a weekend of nonstop action, Gavin "Tweek" Dempsey won Frostbite 2019, besting Leonardo "MK Leo" Lopez in both Winners Grand Finals.
Frostbite 2019 Smash Ultimate Tournament Sets to Watch
Other placings included:
Florida's Robert "Myran" Herrin, who placed third after what can be considered as a breakout tournament for him.
Japan's Shuto "Shuton" Moriya made his country proud at fourth place.

Bria "Cosmos" Kalu and Paris "Light" Ramirez had great performances and placed fifth.
Nairoby "Nairo" Quezada andJestise "MVD" Negron completed the top eight at seventh place.
We saw some amazing Smash Ultimate played at Frostbite 2019. The following sets are some of the ones you just cannot miss. An honorable mention goes to the set between Charles "DRN" Marsh and Ricardo "Rickles" Aguayo. These two had a "Battle of the Super Heavyweights" that tore the roof off the Crowne Plaza.
https://www.youtube.com/watch?v=dOWRYZv2kj0
Paris "Light" Ramirez VS Jon "Suarez" Suarez
Only a few can match or even keep up with Light's relentlessness and speed in a game. While Suarez might be a household name in New York, he went into this set as the underdog. However, Suarez was not going to let the Fox main do whatever he wanted. He gave Light and his Fox all he could handle and then some. To sum it up, the Yoshi main proved that he could stay on par with one of the best. He took Light all the way to game five, and it ended with a shocker! With this set, Suarez cements himself as one of the players on the rise in the Super Smash Brothers Ultimate competitive scene.
https://www.youtube.com/watch?v=gLd4Ys2J1pc
James "Shoyo James" Wade VS James "Void" Makekau-Tyson
Shoyo James lost to DRN and was sent to the loser's bracket early in the tournament. After that, James and his Chrom went on a tear, defeating players like Eric "ESAM" Lew and Japan's Eita "HIKARU" Hoshi. He went on a ten set winning streak before he took on Void to reach the final rounds of Frostbite. In this set, he played the Pichu matchup to near perfection. After this tournament, Shoyo James should be considered a player to watch.
https://www.youtube.com/watch?v=pAdQO90-8yk
Dacota "Ryuga" James VS Alexis "Goblin" Stennett
Ryuga was the hometown favorite and Michigan's last hope to get a player into the final rounds of Frostbite 2019. In his way stood central Florida's Goblin, who had defeated top Japanese players Takuto "Kameme" Ono and Masaki "Umeki" Shimizu. These Fire Emblem character specialists took each other to the limit, exerting aggressive play from the get-go. If you want to convince a friend to start watching competitive Smash Ultimate, this is the set you should show them in this five-game swordsman classic.
https://www.youtube.com/watch?v=6v6wKQ0nCOs
Robert "Myran" Herrin VS Shuto "Shuton" Moriya
After Frostbite 2019, an argument can be made that both Myran and Shuton are the best Olimar players in the world. They had faced off in the bracket on the winner's side, and Myran won when both players used the same character. However, these two faced off again in the loser's bracket. While many wrote this off as yet another Olimar vs Olimar set, Shuton had other plans. To the surprise of everybody, the Japanese player used  Castlevania's Richter Belmont to try and counter Myran's Olimar. The two players showed marvelous execution of play and made this match into one of the best sets in competitive Super Smash Brothers Ultimate.
https://www.youtube.com/watch?v=w7iWPpOWAs8
Gavin "Tweek" Dempsey VS Leonardo "MK Leo" Lopez
The Super Smash Brothers Ultimate competitive scene had been waiting for this set since the game came out. Both players were considered the best but had never met in bracket until Frostbite 2019. Both Tweek and MK Leo seemed to be a cut above the rest. However, it would be Tweek who would have the last laugh. These sets demonstrate that there is still a lot to learn, but a lot to enjoy. We will see who gets the last laugh at the Ultimate Smash Summit 2019.
Winners Finals: https://www.youtube.com/watch?v=BkTozGCRobo
Grand Finals: https://www.youtube.com/watch?v=pzrVVA0aVfw
Main Image Credit: