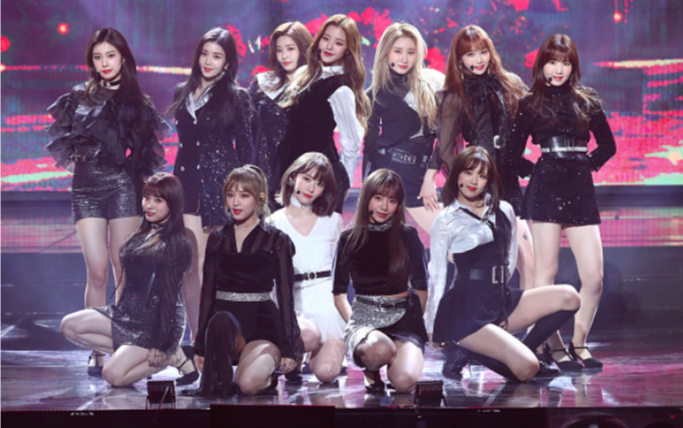 The newest EP from IZ*ONE titled HEART*IZ showcased a different and exciting sound from the group. The title track "Violeta" offers a more uptempo and demanding choreography than the previous hit "La Vie en Rose." Along with the title track come seven other tracks, with many of them having a dance/club sound.
IZ*ONE Make First Korean Comeback With Title Track "Violeta"
IZ*ONE established themselves as monster rookies back in October with their debut album COLOR*IZ. The release included "La Vie en Rose," a song that currently has 82 million plays on Youtube. The group came from survival show Produce 48, a spin-off of Produce 101. The premise of the show was that it would form a group that would release music in Korea and Japan. Since the group's debut within Korea, they have also premiered in Japan with the EP Suki to Iwasetai. HEART*IZ was the group's first comeback in Korea, and was released on the first of April.
Tracklist:
Hey. Bae. Like it.
Violeta (Title Track)
Highlight
Really Like You
Airplane
Up
NEKONI NARITAI – Korean ver.
GOKIGEN SAYONARA – Korean ver.
Track 1 – "Hey. Bae. Like It."
Similar to the group's first EP, the first track on the album was not an intro song but instead a full-fledged b-side. "Hey. Bae. Like it," while being a horrendous name for a song, is a classic cute concept song. I thought the song was cute and uplifting but got somewhat tiring after a few listens. The vocals were good, but the beat felt somewhat cheap for the track.
Track 2 – "Violeta"
Just as previously mentioned, "Violeta" was a more choreography-focused song than "La Vie en Rose." The song had amazing production, which is necessary when has such few lyrics during the chorus. Off-topic, but the dance-break chorus seems to be an uprising trend in K-pop. Maybe it was MOMOLAND's viral hit "Bboom Bboom" that influenced the influx.
The music video for this song is tremendous, with great set design, outfits, makeup and more. The group is shown in a different light than the last video. Like, literally. There is more purple and blue backlighting in this video compared to the last title track where it was mostly white backgrounds. The way the members are dressed in the music video is not like anyone else right now. The line distribution feels pretty even, which is of course not easy with a 12-member group. Yuri has most lines as she is the one who delivers an amazing high note before the third chorus. The group was able to leave the comfort of the sound they created with "La Vie en Rose," but also stays close to home with their vocal style. "Violeta" is a success, and will hopefully see success on the charts.
Track 3 – "Highlight"
"Highlight" is easily my favorite b-side track on the album. The song has a different tone from "Violeta," but if we're talking about song production, it's pretty similar to the title track. This EP is able to maintain somewhat of a theme, something that COLOR*IZ failed to do (whether that's something that matters is really subjective). "Highlight" has a similar minimal lyric chorus, with a great beat.
Track 4 – "Really Like You"
The fourth track on the EP gives listeners a breather as the slow acoustic guitar track "Really Like You" plays. While I've never been the biggest fan of these slower songs, I thought Minju and Yena's rap in the song was good.
Track 5 – "Airplane"
In the fifth song "Airplane," the group reverts to a style that is heard on the first track of the album. If you like the more bubblegum-pop-type of songs, this one is up your alley. The song is good but doesn't stick out tremendously to me.
Track 6 – "Up"
The final original track in the album is "Up." The song has a borderline tropical house sound to it. While it is well known in K-pop that tropical house is an extremely overplayed style of song, I enjoyed this. I think the high key of notes at points is very impressive and good sounding.
Track 7 – "NEKONI NARITAI" – Korean ver.
The final two songs on the album are from the Japanese EP from IZ*ONE. The songs are of course performed in Korean. "NEKONI NARITAI" is a song that is chilled out like "Really Like You," but has more of a beat than the other song.
Track 8 – "GOKIGEN SAYONARA" – Korean ver.
There's a phrase out there called "saving the best for last." Well, this album certainly does not do that. I disliked this song quite a bit. Now, is the singing and the beat, for the most part, good? Sure. But what ruins it is the weird and unnecessary sounds. You know that dramatic sound you hear on reality shows when something bad happens? I don't know if it sounds exactly like that, but it sounds similar, and has no place in the song, especially when used so many times. If this song didn't have all of those annoying sounds, I would probably really like it.
Last Word on IZ*ONE's New Album
IZ*ONE put out a strong title track in "Violeta," and had better b-sides than their debut EP. While some songs weren't amazing, I wouldn't declare anything on this release as "bad." IZ*ONE is having the career trajectory of their sister and brother groups I.O.I and Wanna One, that being that they will put out hit songs that range in sound, and then be missed once their contracts expire. But we have a long time until their contracts expire, and many more releases to come in both the Korean and Japanese market.