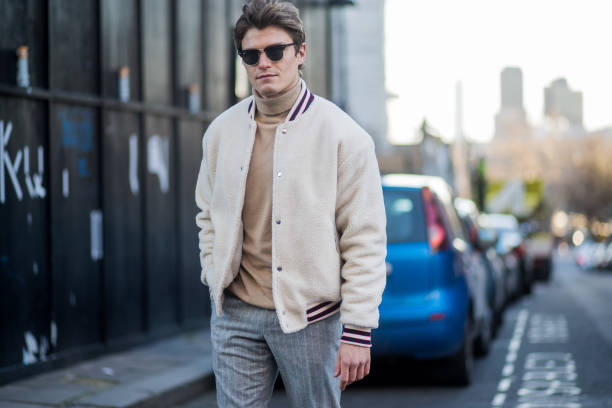 The cut of the men's bomber jacket has changed only slightly over the years, since modern designers prefer to create some personal accents, choose different materials, colors, and complement them with decorative elements. Obviously, such things are quite popular and stylish. This year, bomber jackets of white, olive, blue and bright colors are the most fashionable. In addition, the jacket itself can be of a neutral and calm color, but the inserts must correspond to the fashion element. And if last year the bomber jackets were made of rainwear fabric, then today, bomber jackets are made of natural fabrics like suede and leather. Choiss is one of the brands, which tries to move with the times and please their clients with high-quality bomber jackets.  
Men's Style: 
How to Wear a Bomber Jacket
How to Choose the Right Bomber Jacket
When choosing a bomber jacket, take your time. Try to put it over a T-shirt and a hoodie so as to not be disappointed in the choice later. One thing to note is that this jacket, unfortunately, is not very suitable for people of extremely low height. They should probably choose something else. If you have difficulties, turn to a consultant or stylist for assistance, they will surely find you the most suitable option. However, professional stylists give the following tips. 
When choosing a bomber jacket, focus on your existing wardrobe. That is, unless you are going to get a new one to match the jacket.

 

Feel a clear distinction between casual and formal style.

 

If you want to put an emphasis on the bomber jacket, then the rest of your clothes should be of monotone colors.

 

High-quality material is the key to the right choice.

 

When buying, check the bomber jacket for any damage, protruding threads and so on.

 

Choose your bomber jacket based on its main purpose.

 
How to Wear It
The versatility of the bomber jacket helps to create different images with it. Many men choose a bomber jacket to replace their old casual jacket or light coat. At first glance, it seems that it looks sportier, but the correctly chosen style, clothing, and accessories will make your look classic and strict. There is no doubt that a casual look and a bomber jacket are a perfect combination. You can combine it with anything you want: jeans, chinos, sweatshirts, hoodies, T-shirts, and sneakers. Striped or checkered bomber jackets have practically become classics. Through experimenting, you can create a truly consummate image. It is also important for you to feel this style because the clothes only complement the image that you have created.  
If you adhere to a more formal style, a bomber jacket will also come in handy. However, it is also necessary to tone down your originality and choose neutral colors and forget about embroidered patches and spikes. A bomber jacket made of genuine leather will look great with a casual shirt and tie. Complement the image with tweed trousers of a dark color and brogues with a perforated pattern.  
A shirt, trousers and leather sneakers will make your look restrained and businesslike, at the same time, giving you an opportunity to feel comfortable. 
Main Image Credit:
Embed from Getty Images