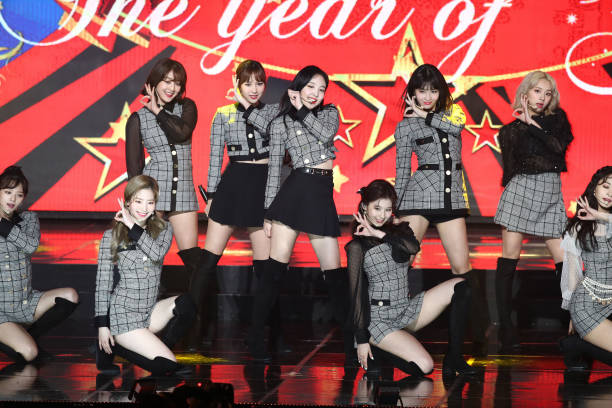 For the first third of 2019, Korea's top girl group TWICE was absent from releasing new music. Now, for most artists, four months, or even double that time wouldn't be considered an "absence," but for a group that put out six music videos in 2018, it certainly was. TWICE's latest comeback is a mini-album called FANCY YOU, with six all-new tracks including title track "FANCY." The group, which has been well-known for their cute and bubblegum pop sounds, went outside of their traditional sound, but also put boundaries on how far they will go. The album has a distinctly TWICE sound, but at the same time is not something we've heard from the group before. TWICE had a completely different concept lyric and look-wise, and even slightly music-wise, but the choreography and notes sung stay true to what the group frequents. This makes it a safe release, but still a good one.
A Full Review of TWICE's Mini-album Fancy You
Track List
FANCY (Title Track)

STUCK IN MY HEAD

GIRLS LIKE US

HOT

TURN IT UP

STRAWBERRY
Track 1: "FANCY"

There's a lot to say about this song. For one, I really enjoy its production. This song has a well thought out transition from verse to pre-chorus, making the song go from a club-like sound to a traditional TWICE song. Personally, I feel one of the biggest factors about singing is that one should sound distinctive. There's no question that TWICE, through their consistent style are distinguishable, even to someone who hasn't heard their new music. It didn't hit me until much later that the group didn't put in a rap part, which is a nice change of pace.
The line distribution was interesting to me. Nayeon and Jihyo had the majority of the lines, while the rest of the group got nearly the same amount. It did feel like they were the faces of this music video, getting the choruses of the song.
Music Video
Let's talk about what blew me away the most. Like, easily. This video is AMAZING. Sure, this doesn't have the filmmaking wits that "What is Love?" had, but it's more about how different this is for the group. Compared to what they've worn in past videos, their outfits in this are bold. Their looks are nothing short of stunning, with each scene having appropriate outfits that match it, whether that's talking about the colors or type of clothing. While everyone's look was great, I was absolutely in love with the look Chaeyoung had in some scenes, wearing a neon yellow (green?) outfit and having blonde hair, and Sana with the new pink hair look. If you liked both of their hair colors, you're not in luck because they have changed it since. Their poor scalps.
I have to commend the video editing in this. There's a ton of it, and in a lot of situations, it is easy to take for granted. Not a second of the video looks cheap. I love the purposeful glitch editing that is done. There was a moment in it that seemed to go over people's heads, that being when Dahyun was on a magnet. This could just be what I'm seeing, but some people didn't seem to make the connection between paperclips and the magnet that she was on.
Track 2: "STUCK IN MY HEAD"
If TWICE came to kick ass and chew bubblegum, they didn't bring their bubblegum to this track. Start to finish, this is nothing short of a girl crush song. The lyrics, attitude and beat all have this aggressive sound, and I'm a fan of it. Chaeyoung had a good rap in the song, and Sana's exit during the second chorus were both big moments in the song. While I enjoyed the performance, the beat sounded somewhat generic to me. It's quite a let down when compared to the beat in "FANCY."
Track 3: "GIRLS LIKE US"
I'm a little split about this song. When I first heard the song, it sounded completely out of place in the album. We have all of these hard-hitting tracks that aren't very TWICE sounding, and then we get this soft-spoken piano accompanied song. Well, that's what I thought until I read up on the lyrics of the song. With the lyrics talking about how "girls like us fear, oh, barely," this became a more fitting song on the release. When putting it into perspective, it was a nice intermission between all of the much more intense songs, while also maintaining the theme.
Track 4: "HOT"
Without any question, "HOT" is my favorite b-side of this release. Maybe I'm just a fiend for a song like this or IZ*ONE's "Highlight" that have a minimalistic chorus? Or maybe it's because I like instrumental music too? I don't know what it is, but I love this song. I hope they can make something like this soon as a title track, even though that would be out of their comfort zone.
Track 5: "TURN IT UP"
Despite the calm intro, this song is uptempo like everything else. I wasn't the biggest fan of this song, but it felt like the only real bump in the road during this album. I got sort of sick of hearing "yeah I'm turning up" after playing this song a few times. That line was used a few times too many.
Track 6: "STRAWBERRY"
Closing off the album was a song called "STRAWBERRY." This track escaped the TWICE concept more than any other song on the album. It's a hard situation for a group like TWICE for an EP like this. Bands want to change because without change they might bore people. But, at the same time making a big change could risk driving away a fanbase they built on their older style. Despite this song feeling out of place on the album, I didn't mind it.
Last Word on TWICE's Mini Album, FANCY YOU
TWICE are scheduled to go on a world tour in 2019, performing in Seoul, Bangkok, Manila, Singapore, Los Angeles, Mexico City, Newark, Chicago, and Kuala Lumpur. What I found interesting is how TWICE is not changing their sound to fit where they are going to. This sort of change is seen with fellow top girl group BLACKPINK in their recent EP Kill This Love, where lyrics are nearly split 50/50 between Korean and English.
The two songs that stuck out to me on this release were the title track "FANCY" and the song "HOT." There were other songs on this that were also worth listening to. Like I said at the top of the article, it was calculated for TWICE to change their style but also maintain factors of it. This song will see the success that any TWICE song sees these days, and who knows, maybe the change will also bring in some new fans.
Main Image Credit:
Embed from Getty Images