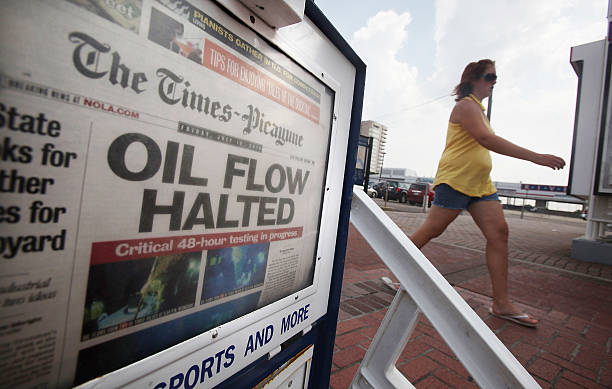 No one died on Thursday afternoon, yet 182 years of news coverage from the Times-Picayune will come to an end. The Advocate from Baton Rouge purchased the newspaper. Plenty of reporters are now out of a job as their competitor takes over.
Although I couldn't buy the #TimesPicayune over here in Germany. I really enjoyed all the @Saints articles. @JeffDuncan_ #FromBagsToRiches is an awesome read! Can't believe the newspaper layoff! pic.twitter.com/Kt7kvCF2H0

— Felix Grimm (@Felix_BILDde) May 4, 2019
I reached my 35th year with The Times-Picayune on April 4. It's been a very good 35 years for me. Our present staff is world class, talented, professional, hard working. I urge any media looking for quality reporters, photographers, videographers, etc., to consider reaching out.

— Mark Schleifstein (@MSchleifstein) May 3, 2019 
The Story of the Times-Picayune: The Day that Journalism Died in New Orleans
A Beginning Always has an Ending
Perhaps this was a day that many saw coming. But, no one expected Thursday to be the day. Nonetheless, the coverage of sports and news going forward won't include the Times-Picayune. "We're drinking now," one former reporter said Thursday night. "There's not much else to do."
Honestly, having a city without the Times-Picayune feels like another hole opened up in the levee. New Orleans has overcome an exuberant amount of adversity this century. A hurricane that nearly drowned the city. Prices of real estate that have gentrified the city. A middle class barely making ends meet. Death of a beloved owner and two heartbreaking losses by the New Orleans Saints the past couple of years.
That being said, the people of New Orleans continue to overcome and persist. Above all, the diversity and community throughout the region is the glue. The glue that makes everything stick together. Of course, the parades, festivals, and the food are ingredients to inspire the spirit of New Orleans. And the Saints are the closest thing to GOD on Sunday.
The Times-Picayune kept working after Hurricane Katrina. And people were dying in New Orleans. A bond formed from the city of New Orleans and the newspaper during that period of uncertainty. Ironically, now in 2019, it's the newspaper that has died forever. The people of New Orleans continue to rebuild their lives. Some of the neighborhoods are still rebuilding nearly 15 years later. Identically, the former employees of the Times-Picayune find themselves in a bit of recovery.
One Step at a Time
Obviously, the layoffs at a newspaper pale in comparison to a natural disaster. There are no human casualties. In addition, there is no one stuck on a bridge with blistering temperatures with no food or water. Also, some of the employees could land a job writing for The Advocate. Be that as it may, the loss is real.
I've always been a storyteller, but it wasn't until 2006 that I realized I wanted to be a journalist. That year, a Times-Picayune writer interviewed 14-year-old me about my grief counseling experience in Japan after Hurricane Katrina. ?@susanpoag and @MichaelDeMocker (Cont.) pic.twitter.com/BkCqoOKsjl

— Wilborn P. Nobles III (@WilNobles) May 3, 2019
The Times-Picayune produced one of my favorite possessions. Sad to know they won't get to chronicle the next one. pic.twitter.com/0G5Zf7E8k9

— stan verrett (@stanverrett) May 2, 2019     
Time is on Their Side
The uncertainty for many this weekend is hard to describe to people that haven't ever been in a position of losing a part of their self-worth. A newspaper is a form of business. Words on a page with writers behind a desk isn't worth much. It's the connection between the lines many don't see. The unemployed writers are now the story. The challenge to all these reporters is going to be is this the end of their story? 
Some may move on to other careers and different cities. Others may struggle to be able to regain an identity. Regardless, time moves on. Time never stands still. Eventually, it will be their time for recovery and rebuilding. In the long run, they will find their place. And just maybe one day, they too can look back and reminisce about the tough times and their own resilience.
Main Image Credit:
Embed from Getty Images