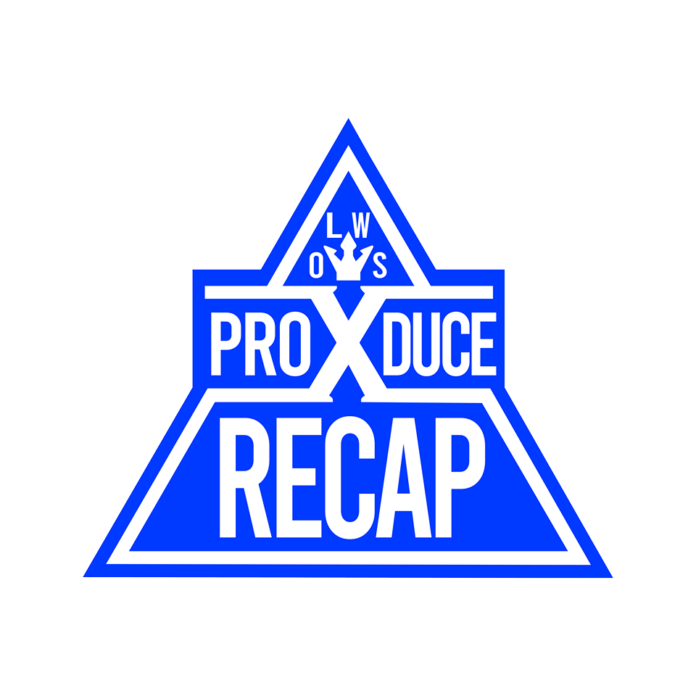 Produce X 101 episode two saw the conclusion of the initial grading process and then training for the title track of the show "X1-MA." While we only saw the majority of the grading of the course of the first two episodes, all grades are online.
A Recap of Produce X 101Episode Two
The Departure of Yun Seo-bin
Before we get into the episode, it's worth noting a big story involving the show that came out last week. JYP's lone trainee on the show Yun Seo-bin had his contract terminated by the label after claims surfaced about him being a bully in school. JYP Entertainment stated "after determining that the policies of JYP Entertainment are not being followed, we have decided to terminate the contract of trainee Yun Seo Bin, who is currently appearing on Mnet's 'Produce X 101.' As a result, he will also be leaving the program." He was ranked 12th on the first episode of the show.
Episode 1 Ranking Reactions
The show started with the cast of Produce X 101 watching the first episode. We saw their reactions to moments on the show, as well as their reaction to the initial ranking. Kim Min-gyu felt he wasn't worthy of the #1 spot, which works out well for him since he isn't in it this week. But we'll get to that later. Yoo Geun-min was very sad about being in last place.
The Final First Performances
The first label to be graded on this show was ESteem Entertainment. They were praised for their looks, and did an impromptu runway before their performance. The group played "Killing Me" by iKON. Just a little side note, but the knockoff instrumental of the song that was used sounded horrendous. Yuri impressed the trainers, with him being asked to do a dance routine afterwards. He was given a B while his teammates were all given X's.
E Entertainment's duo of Lee Won-jun and Won Hyuk came out next. They were appreciated for their clumsiness and cuteness. They performed "Jackpot" by Block B, which, coincidentally, gave them both B's.
Woollim Have A Rocky Start
Woollim Entertainment, a label that found success on Produce 48 last year, sent six trainees this year. They played a mashup of "BTD (Before The Dawn)" by INFINITE and "Pop" by N Sync. One member slipped on the back of the stage during the song, which was something he had a bad dream about the night before. Hwang Yun-seong, who was asked to do a dance, earned a B, the highest mark out of the label. Cha Jun-ho earned a C, with the rest getting D's or X's.
Produce X 101 Showcases International Talent
This episode had an emphasis on the international talent that is on the show. Talent from Chadelier Music, JH1 and HONGYI all performed next, with performers that come from many different countries (Japan, China, Canada & Thailand). PEAK from Thailand performed "Love Shot" by EXO and got a D. Jun Uehara from JH1 also got a D, performing "Oasis" by Crush. The duo from HONGYI played "Growl" by EXO, with Tony being asked to perform by himself afterwards. When Tony was awarded an A, he broke down in tears, admitting that he expected to be given an X. Wei Zi Yue got a C.
Around Us Entertainment played next. They are a label which was founded by the boy group Highlight. The first song they performed "Dopeboy" by Nafla, then transitioned into "Please Don't Be Sad" by Highlights. They were given positive reviews, with two of the three getting an A. The third got a B.
Golden Boy Kim Min-gyu Isn't Favoured
Jellyfish Entertainment performed next. It included #1 rank at the time Kim Min-gyu. Before the song, he re-created a scene from the K-Drama "Sky Castle." The song they played was "Love Equation" by VIXX. To people's shock, Min-gyu was given an X while his partner Choi Jun-seong got a B. Speaking of Sky Castle, actor from the show Lee Eugene came in next as ann individual trainee. He performed "Spring Breeze" by Wanna One and got an X. He was very humble about it, saying he was happy to be there and that he would try to improve.
YG Entertainment performed had two trainees that performed "Good Boy" by GD and Taeyang. The trainers were critical of their singing, giving a C and a D. Four individual trainees went next, performing "DNA" by BTS. Choi Su-hwan was highlighted, mentioning how he has auditioned 30-40 times for things but hasn't been accepted before. Their performance went really well, with A's and B's being handed out.
Already Debuting Idols On The Show
The final two televised performances were from Plan A Entertainment and TOP Media. These two auditions included idols from the already debuted groups VICTON and UP10TION. As expected, both groups did well. Plan A members both got an A after performing "Save ME" by BTS, and TOP Media trainees got a B after singing "No More Perfume On You" by TEEN TOP.
The Trainees Move In
After the evaluations, everyone from the grades above X moved into their dormitory. They roomed with people of a similar ranking. They picked up their uniforms, and then came back to the studio the next day to learn the title track for the show "X1-MA." They were told they had three days to learn the song before they have their second grade evaluation. Choi Su-hwan was given credit during their practicing for having strong vocals.
While this happened, the X group was moved to a separate location where they were to be given personal training sessions, focusing more on the basics. This wasn't unveiled in the show up until now. Before then the show implied that people would either be sent home temporarily or for good.
Learning "X1-MA"
The next day, trainers came in to help the trainees with vocals and dancing. The B group was scolded after they struggled with the lyrics. D grade saw huge improvements with their choreo over the course of the days, although Ham Won-jin seemed to be falling behind. Song Hyeong-jun was declared the leader for group X during a practice session. This made him feel guilty later when the group struggled. He broke down in tears after trainer Choi Young-joon left during the session. He was consoled by his peers and continued to work hard. The trainer walked back in after hearing how hard they were working. It seemed like the X class were bonding while learning.
The episode concluded as the final evaluation was beginning. We saw a performance from Tony and Kim Dong-yoon, where both of them struggled. That will be one of the focuses of the third and final episode.
Rankings After Episode 2
The rankings this week put Kim Yo-han in the #1 spot. He was third last week, earning an A grade on the first episode. Kim Min-gyu is in third after being in first on the first episode. Yoo Geun-min went from 101st to 77th, with the last place person being Won Hyuk in 99th.
I'd like to thank Jacob from the Truly Daebak podcast for designing the Produce X 101 Recap logo. They covered the Yun Seo-bin controversy on their podcast this week.
Full Rankings
| | | | | |
| --- | --- | --- | --- | --- |
| Week 2 Rank | Name | Grade | Company | Week 1 Rank |
| 1 | Kim Yo-han | A | OUI Entertainment | 3 |
| 2 | Lee Eun-sang | A | BrandNew Music | 14 |
| 3 | Kim Min-gyu | X | Jellyfish Entertainment | 1 |
| 4 | Nam Do-hyon | A | MBK Entertainment | 37 |
| 5 | Song Yu-vin | A | Music Works | 17 |
| 6 | Son Dong-pyo | B | DSP Media | 6 |
| 7 | Kim Woo-seok | B | TOP Media | 5 |
| 8 | Park Sun-ho | B | sidusHQ | 36 |
| 9 | Koo Jung-mo | X | Starship Entertainment | 2 |
| 10 | Song Hyeong-jun | X | Starship Entertainment | 9 |
| 11 | Cha Jun-ho | C | Woollim Entertainment | 4 |
| 12 | Lee Eugene | X | Individual Trainee | 7 |
| 13 | Kim Kook-heon | A | Music Works | 29 |
| 14 | Lee Se-jin | X | iME Korea | 8 |
| 15 | Ham Won-jin | D | Starship Entertainment | 19 |
| 16 | Kim Dong-bin | B | MLD Entertainment | 18 |
| 17 | Kim Si-hun | B | BrandNew Music | 43 |
| 18 | Yun Jung-hwan | A | BrandNew Music | 58 |
| 19 | Lee Jin-woo | C | Maroo Entertainment | 10 |
| 20 | Kang Min-hee | X | Starship Entertainment | 11 |
| 21 | Kim Dong-yoon | D | Woollim Entertainment | 15 |
| 22 | Han Gi-chan | X | Fantagio | 16 |
| 23 | Hong Seong-jun | B | BrandNew Music | 53 |
| 24 | Hwang Yun-seong | B | Woollim Entertainment | 13 |
| 25 | Choi Byung-chan | A | Plan A Entertainment | 20 |
| 26 | Keum Dong-hyun | B | C9 Entertainment | 23 |
| 27 | Kim Hyun-bin | D | Source Music | 28 |
| 28 | Lee Han-gyul | C | MBK Entertainment | 41 |
| 29 | Kang Seok-hwa | C | Individual Trainee | 21 |
| 30 | Lee Mi-dam | B | AAP.Y | 32 |
| 31 | Joo Chan-guk | D | Woollim Entertainment | 24 |
| 32 | Baek Jin | B | VINE Entertainment | 30 |
| 33 | Kim Sung-hyun | C | Stone Music Entertainment | 22 |
| 34 | Yuri | B | ESteem | 33 |
| 35 | Lee Jin-hyuk | B | TOP Media | 38 |
| 36 | Moon Hyun-bin | D | Starship Entertainment | 27 |
| 37 | Wang Jyun Hao | C | YG Entertainment | 42 |
| 38 | Moon Jun-ho | X | Woollim Entertainment | 25 |
| 39 | Han Seung-woo | A | Plan A Entertainment | 39 |
| 40 | Nam Dong-hyun | A | The South | 45 |
| 41 | Cho Seung-youn | B | Yuehua Entertainment | 67 |
| 42 | Peak | D | Chandelier Music | 34 |
| 43 | Wei Zi Yue | C | HONGYI Entertainment | 31 |
| 44 | Tony | A | HONGYI Entertainment | 55 |
| 45 | Mahiro Hidaka | D | YG Entertainment | 47 |
| 46 | Kwon Hee-jun | X | Cre.ker Entertainment | 44 |
| 47 | Lee Tae-seung | X | Maroo Entertainment | 26 |
| 48 | Lee Hyeop | C | Individual Trainee | 40 |
| 49 | Lee Hwan | B | DSP Media | 46 |
| 50 | Kim Yeong-sang | D | MBK Entertainment | 93 |
| 51 | Jeon Hyun-woo | B | Astory Entertainment | 35 |
| 52 | Kim Sung-yeon | C | Individual Trainee | 54 |
| 53 | Anzardi Timothee | X | ESteem | 49 |
| 54 | Kim Min-seo | X | Woollim Entertainment | 48 |
| 55 | Kim Jin-gon | X | ESteem | 61 |
| 56 | Choi Su-hwan | A | Individual Trainee | 56 |
| 57 | Kwon Tae-eun | X | A_CONIC | 74 |
| 58 | Lee Ha-min | A | Individual Trainee | 50 |
| 59 | Kang Hyeon-su | A | AAP.Y | 79 |
| 60 | Woo Je-won | A | Around Us Entertainment | 63 |
| 61 | Jung Young-bin | B | Individual Trainee | 62 |
| 62 | Tsai Chai Hao | D | Source Music | 57 |
| 63 | Choi Jun-seong | B | Jellyfish Entertainment | 59 |
| 64 | Park Jin-yeol | C | Individual Trainee | 64 |
| 65 | Lee Jun-hyuk | C | DSP Media | 68 |
| 66 | Jeong Jae-hun | A | Around Us Entertainment | 65 |
| 67 | Byeon Seong-tae | D | Urban Media Works | 60 |
| 68 | Hwang Geum-ryul | C | Yuehua Entertainment | 66 |
| 69 | Jung Myung-hoon | B | AAP.Y | 90 |
| 70 | Choi Si-hyuk | B | Around Us Entertainment | 69 |
| 71 | Lee Woo-jin | X | Maroo Entertainment | 52 |
| 72 | Steven KIm | X | DS Entertainment | 70 |
| 73 | Won Hyun-sik | C | Happy Face Entertainment | 72 |
| 74 | Song Chang-ha | D | Kiwi Media Group | 71 |
| 75 | Kim Kwan-woo | D | Krazy Entertainment | 80 |
| 76 | Oh Sae-bom | C | NEST Entertainment | 99 |
| 77 | Yoo Geun-min | C | Million Market | 101 |
| 78 | Kim Dong-kyu | C | Urban Media Works | 76 |
| 79 | Kim Hyeong-min | D | Kiwi Media Group | 97 |
| 80 | Kim Seung-hwan | X | ESteem | 81 |
| 81 | Yun Hyun-jo | X | Gost Entertainment | 98 |
| 82 | Sung Min-seo | D | SF Entertainment | 92 |
| 83 | Lee Won-jun | B | E Entertainment | 77 |
| 84 | Park Yoon-sol | C | NEST Entertainment | 82 |
| 85 | Yoon Min-gook | D | Source Music | 96 |
| 86 | Kim Jun-jae | X | Think About Entertainment | 87 |
| 87 | Kim Min-seo | D | Urban Media Works | 89 |
| 88 | Lee Jae-bin | B | C9 Entertainment | 73 |
| 89 | Heo Jin-ho | C | Astory Entertainment | 94 |
| 90 | Lee Sang-ho | X | Gost Entertainment | 95 |
| 91 | Lim Da-hun | C | Kiwi Media Group | 100 |
| 92 | Choi Jin-hwa | A | WUZO Entertainment | 75 |
| 93 | Yu Seong-jun | X | Yuehua Entertainment | 78 |
| 94 | Choi Byung-hoon | D | Enfant Terrible Company | 91 |
| 95 | Park Sion | X | Plasma Entertainment | 84 |
| 96 | Jun Uehara | D | JH1 | 88 |
| 97 | Lee Gyu-hyung | C | WM Entertainment | 85 |
| 98 | Hong Sung-hyeon | B | Urban Media Works | 86 |
| 99 | Won Hyuk | B | E Entertainment | 83 |
| Left | Yoon Seo-bin | C | JYP Entertainment | 12 |
| Left | Im Si-u | D | Individual Trainee | 51 |