Welcome to CENTER STAGE, where I interview individuals who work in the film industry. From actors to production assistants, from writers to the camera crew, from makeup artists to assistant directors, this is where I tap into the insight of folks working in Hollywood.
Nine years ago, I met Scarlet Sheppard on our first day at Columbia College Chicago, where she shared with me her dreams of becoming an actress. Now she lives in Los Angeles and has been making strong strides in her career. She's the creator and star of an award-winning web series called Karmic and is often spotted on either YouTube or in person dressed as a Disney princess. Trained in theater, screen, and comedy, Scarlet is a genuine talent to look out for.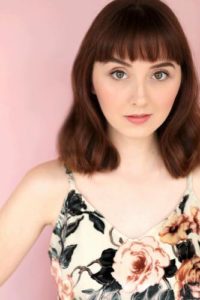 PZ: So Scarlet, how did you catch the acting bug?
SS: I think I was born already predisposed to the acting bug, I think I had a low resistance from day one. I started out as a ballet dancer, so I was always performing on stage, but I wasn't super diligent about doing all the moves correctly. I was a good ballerina in training, but I wasn't A-plus. The main things I really loved were the emotions, stories, characters, and costumes. I would always get praise for the emotional side of performing, but I really didn't care about the criticism to be better. So I auditioned for a play pretty young, not really expecting anything to happen. But I got the lead and I think that kinda sent a message that there was something in me that could be of value there. I took that really seriously from day one, from age 13, that was it.
PZ: And what was that first play you did?
SS: It was The Legend of Sleepy Hollow. I played Katrina, the ingenue and romantic lead. But scary things happen to her so she's kind of like a scream queen. It was in the seventh grade. 
PZ: Growing up, did you find yourself watching many films and shows?
SS: Yes. So I'm from West Virginia. The town where I'm from, Parkersburg; it's kinda Midwestern, kinda Southern, and kinda East Coast. My parents were both creative people; my dad is a musician and my mom is a poet and artist. They both had other jobs, but those were their passions. So I grew up exposed to a ton of amazing art. I was taken to see a lot of theater and live performances. I watched a lot of comedy growing up and I don't think I realized how deeply it affected me. I wanted to be a serious actress, to begin with, but it wasn't until later that I realized it was really funny women that most inspired me. Like The Golden Girls, Fran Drescher, Marilyn Monroe, Judy Garland, and Lucille Ball. My parents encouraged me to watch a lot of older stuff. My parents were older and I'm an only child, so it was a lot of them educating me about the oldies and the stuff they grew up watching. So I got a high dose of great comedy and great films from the beginning.
PZ: Were you active in the theater department during middle school and high school?
SS: Oh yeah, I was hopelessly active. That's all I did. I'd audition for multiple plays at once in case one of them didn't cast me, so I'd make sure I have to be doing it at all times. We called it "suiciding" in middle school, where you'd audition for one role and if you didn't get that role, you wouldn't accept anything else. I would do that for multiple shows during the summer just to challenge myself. I was constantly pushing to be better and get challenging roles. My first musical was Peter Pan, where I played Tiger Lily. I did Our Town in high school, which was a similar situation where I wasn't expecting to get cast because it was the senior play. I got this really meaty role of Emily, where she dies and also has these beautiful, tear-filled monologues. It's a total drama and I was so honored. I also did Oklahoma, The King and I, Putnam County Spelling Bee, and The Crucible, which is my favorite play to this day. By the time I had finished high school, I had done probably twenty plays. The year after, I got very active in community theater. I was part of the Summer Stock at West Virginia University's Shakespeare Program, where I played Juliet in Romeo and Juliet and Ariel in The Tempest. I got a really high dose of theater which led me to college.
PZ: So while at Columbia College, was it there when you first got into acting for the screen?
SS: Yes. I had no opportunities to be on screen until I got to Columbia. The fact that it was primarily a film school with this giant film department was one of the reasons I decided to go. I knew that's eventually what I where I wanted to go because I knew I felt more suited to screen and TV than theater. Even though I loved doing theater up until college, it sometimes felt like a fight to get cast, because I was always kinda quiet, kinda shy, and small. It was always a challenge to be big enough for the stage, at least in my small town. So I just auditioned for as many student films as I possibly could at Columbia and did dozens of them, which taught me so much. And that coupled with my training in the theater department – in improv and all these interesting physical theater methods – really primed me to do it all.
PZ: Have you felt a desire to return to the theater since then?
SS: Absolutely. I think for me, I always knew the theater would be there for me no matter what age or stage in my life. But it always seemed like my twenties was the time for me to try and be a film actress, because there's a lot more work for women when they're young, like romantic leads and ingenues. I think with my experience, I've learned a lot and could bring it back to stage. I hope to go back soon with newfound confidence and strength.
PZ: You've brought up the term "ingenue" a lot. Have you found yourself often typecast in those kinds of roles?
SS: Oh, yeah. There are some amazing ingenue roles, but you can really only play them through a certain age. So I feel like I've gotta do them now. But I'm also trying to challenge that point of view and remind myself I have time to do everything. I can do anything at any age, no matter what anybody else says, especially when creating my own work.
PZ: Is there a certain kind of character or an already-existing character you wish to play?
SS: The first specific character that comes to mind is Abigail in The Crucible. I did not play her in high school, I played the good girl named Elizabeth. She's the downtrodden wife character who's endlessly good and kind. But the roles I'm most attracted to are ingenue-type characters that turn out to be more. So in The Crucible, Abigail seems like the romantic, beautiful lead, but then she becomes the villain of the whole show. I think there's something really poetic and unexpected about that from a female character. She basically flips the script and surprises the audience. I like characters who are scary, angry, super strong, brave, or awful. Any role that's more than meets the eye where you go in and have your expectations questioned about who she's going to be.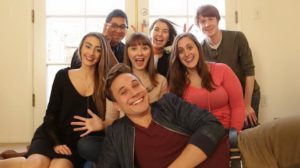 PZ: Speaking of creating your own work, here you have Karmic. What was the inspiration behind it all?
SS: Well, there were a few different inspirations. One was the girls I did the show with, Melanie Price and Jess Sabatini. We were all cast in different a web series that didn't end up happening. There just wasn't enough money and a lot of miscommunication. We didn't have any control, we were just acting in it. But we spent a lot of time together and became such fast friends, so it seemed like a shame to not shoot together. I was lucky enough to have this scene I'd written for Comedy Studies at Second City that I thought would be a great opening scene for a web series. So we decided to just write one episode first, the pilot episode with all three of us playing very different characters from the other show. Subconsciously, my inspiration was The Golden Girls, my favorite show of all time. For those who don't know, it's about four middle-aged women sharing a house in Miami. None of them are married, but they have kids who all live elsewhere. So it's just these four very different women who come together and form this unlikely family unit. I didn't really realize how much of an inspiration that had been on me, but as we wrote the show, it became obvious. But instead of four, it was three of us. And instead of being in our fifties, we're in our twenties. And we're not in Miami, we're in Los Angeles. So it's not an exact recreation of course, but for me as the creator, it set the tone for what the show was gonna be: a very heartfelt comedy with a little bit of edge and bucking conventions, but more so about love and friendship.
PZ: So what is Karmic about?
SS: Very good question! It's about three young women who live together in an apartment in Los Angeles who are just figuring it out. Which I know probably describes a lot of web series. But Karmic has this new age twist. The first season is about this yoga teacher Sage, who I play, coming into the fold and interrupting the stasis of the apartment life of Jose (Sabatini) and Margot (Price). They're best friends from college and they're kind of an odd couple. These three girls are super different. There are some shows I watch where they claim that these young women are different… but they're not, they're all very similar and quirky and fashionable and dating, pretty much all on similar journeys with slightly different personalities. But these three girls in Karmic are truly, completely different; Sage is homeless in season one, Margot is a wannabe fashion designer, riddled with privileged anxiety whose parents pay for rent, and Josie is an LGBTQ character who really doesn't know what she wants to do and is really struggling to find her footing. They're all charmingly lost, and it's just about them growing up together and creating their own little family
PZ: Was the pilot the first project you had ever written and filmed?
SS: Yes, the first. I had written a lot of non-fiction things, but nothing like Karmic. It was a big learning experience. The first season, I wrote as we went, so I didn't really know what the arc would be. I just wrote an episode, then we shot it, edited it, and put it up to see how it turned out which was fun. But for Season 2, I asked a few other writers to join me in creating the season.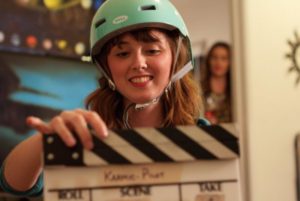 PZ: I know you had a big behind-the-scenes team from Columbia College for Karmic. What was that collaboration like?
SS: It was wonderful! I was so lucky to have them. When I moved to LA, I'd heard this from other actors: for your first couple years, the folks you went to college with, especially a creative group of people, are all you'll have, so you've gotta kinda cling to each other and figure it out. I met film major Danny Agama at a friend's play. We knew each other in college, not that well, but we ended up talking after the show about making something. So he became the director of photography and line producer. Heath Rumble, another film major, soon followed. He reached out to me on Facebook after I had posted about needing an assistant director, more producers, and just more hands on deck. Then Alec Schiff, who was a theater major and also dabbled in behind-the-scenes work, wanted to help me. He was a huge help, from holding boom mics to ordering crafty and even playing bit parts on the show. He eventually became the permanent assistant director. So it was those three guys and me along with a rotating door of PAs and boom operators. I was really lucky; they knew what they were doing when I did not and I learned a lot from everyone.
PZ: So how much more different was production on Season 2 than from Season 1?
SS: Oh my gosh, so much better! There was way higher production value. We did a Kickstarter campaign for Season 2. To be honest, I thought we had a 50/50 shot of it getting funded. So when we reached our goal, I felt a huge pressure to make it great and really pour every cent of that money into locations, paying people, good food, costumes, and props. So when I tell people to watch the show, I'm tempted to tell them to just watch Season 2 because it was really the show we always wanted to make. Season 1 is charming and I'm proud of what we were able to accomplish on practically nothing, but Season 2 is our crowning achievement.
PZ: A lot of web shows are being made nowadays. Even with low-budget production value, there is still this charm to them when the writing and acting are good. I would say with Season 1, you guys did really well with that.
SS: Thank you! Yeah even with Season 1, I wanted to make something that could be on TV, theoretically. I didn't wanna shoot on iPhones or in a "found footage" style or something for Instagram. I wanted to do something that was single cam and out in the world like a family-friendly, broad-audience sitcom of today. I actually think we accomplished that with both seasons! I'm really proud and excited that we have this work to show.

PZ: Would you say also drew from real-life inspiration with these characters?
SS: Absolutely. Living in a dorm for two years was so much fun. Columbia doesn't have fraternities or sororities (and I'm glad they don't), but I kinda got that experience with these five amazing girls during my freshman and sophomore years. We were all so different, but we all loved each other so much. We bonded through difficult circumstances like breakups, jam-packed school schedules, and family stuff. We also went on these great adventures like taking road trips together. We didn't even have full walls in our rooms (laughs); we lived in a Columbia dorm building called Plymouth, where the walls didn't even touch the ceiling. We could throw things over the top of the walls to each other… if someone's date spent the night, everybody knew. There was pretty much no privacy. So yeah, I definitely drew from those experiences for Karmic.
PZ: Do you have a favorite moment from Karmic?
SS: I have a favorite episode, for sure. It's called "Body-Ody-Ody", which is a drag phrase. In the episode, Josie goes on a date to a drag show. We actually shot in a real drag bar with this amazing queen named Roz Drezfalez. It was fun to shoot and fun to edit. There's a falling-in-love montage which, as an amateur editor, was a dream to put together. While that's happening, Margot is helping out at a modeling casting call and has this panic attack based on body insecurity. That's why we called this episode "Body-Ody-Ody" because not only is a nod to drag culture, but it's also about girls embracing their bodies and figuring them out. My character, Sage, is doing naked yoga on the roof of the apartment because she's essentially having a nervous breakdown and trying to connect with Mother Nature. Then she gets locked out on roof by our villain without clothes, so she has to jump off the roof and escape, naked, but then gets arrested for indecent exposure. It was just a big crazy episode that I cannot believe we pulled off. I love watching it, I'm super proud. It's basically everything I love in one episode.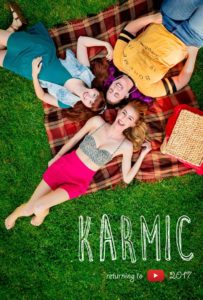 PZ: There's been this huge push for diversity in film and TV, whether it be with women, people of color, or the LGBT community. Do you feel that's something that's important to you?
SS: Absolutely. That's why I know that Karmic probably can't go too much further the way that it is, because it's a show about a group of white girls and we really don't need a bunch more of those. We've had Sex and the City, Girls, Friends, etc. And I say that while simultaneously loving the show and being proud of it! I think we had a distinctly female perspective and we were so excited to bring in LGBTQ themes in Season 2. We're discussing potentially writing a spinoff about Josie and DW, the gay love interests of Season 2. But if we were to reboot the show, we'd need a lot more ethnic diversity, a lot more of everything. More people, more points of view. We were just writing for the people we had, writing and creating for the group that already existed. I feel like a lot of actors of color are discouraged from working and auditioning and that makes me very sad. But times are changing, things are getting better, and it's super important to me that if I ever make another show, there's more ethnic diversity. And there's always gonna be more women behind the camera and all over the place!
PZ: Is there gonna be a third season?
PZ: I don't think so. I think we tied up everything together nicely at the end of Season 2. As I said, we might do a spinoff. I would not be the main boss of that, but I'd like to direct an episode or two and maybe play Sage if she's there. Honestly: it was so much work making Season 2 with all that pressure from Kickstarter. It was a huge test of my will, I had a lot of stress, but it was worth it. However, if I were to ever do it again, I'd need a lot more help. I'd also need to learn how to ask for that help and delegate. It just needs to be a different situation. I wore too many hats last time around. But it was a labor of love and I could not be happier that it happened!
PZ: Now how was the festival circuit like?
SS: We got into quite a few festivals with Season 2. The main one was the Blackbird Film Festival, which takes place in Cortland, New York, on the campus of State University of New York College at Cortland. It's run by the film department there, but it is really way more than you'd expect from a college film festival. Kimmy Gatewood from GLOW premiered a film there this year. We were just so honored to be there. We did not think we were gonna win, we were up against five other web series. I immediately went home and binged-watched all of them, there were all so amazing. Then we won Best Web Series. Heath Rumble was able to be there with me to accept the award. We had so much fun. We were also part of the Improbability Fest and the LA Cinefest. Season 1 was also in some online film festivals, but it was cool to meet people online. But actually traveling to see your show was great.
PZ: Is there anything else you've been interested in writing? Show or film-wise? And would you act in them as well?
SS: I'm much more focused on acting right now. I honestly just think it's the thing I'm best at, I feel that I serve my best purpose as an actor telling a story that way. I enjoy writing, but I'm also doing a lot of writing at my day job right now, which is for a kids TV show on YouTube. It's a great challenge. It's funny, Karmic ended up being enjoyed by a lot of preteens and teenagers, which we did not expect. I thought I was writing a much edgier and adult show than I thought (laughs) but when I look back, Karmic is incredibly cute and family-friendly. What I really prefer is to interpret other people's words as an actress and as a director. I would love to do more directing, and even assistant directing and casting. During Karmic, I got to wear all those hats and figure out which ones fit me best. Writing the show was a great time, but I had a lot of help on Season 2 and the show would be nowhere near as funny without Danny, Heath, and Danny Giovannini writing it with me. I wouldn't be opposed to being in a writer's room in the future, but I don't have the desire or ideas yet. There is a screenplay in the works with my mom that I may help her adapt. It's a beautiful piece of writing, but I'd be much more interested in directing it. She's a great writer, so I'll just leave it to her. But acting's first, that's my passion.
PZ: Do you prefer comedy over drama or do you like them both?
SS: I like them both. I'd say I'm probably more skilled at comedy, but I always wanted to be a dramatic actress. I think comedy and drama are more closely linked than we think. I hate to pick one, but if I had to, it'd be comedy.
PZ: So now you're part of this YouTube channel Totally TV. Tell me about it!
SS: It is so funny that I spend five days a week in wigs as a Disney princess, it is such a strange and unexpected way to spend my time. When I moved to LA, I auditioned for a short comedy sketch for a YouTube channel called Girls Pants Productions. It was about Princess Leia joining a tea party with the other Disney princesses, and this was around the time Disney had acquired Star Wars. They cast me as Snow White from an open call. I had never played a Disney princess or even worn a princess costume. When I was on set, I was like "Oh my gosh, where did they find all these Disneyland-level costumes?" Then I found out that eighty percent of the other actresses were professional "party princesses," which is this phenomenon in LA where people hire actresses to come in costume to be princesses at their kids' birthday parties. I'd never heard of it, it was never something that existed in my hometown as a kid. Now it's kinda taken the country by storm. It sounded like the perfect side gig for an actor. It was weekends, it paid cash, it was acting (kinda), it had improv, I got to dress up, and it seemed like so much fun. So I applied for a job, got it, and then my social media presence became all about cosplaying and princesses. I kinda fell into this niche of the Internet that's so welcoming and excited about Disney cosplaying. Which I think is because us '90s kids are grown up now and all obsessed with Disney and now we're making our own Disney content. It's now become this grown-up industry as well. For every new party I did at the beginning, I would watch (or rewatch) the Disney movie and learn everything I could about the story. I was already a fan, but now I have an encyclopedic knowledge of Disney princesses. So then every time I'd see any jobs relating to the princesses, I would submit because I knew I had a leg up on the competition. Totally TV cast me when they needed a Merida from Brave, who I've never played. I'd also never done a Scottish accent. Totally TV is a YouTube channel just for kids. They create these scripted adventures where essentially you drop the Disney princesses into modern-day circumstances like going to prom, school, going on vacations and even not-so-every-day situations like becoming superheroes or pop stars! The episodes are on green screens; they are very cheesy but very heartfelt. Now I've branched out to play Princess Anna from Frozen, who's one of the series regulars. I've also become a producer and writer for the show.
PZ: So does this mean you've found yourself dabbling more into the cosplay scene?
SS: Not really. Most cosplayers have to purchase or make their own costumes but I've never had to do that. I've always relied upon the gorgeous items owned by the companies I've worked for. My company for which I do parties, Wishing Well Parties, owns all those dresses and wigs. I'm just the caretaker when I'm wearing them. Same for Totally TV; we just have this huge studio and warehouse space full of costumes. I've thought about branching out into cosplay, but it takes a lot of time and money. And I would rather take that time and money to create other content. But it's really tempting, cosplaying is so much fun! I just count myself lucky that I get to wear all these costumes (and get paid to wear them instead of purchasing them myself)!
PZ: How long have you been with Totally TV for?
SS: It's been a little over a year since my first day on set as Merida, and about six months ago they hired me onto the staff.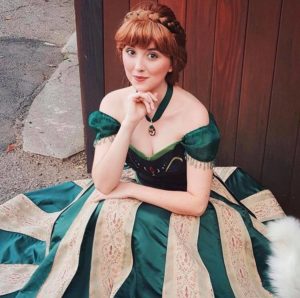 PZ: Who's your favorite character to play?
SS: I do love being Merida, because of the accent. Sometimes it's difficult because the wig is so big and I have to work really hard to make my face visible to the camera. And shoot a bow! It's a lot to think about. I think my favorite is Anna, she's just so easy to play. She's just Kristen Bell, just a modern girl in a not-so-modern world. It's me, I get to be weird me. It's simple and fun.
PZ: Since it's for children on YouTube, you've probably gotten a lot of feedback from parents and families who watch the show.
SS: Yeah, it's been overwhelming. I had no idea how far this show reached. We have three million subscribers, but it didn't click for me until kids of friends from high school were watching me. They would see me and say "That's Scarlet! I went to high school with her! The weird theater girl is on my kid's iPad!" That's been so cool and they're all so sweet to me. It's funny because I still do kids' birthday parties on weekends and I keep waiting for a kid to notice me. Recently, an Instagram friend of mine who plays Elsa who does parties in a different part of the country did a Frozen party. The little girls there were obsessed with Totally TV and kept asking these questions, and she does not perform for Totally TV, she's just dressed as Elsa. The birthday girl kept going on and on about how loved Anna on Totally TV, who I play! So my friend reached out to me with a message sent by her and the birthday girl and it was so sweet, so surreal. So the overwhelming response has been so positive because it's for kids!
PZ: How about fan feedback on Karmic?
SS: I was surprised that some of my friends and family friends with teenagers liked it. At first, I took it kind of the wrong way because again, I thought I was writing an edgy, cool show for grown-ups. But we do not have anywhere to close to the audience for Karmic that we do for Totally TV, which is fine and expected. The best feedback we got was from these festivals. Having people watch it in the audience and laughing, then coming up and asking me about it, while also not being a hundred percent sure if I'm the girl on the show or just the writer, then realizing it's me and getting excited. People have been very positive, I've been really lucky.
PZ: Outside from Totally TV and Karmic, what other big acting projects have you done in LA?
SS: I was lucky enough to be in a Buzzfeed short my first year here, directed by Eli Vazquez, who also went to Columbia College. It was called More Than Friends, and it actually went viral. I got to be an ensemble character in Grease: Live. I've also been doing commercials. But Totally TV and Karmic are my biggest things I've done on camera because they're episodic and there's a lot of them. I've done some short films here and there. I did a horror feature called White Zombie, also written by my mother. I'm hoping to do more under 5s and guests stars and work my way up in the theatrical world with film and TV. It's really difficult, but it takes some tenacity and creativity and just getting into the right room.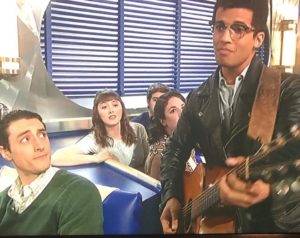 PZ: What has been your favorite moment as an actor in LA?
SS: There have been so many. Grease: Live was fun. It was like theater; running to change costumes in the same building that was the coffee shop Emma Stone worked at in La La Land, on the Warner Bros. lot. That was our costume holding area during the show. We were getting fitted and running and rushing on golf carts from one stage to another, just rehearsing. Also sitting right behind the Pink Ladies! It was neat because it was live and I knew that my family and friends were watching. It was all the things I love about theater and it was on TV. And it was Grease, which I love!
PZ: So with your love for both the stage and screen, here they are together as Grease: Live. How did you get to be involved with that?
SS: There's a website for casting calls called Actors Access, where we can actually submit ourselves to projects. And very rarely does the site deal with projects as big as something like Grease: Live. But sometimes if they're looking for something specific, they will go there. They needed extras, so that's what I was. But I was also needed for rehearsals, so it was like a four-day extra gig, and I was technically considered as a "featured extra". They wanted actors with theatre experience. The director was Thomas Kail, who directed Hamilton on Broadway. He handpicked us based on our headshots. You submit them along with your reels and if they're interested, you send them your measurements and other photos. From there, they cast me! They needed people who looked young and could be from the 1950s, as well as diversity. There were twenty of us. We then got fitted for costumes at the Warner lot, which was my first time there. From the day I submitted to when it aired, it was a two-week process with rehearsals. There were also ensemble performers who were dancing and singing; I was not one of those. Those were folks from Broadway and had been rehearsing for weeks. So we were split up from them and rehearsing for scenes in like the hallway or drive-in. It was so much fun.
PZ: Were you featured a lot?
SS: I was a bit, especially the diner. There's this moment where Doody (Jordan Fisher), is playing his guitar in the diner and all these kids are swooning over him. I was featured as one of the main swooners. I have a moment when I'm with Frenchy (Carly Rae Jepsen) too, in the dance during the "Hand Jive." And of course, I was in the carnival scene at the end.
PZ: You're also in a pilot called (Sorta) Supportive that has yet to be released. What's the story behind that?
SS: So I saw the creator recently, his name is Travis Flores. He's a good friend of mine from middle school. Travis is a survivor of cystic fibrosis and has had two double-lung transplants. He's a jack-of-all-trades, being a writer and a producer. He's also charitable; he works with Make-A-Wish. Travis wrote this show because even though terminal illness is trending right now, their stories not being told by people with real illnesses, as he'd say about it. The pilot is a dark comedy about a support group for young people living with terminal illnesses. About a year ago, Travis was telling me about the show and decided I needed to be in it, so he wrote me in. I spent a lot of time with Travis a lot in the hospital when I moved to LA. It was when he was prepping for his first lung transplant. I saw the process: his health deteriorating, getting a call for lungs that ended up not happening, and finally getting the call for lungs that would work, getting the transplant, then waking up a day later and fighting to get strength back. I learned a lot. He wrote me this character called Piper, who's a nurse; she's young and cool and helps kids document their experiences on camera, like a confessional in every episode. They're just detailing how they're feeling. Travis is acting in it as a character based on him. The main star is Elaine Hendrix, who played the stepmom in The Parent Trap. She plays a new doctor at the hospital. The pilot is being edited and shopped around. Travis is also on his third lung transplant, so we really hope he gets to see it made. We shot in a week at a sound stage in Orange County. It's a gorgeous and hilarious show.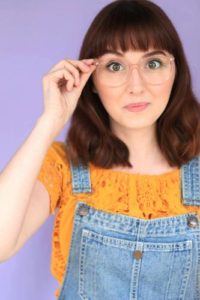 PZ: How was your experience at Second City?
SS: It was very vanilla and wholesome. So I did the comedy studies program at Columbia. They offered a comedy studies intensive where we'd go to Second City and do your classes there during the semester. There's no audition process, but there is an extensive application process. At Columbia, you have to take improv. I completely fell in love with it and knew I wanted more. It taught me so much about being an actress. We had a writing class, an improv class, a class for stand-up, we did sketches, learned about comedy history, lots of physical comedy, and it was the hardest semester of college by far. There were essays and just a lot of writing in general. It all culminated at this graduation show at the e.t.c. Theater. Norm Holly directed our show, which was called Is There a Problem? It was a sketch show with songs and fake commercials. It was a blast. I wish I had spent more time in Chicago doing comedy before I moved to LA, but I also knew LA was where I needed to be. There's comedy to be done out here, too.
PZ: Have you been interested in Upright Citizens Brigade or Groundlings?
SS: Absolutely. That's one of my next steps. Probably Groundlings; it's more character-based but still improv. UCB is all improv and it's long-form with teams, so we'll see how it goes. It takes a lot of time and very expensive, but it's worth it. I need to see what that's like out here.
PZ: What are some of your favorite shows and films? Any influences on your own work?
SS: I love feel-good stuff. TV-wise, I love New Girl (which I also think was an inspiration for Karmic), The Office, Unbreakable Kimmy Schmidt, and Parks and Recreation. In terms of movies, I love The Birdcage, Some Like It Hot, anything with Audrey Hepburn and Judy Garland, like A Star Is Born. I have not seen the new one with Lady Gaga yet. I get so wrapped up in other things that my go-to is just rewatching things I love because I like noticing things I didn't see before. But then I don't watch new things; it's a bad habit. As an actress, I need to be watching new things. But I know what I like and love and I kinda let movies find me.
PZ: You've been pretty active with online content, so you're already part of this big movement that's happening, wouldn't you say?
SS: That's one thing they tell you as an actor, at least when I started: you have the Internet, it's a great equalizer. There are no gatekeepers, you are in charge. Make your own stuff. The Internet is changing everything, from television to film. With Hulu, Netflix, Amazon Prime, I cannot believe how much it's changed the game for actors and filmmakers. And it's been a great friend to me here in LA. It evens the playing field and puts power back in your hand. You can have a love/hate relationship with the Internet and that's normal. I choose to see the good aspects; there's so much support on social media, you can find your fans, friends, and people who share your values and like the things you make. I intend to be a proud Internet content card carrier for a long time. Of course, I'd love to do non-Internet stuff, I prefer not to promote everything myself forever (laughs). But if that's what I have to do, that's what I'll do!
PZ: Where do you see yourself in ten years?
SS: I think I could be a working character actress in TV and film. (Laughs) It didn't happen for me at nineteen, I wasn't plucked out of obscurity; that was Plan A. I definitely think I'm gonna be a good candidate for a solid career as a television actress whose name you may not know, but whose face you'll recognize. I cannot believe I've already been in LA for five years. It takes a lot of time to do that work and build something like that. But I have a lot of good role models and great friends. There's enough for us all and I hope us Columbia alums get there! I'm trying not to have super-specific expectations because that can lead to heartache and disappointment. That's why I'm trying to leave my expectations vague. When I look back at why I wanted to be an actress, it's because I wanted to tell stories and reach large groups of people and move them, bring them joy, and make them feel less alone and more connected. I'm doing that already and I feel so grateful. The more I can do that, the happier I'll be.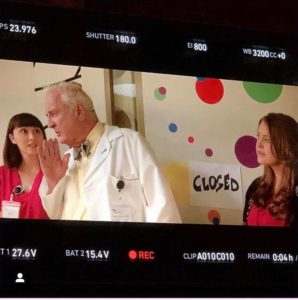 PZ: What would you say are the advantages and disadvantages of screen versus stage acting?
SS: Well, there's less to hide on camera, you have to be pretty grounded. There's something about a camera in your face that makes it all incredibly difficult and it's really a practice of being in the moment and completely listening and honesty. At the same time, film is less physically demanding. You can show up and be what a character needs because you were cast based on your essence. Very rarely gonna be a huge transformation to undertake unless you're Meryl Streep or Christian Bale. Most working actors are hired to be themselves, truthfully. In theater, it's really physical and you're being cast as a blank canvas. You can even see that in the difference between headshots in LA and Chicago, with Chicago being more theater-based. Your headshots are you in a plain t-shirt. They wanna see you looking super fresh-faced and so they can imagine what role they see you in. It's mentally exhausting and usually a longer time commitment with rehearsals and multiple shows. But you don't have somebody looking at you from two inches away on stage, you don't have to be fully grounded every second. Ideally yes, but you can pace yourself on stage, you can strategically plan for moments where you can relax and rely upon muscle memory. You don't get to do that on camera. Every take is important and a chance to make something new. And you never know which take you're gonna use either. On stage, whatever you do, that's the performance for that night. But when something's edited, you have no control over that.
PZ: What's been the hardest thing you've ever had to deal with in your career and how did you overcome it?
SS: I think probably moving to Los Angeles by myself, packing up all my stuff, throwing away what I didn't need in a dumpster behind my apartment in Chicago, and buying a one-way plane ticket, that was scary. I felt like the tiniest fish in the biggest pond. I felt like I was no one and had done nothing and nobody knew I existed. That was a really humbling and important time. Then very quickly, I realized how many opportunities awaited me here around every corner. I immediately felt very present, seen, and supported. But it was hard. The other thing hard thing I had to do was to learn to slow down, which I'm learning to do right now. I'd always think I could push the pace of things, that's always been how I've operated. I would force it, just do it, if it was scary or if I had time, I'd do it quickly. But at a certain point, like getting to LA to do film, a lot of it is waiting. And sitting. And training, just keeping your muscles toned as an actor. But there's only so much in your control and you have to slow down. That is incredibly difficult for a Type-A goal-setter like me. To be honest, it's not the doing that's been hard, it's the not-doing. It's hoping and praying, which is also the inspiration to stop waiting and just make it yourself. It's a delicate balance; a little bit of waiting and patience and growing the other parts of your life. But on the other hand, there's no day but today.

PZ: What do you miss about Chicago?
SS: I miss it for a lot of different reasons. I miss how outside and active I was, like running to catch buses, walking from the train stops with friends, taking an hour walk to North Beach, and lazily riding your way home. The city is so beautiful. LA is great, but it's really spread out and you're in cars a lot. There's so much natural beauty, but it's all out of reach, in a way. You're having to figure out where you're gonna park to take advantage of the city. In Chicago, it felt alive. There's something about a big close-knit urban city where there's public transportation, it's a big uniting factor. It was a super-fun place to go to college. I don't miss wintertime, but I really miss summertime there. And I miss all the theater, I miss being in a town with so much incredible theater to be done.
PZ: If you could give advice to anybody who wanted to pursue what they loved in any industry, what would it be?
SS: Don't try to be anybody else. Really get to know who you are and know that who that is, that's who we need. We need that really strange kid who did all that weird stuff in high school and middle school. We need you on your worst day and we need your stories from your entire life. You don't need to change, you don't need to be more beautiful, you don't need to lose weight, you don't need to be cool; that's a lesson everybody's learning. Don't think that we all have it figured out if you're wanting to join this industry and you haven't. If you're looking at the people you love, they are being themselves fearlessly. Are they right for every single part? No. It's tempting, I wanted to be a moldable chameleon actress. While I still think I am, what I've learned is the thing that made me love getting cast in The Legend of Sleepy Hollow was essentially being told, without words, that my story mattered. That was really powerful for an awkward preteen to be told that that the way I was gonna tell a story was the way that other people wanted that story. We wanna hear the stories the way you're gonna tell them, with all the pimples, frizzy hair, stretch marks, braces, and traumatizing childhood experiences. And all your anger and frustration, things you don't have figured out yet, we want all of it. The world needs it. You owe it to us as an artist.
PZ: Anything to plug in?
SS: Please watch Karmic! We have 700 subscribers on YouTube and if we hit 1000, we can start monetizing those videos. Any little bit of money will go towards making something new. Seasons 1 and 2 are there, and for free! Also, if you've got kids at home or nieces and nephews, I promise you they're gonna love Totally TV! It's so goofy, sort of like a Nickelodeon show. We're trying to make it funnier every day. And if your kids have any ideas for episodes, we'd love to hear them. If you wanna see (Sorta) Supportive, look for it on Instagram and support it! The more interest in the show, the better.
Scarlet's website: http://scarletsheppard.com/
Karmic's YouTube channel: https://www.youtube.com/channel/UCmSlHequhekBs7XUGRTwn9g
Totally TV's YouTube channel: https://www.youtube.com/channel/UCPOIFuct7fjWKkiDRTNJqrg
(Sorta) Supportive's Instagram: https://www.instagram.com/sortasupportive/