Grilling Cowboy Style features an incredible option for your grill – the beef short rib. Beef short ribs come either bone-in or boneless. Our favorite choice is the boneless variety. In addition to these tasty beef ribs, we will include our recipe for Cowboy Baked Beans. This combo is guaranteed to be a huge hit with your summer BBQ guests.
Grilling Cowboy Style
When it comes to ribs, most of the focus is on pork baby back ribs, pork spare ribs, or St. Louis style pork ribs. Beef ribs are the seldom seen menu option at most barbecues. They are treated like the proverbial "red-headed stepchild" of ribs. This is an unfortunate situation that needs to change. Beef short ribs are incredible on the grill when done right.
Boneless Beef Short Ribs
Ingredients
2-3 pounds boneless beef short ribs
Lawry's Seasoning Salt, black pepper, granulated garlic, Montreal Steak Seasoning
your favorite BBQ sauce
Grilling Cowboy Style means over an open flame and adds incredible flavor to the ribs. The beef short ribs can be grilled on either charcoal or propane grills. While we prefer charcoal we certainly do not want to discourage anyone from using a propane grill. If you can shut down part of your propane grill burners, you can grill indirect.
Grill Time
The key to grilling these delicious ribs is the infamous low and slow method with indirect heat. In our example, we have our 20-25 charcoal briquettes in the center of the grill with the beef short ribs on the outside edges of the grill grate. You can also use the two-zone method which has the charcoal to one side of the grill. You will keep the beef ribs on the opposite side of the grill when using the two-zone method. The two-zone method is the same way to grill the ribs on your propane grill. Whichever way you chose to grill, it's time to light that grill and follow the directions below.
Meat Prep
Prepping your beef ribs for your cowboy grilling adventure is easy. Take the ribs out of the package and season them liberally with the spices suggested or any other of your favorites. There are however options that can make the ribs even more flavorful. You can marinate the ribs before grilling to add flavor. There are dozens of marinades on the market but our favorite is Kikkoman teriyaki flavor marinade. It is not as thick as most marinades which will help with the grilling. The thicker marinades will tend to char up while you grill which is not good.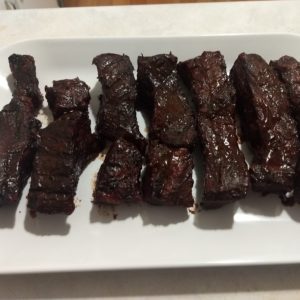 Cowboy Grilling Style – Low And Slow
Once your coals or propane grill is ready to go, place your ribs on the grate away from the heat source. Then close up your grill lid and let them enjoy some alone time. We recommend turning your ribs every 20-25 minutes. Your total grilling time should be 90 minutes with multiple turns of the ribs. After 90 minutes, it is time to sauce up the ribs. Give them a liberal coating of BBQ sauce on all sides then let them have another 10-15 minutes in peace. (If you chose the teriyaki marinade option, you should stick with a teriyaki flavored BBQ sauce.)
Next up remove your ribs and allow to cool 5-10 minutes before serving. You can also serve extra BBQ sauce on the side for your guests who love their meat saucy.
Cowboy Baked Beans
What we are doing here is taking our incredible baked beans recipe and turning it up several notches for your grilling cowboy-style themed feast. Normally cowboy bean recipes include ground beef in the recipe. In ours, we are moving beyond the normal and suggesting something with a lot more noticeability for your guests. As you see below, this recipe will wow them.
Ingredients
3-4 cans of your favorite baked beans
chopped red onion
brown sugar
honey
olive oil
5-6 slices of bacon cut into small squares
1-2 pounds of smoked sausage (beef, chicken, or turkey)
Your first step is to cut up the smoked sausage into small bite-sized pieces. Saute the sausage in a skillet drizzled with olive oil and some of your chopped onion. Once the sausage has been cooked through, transfer it into a Corningware dish or sturdy foil pan. Place the beans on the bottom then sprinkle the remaining chopped red onion across the top of the beans. Next up add the bacon almost covering the beans across the top. After that, spread out a thin layer of brown sugar and then drizzle the honey across the top.
Cover the pan with foil and bake at 250 degrees Fahrenheit for two hours. Uncover the pan and bake for an additional one hour. Right before serving, give the cowboy beans a good stir to mix in all the flavors. Serve your guests the beans alongside the beef short ribs and stand back. Your regular guests who already love your baked beans are going to go crazy over the cowboy beans. You will probably get questioned on the recipe, so be prepared to share it.  
Grilling Cowboy Style Roundup
The grilling idea we presented to you today takes the often ignored beef short rib and thrusts it into the grill spotlight for your guests. Adding in the cowboy beans recipe is the final piece to another memorable BBQ that your guests will never forget. In fact, your more mature guests may crack some jokes about the infamous campfire scene from the 1964 classic movie Blazing Saddles. That scene involves cowboys and beans and a lot more than is fit to print here. Hopefully, your guests will be well on their way home before a reenactment occurs!
Coming up we will feature our July 4th BBQ menu ideas. Stay tuned for those soon.