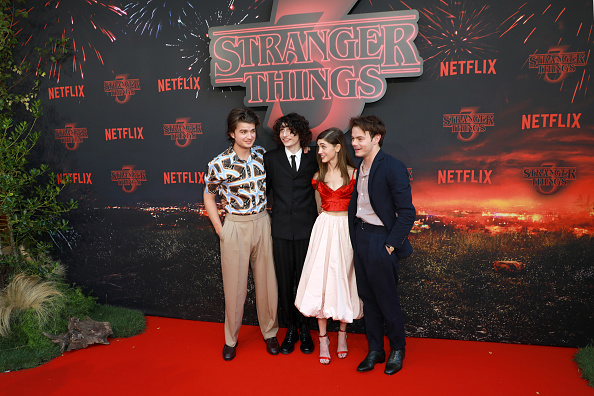 All caught up before Stranger Things 3 yet? You had nearly two years to do so before the third season arrived on Netflix on the Fourth of July. The smash streaming sensation takes us back to the summer of 1985 where our favorite characters are growing up and facing new threats in the little town of Hawkins, Indiana.
So is this season as good or memorable as the first two? Did the summer setting, new locations, and a gloriously grotesque monster sell it for you? Let's go back and recount. Here are the top ten best moments of Stranger Things 3.
WARNING: SPOILERS AHEAD!!! DO NOT CONTINUE READING IF YOU HAVEN'T WATCHED SEASON 3 YET!!!
Counting Down the Greatest Moments from Season 3 of Stranger Things
10. Hopper vs. Kline
Don't you just hate it when corrupt politicians are covering up dirty little secrets about the town you live in? Police chief Jim Hopper (David Harbour) certainly does. Aside from the evil Russians, the controversial mayor of Hawkins, Larry Kline (Cary Elwes), is the ultimate embodiment of a classic '80s villain; corrupt, materialistic, and a swine. So when Hopper pays Kline a visit to discover the truth about the new strange occurrences in Hawkins, he delivers a beatdown that's satisfyingly earned after Kline refuses to give answers.
At this point in the season, as well as the whole show, Hopper has been fed up with pretty much everything in the town he's sworn to protect. So when he has no choice but to physically beat the truth out of the most powerful man in Hawkins, it's almost cathartic. Newcomer Elwes, whom '80s fanatics will recognize as Westley from The Princess Bride, is having a great time playing this villainous character and it's quite hilarious seeing him get pushed around. Just goes to show, you don't mess with Hopper.
9. Reunion at Starcourt
After days of our main characters going on their separate journeys into the new mystery of Hawkins, it feels so refreshing when our three core groups are reunited at Starcourt Mall. We've got the Scoops Troop (Steve, Dustin, Robin, Erica), the Griswold family (Mike, El, Lucas, Will, Max, Nancy, Jonathan) and the team with Bald Eagle (Hopper, Joyce, Murray). Everybody's tired or shaken but still relieved to see each other. With tension earlier in the season brewing from Dustin's dissatisfaction with his party, they finally realize everything works smoother when they're all together.
This is just how great storytelling works when you have several characters: by having them each go on their own journies to learn and grow, you eliminate the potential of tedious reactions that don't further the plot. Stranger Things 3 is just as much a sequel and continuation of Seasons 1 and 2, so you can expect some repetition. But when you really get down to it, what you love most about the show are the characters. You love spending time with them and watching them grow. And seeing that they're all different ages, it does feel like a family reunion when they convene at Starcourt Mall for one last battle.
8. Alexei's Fourth of July
Russian scientist Alexei (Alec Utgoff) has become something of a fan favorite this season. Initially working in the Soviet lab built underneath Starcourt Mall, he gets arrested and interrogated by Hopper after escaping. However, Hopper and Joyce (Winona Ryder) enlist the help of returning private investigator Murray Bauman (Brett Gelman), who happens to speak Russian. With Alexei, they finally discover the truth about the secret Soviet presence in Hawkins, but not before Alexei tries to escape, then backs out. Pure dumb luck on Hopper's part.
From there on out, viewers have grown to love Alexei's childlike nature and admiration for all things American, especially cherry Slurpees. However, it's his bonding with Murray that helps elevate him into a more sympathetic character. Aside from both of them recognizing the sexual tension between Joyce and Hopper, Murray also sees that Alexei merely wanted the true American experience. And Alexei did get that at the Fourth of July Fun Fair until he was sadly gunned down by Soviet hitman Grigori (Andrey Ivchenko), aka Russian Terminator. Just like that, our hearts were broken.
7. The Byers Moving Out
It's safe to say that Hawkins, Indiana is no longer the quiet and simple small town America thought it was. Even with the secrets finally exposed and the darkness vanquished (for now), the events the Byers have undergone ultimately lead to the decision to officially move out. It's established at the beginning of Season 3 that Joyce was putting up her house for sale, despite the reservations of Hopper. She even reconsidered for a moment. But now that Hopper is "gone" and with Will (Noah Schnapp) and El (Millie Bobby Brown) experiencing enough suffering, this was the smartest thing for them to do.
Will must say goodbye to his friends knowing he has to grow up and move on (which we will get to in a bit) and his big brother Jonathan (Charlie Heaton) has to leave Nancy (Natalia Dyer), despite her suggestions for him to stay. It's sad to see people you love having to leave, but understandable when you know what they've been through. But as Jonathan and Nancy agree, it's "shared trauma" that brought many of these characters together. Shared trauma is also what makes this choice to move even more viable. Still, how Joyce was able to even sell a house you could argue to be haunted in a town embroiled with scandal is amazing.
6. Erica
Which Erica moment? All of them. Priah Ferguson was upgraded to the main cast for Season 3 and deservedly so. The sassy little sister of Lucas (Caleb McLaughlin) was merely a scene-stealer in the last season, but here she proves herself to be a valuable asset to the Scoops Troop as well as the whole team during the Battle of Starcourt. Remember, you can't spell "America" without Erica.
But if we had to narrow down some standout moments, it would be the following: her love of capitalism, crawling through the mall vent John McClane-style, providing Dustin (Gaten Mattarazzo) with a weapon to save the Scoops Troop from the Soviets, and explaining to "Bald Eagle" Murray that his plan in the underground lab won't work. But her most defining moment is when Dustin discovers she's practically a nerd, even though she despises nerds and won't admit to being one. Through and through, she gets to be in on everything our main characters have gone through since Season 1 and even be useful. All I can say is once Season 4 is (hopefully) announced, we can maybe expect to see Erica playing Dungeons and Dragons with her brother and friends.
5. Billy's Redemption
Now we come to poor Billy (Dacre Montgomery). In one of the show's most visually impressive moments, El is able to enter the Void make contact with Billy – who's been possessed by the Mind Flayer – as she sees his childhood in California where he had a loving mother who left the family due to his abusive stepfather. It's where we also see his first meeting with his stepsister Max (Sadie Sink) as well as his eventual rebellious behavior. You don't often get to dive into the psyche of a bully, but Stranger Things does like to play with tropes, and it's welcomed here.
Fans have had mixed opinions about Billy. Some have said he's just another two-dimensional '80s bully while others say he's just complicated due to his own family issues. We got a touch of that in the previous season, but here we see it in full force with flashbacks. As we come to the Battle of Starcourt, with Billy about to feed El to the Mind Flayer, she's able to tap into his mind about his past. He finally snaps out of it and sacrifices himself to the Mind Flayer. It comes full-circle just seconds before his death when he apologizes to Max. She then mourns, knowing that even with the monstrous image Billy had, there was good in him. This hit home for many and is why his death remains the noblest.
4. Hopper's Letter
All right, get the tissue box out. Whether or not you think Hopper is dead due to that major hint in the post-credits scene, there's no denying that his letter to El about her and Mike (Finn Wolfhard) was designed to tug at your heartstrings. And you could argue that this is more integrated with the Byers moving out seeing how it's narrated over the moving-out-and-saying-goodbye montage, but I see it as a separate moment of its own. What makes it so powerful is the relationship between Hopper and El.
Hopper is not a bad guy by any means, but he had some destructive behavioral issues this season, especially towards his relationship with Joyce. His character was filled with more fatigue and paranoia than before, and his losing his own daughter years before contributes to his cynicism. He wanted another chance to be a father and a good one, at that. But his seeing El with Mike reminded him how tough it can be to see change. So with the help of Joyce, he ended up writing his thoughts down. And thankfully it's not one of those tropes where a character who knows they're about to die has to write one last letter to their loved ones; this is more of Hopper trying to grow as a person. He loved El more than anything and it's saddening to not see him get the chance to express that. But El knows now, and it's why she also has to leave with Joyce. She's the closest El has had to a positive mother figure. And it's what Hopper would've wanted.
3. Will's Misery
Will can never seem to catch a break. Being trapped in the Upside Down and having your body taken over by the Mind Flayer is enough pain as it is, but then there's the harsh truth of growing up and leaving your childhood behind. Thankfully, Season 3 doesn't retread too much into "there's something wrong with Will" territory, but clearly, not all is well with him. With the trauma he's endured, Will is inching towards wanting to recapture the glory days of his childhood that had nothing to do with the Upside Down. That's why he keeps pestering his friends to play Dungeons & Dragons even though they aren't as invested anymore.
It's easy to see why Will wants to continue living in the past, but even harder to see him have an emotional breakdown, rip up old photos, and destroy his childhood fortress, Castle Byers. He felt betrayed by his friends but didn't realize they just grew up faster than him. This destruction of his past represents his own misery as a teenager, watching everything change around him. Since Stranger Things indulges in nostalgia, you can see where this all comes from. Will's time in the Upside Down and with the Mind Flayer has left him knowing things can never be the same again despite trying to fight it. His situation is how most people feel when they're wanting to relive a familiar and simpler time. Castle Byers and its remnants were the best things Will had, but knowing he couldn't enjoy it all the same way he used to makes this moment all the sadder and quite overlooked this season.
2. Robin's Reveal
Newcomer Robin (Maya Hawke) fits in perfectly in the cast of characters, particularly with the chemistry between her and Steve (Joe Keery). However, a new dimension to her character is added after she and Steve have escaped from the Russians and are hiding out in a bathroom in the mall's movie theater. Steve makes the confession that he likes Robin, but she admits that while she also likes Steve, it's only as a friend. Instead, she outs herself as a lesbian, shocking Steve. Stranger Things adding its first gay character isn't why this moment is so high on the list; the reason is Steve's reaction. It doesn't bother him. In fact, he even goes on to playfully tease Robin for her choice in girls, further solidifying their friendship.
Think about it like this: Steve went from a stock '80s bully in Season 1, to a surprisingly good babysitter in Season 2, to a well-rounded friend in Season 3. Given how unkind the American public was to the LGBT community in the '80s with the AIDS epidemic, an alpha male like Steve accepting a closeted lesbian like Robin as his friend, instead of dismissing her sexuality or displaying any toxic male behavior, is mighty big for the show. And even though it seems like the spotlight is being taken from Robin's big moment, we've spent three seasons with Steve and watching him develop into practically everybody's favorite character.
1. Dustin and Suzie's Duet
Remember the "Johnny B. Goode" scene in Back to the Future? A scene that you could argue served no purpose to the plot but you enjoyed it anyway for being a fun break from the urgency our characters are undertaking? That's what the "NeverEnding Story" number from the final episode of Stranger Things 3 reminded me of the most.
So, it's finally revealed that Dustin does, in fact, have a girlfriend named Suzie (Gabriella Pizzolo) whom he met at camp and lives in Salt Lake City, much to the surprise of every character. He contacts her through his ham radio in order get a number called Planck's Constant to help save the day, but she's more annoyed that she hadn't heard from him in days and persuades him to *ahem* serenade her first. Dustin is then forced to have a duet with his girlfriend. The song turns out to be the theme from the classic '80s film The NeverEnding Story, via two-way radios, while everybody has to listen despite being pressed for time.
Yes, it is completely unnecessary and cheesy and darn it, lives are at stake here, Suzie! But I would be lying if I said I didn't have a huge smile on my face throughout the whole scene. First of all, it's completely unexpected and helps break the tension in the scene. Secondly, both Matarazzo and Pizzolo actually have Broadway backgrounds and did a wonderful job singing this song. Third, if you're not familiar with The NeverEnding Story, it is considered to be a staple of '80s nostalgia. Stranger Things itself is the quintessential '80s homage with its love of childhood adventure films, its incorporation of the eclectic pop culture of the time, and its message on how you shouldn't be afraid to have fun every so often.
The NeverEnding Story is yet another film that influenced Stranger Things, so it would make sense for this moment of admiration to happen. The film was a hit at the time of its release, just like Ghostbusters was when it influenced our main characters in Season 2. Since this season takes place in 1985, it also shows when Back to the Future (my personal favorite film, by the way) first entered the zeitgeist. Having a scene like the "NeverEnding Story" duet with Dustin and Suzie is not just a reference to a popular film, it's a celebration of a whole decade. It makes you want to be a child again. This is what Stranger Things excels at; it does not refer just to have references, it's both a love letter and a thank you from the series creators Matt and Ross Duffer about why they do what they do.