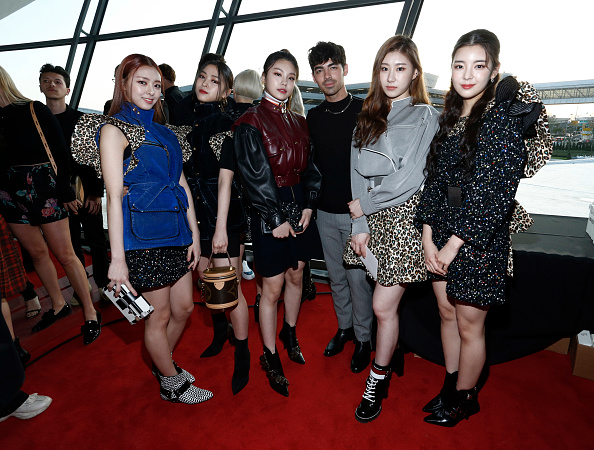 When ITZY debuted back in February, their original title track "DALLA DALLA" elicited a split opinion from the public. A lot of people didn't like it at first. A lot of people came around to it and eventually liked it. There's no doubt that people liked it, as the song currently has 138 million views on YouTube, categorizing the group as "Monster Rookies."
In their most recent release IT'Z ICY, title track "ICY" is doing as its predecessor did: divide people's opinions. ITZY's critical reception of their two releases could be mirrored with Red Velvet's past two albums, which have made even loyal fans scratch their heads. And, similar to Red Velvet's releases is that, whether there is public divide or not, the song will succeed. We will see ITZY win music shows and top the charts. And the latter has already been accomplished.
A Review of ITZY's Latest Release IT'z ICY
The mini-album comes with two b-side songs and two remixes of their first release. Let's see how ITZY sound in their first career comeback.
Track List:
ICY (Title Track)
CHERRY
IT'z SUMMER
DALLA DALLA – DallasK Remix
WANT IT? – Imad Royal Remix
Track 1 – ICY

There's a lot to unpack here. When I first heard "ICY," I didn't know what to hear. It was very much like when I first heard their first release. With its many samples, dramatic beat changes and adlibs, it's hard to take in with one or even two listens. And while I started to enjoy it more when I played it over and over, I never really fell in love with it as I did with "DALLA DALLA." It was crazy, but not out of the box. For it to be out of the box would make it different or unique. But this feels very industry standard for an EDM-pop song, except it went too crazy with the production.  
The title track "ICY" flaunts the expected concept of ITZY being confident and not caring about what others think. It's what I enjoyed about "DALLA DALLA," and what I liked about this song as well. They mention confidence quite often, and how others talk but they're not lending an ear. Although this was good, the English line in the chorus "They keep talkin', I keep walkin'" felt like a lazy rhyme. "Walk" and "talk" feel like the two most generic words to rhyme together. Most of us already know the hit song from Drake and Migos called "Walk It Talk It," which uses a similar cheesy rhyme, but makes use of it. In "ICY," the lyric "They keep talkin', I keep walkin'" isn't on the nose. There's nothing to it besides its obvious meaning. But for the lyric "walk it like I talk it," Migos are saying that they back up (walk) what they say (talk). I get that not caring what people think is the theme of the song, but have a little nuance in how you deliver the message. While I don't like that lazy line, the line "I see that I'm icy" is clever.
The Music Video
The direction of the music video was something that I liked. In "DALLA DALLA," we saw ITZY as this independent and cocky group, but they never really interacted with anyone in the video besides themselves. In this video, we see the group members in public places. The members stand out, as anywhere they go nearly everyone is looking at them with shock. The video shows that ITZY stick out like a sore thumb, but they aren't embarrassed by that because they know exactly who they are. That attitude isn't something that we all are, as sometimes that will set you back in life, but it's certainly something that we all wish to be.
They stuck out in their previous music video, but even more so this time around. Gone is the five-member girl group that all had dark long hair. Yeji had black and blue hair, Ryujin has pink hair and Yuna is rocking blonde. The splash of color was welcomed, especially in such a colorful video. From the New York downtown setting to the flashy designer brands that the members wore, this video was great in the aesthetics department. Video-wise, I don't have any complaints at all.
Track 2: CHERRY
The first of two b-sides on this EP was "CHERRY." The much more mellow song has a real focus on rap parts. Everyone gets their turn to rap in this song, and I quite enjoyed it. While this song was the least exciting of the three on this album, I had no real issues with it. Nothing about the song got a sour reaction from me. 
Track 3: IT'z SUMMER
If you couldn't already tell by the two songs before, this album has a summer theme to it. That point is driven home by the final new song on this EP, "IT'z SUMMER." If we ignore the lyrics, it feels like this song is a more controlled version of the title track. Similar to the title track, I didn't like the part of this song that had lyrics shouted. In an even worse case than the title track, the lyrics were actually the bridge instead of just adlibs. Besides that, this song was a fun listen.
Track 4: DALLA DALLA – DallasK Remix
For the final two songs of the album, JYP Entertainment hired out of house producers to remix ITZY's two last songs. The first remix was from American DJ DallasK, who remixed the famous song "DALLA DALLA." This song didn't give the original a real overhaul, but instead just offered an alternative backing track. While I'll always pick the original over this remix, when I want something to listen to, this remix did something that I like: it nearly cut out the bridge. The bridge of the song was my least favorite part when it came out, so I was pleased that it was mostly that.
Track 5: WANT IT? – Imad Royal Remix
While the song before didn't top it's original, the remix by Imad Royal for "WANT IT?" certainly did. When the original version of "WANT IT?" came out, I thought the song and its guitar backing track was sort of lame. With this remix, the vocals are given the justice they deserve with a backing track that really slaps.
An ICY Conclusion
A few days after it's release, I'm still not a fan of "ICY." While, like all the other ITZY songs I like the videos and the message behind it, but for this song, I wasn't a fan. While that was the case for the title track, the b-side songs were pretty solid. Also, even though I've never loved remixes, the two remixes on this release were pretty good. ITZY are young in their campaign, but they have already made a huge impact on the industry. While this release felt like somewhat of a bump in the road to me, that doesn't mean they won't put out many great songs in the future.