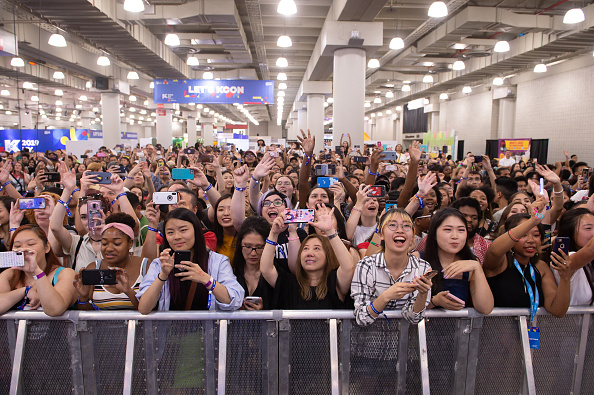 On Sunday, another batch of high-level K-pop artists will take the stage at the Staples Center to close out KCON Los Angeles 2019. The second night is a just as, or even arguably a bigger night than the first one. With many big names, let's look at the lineup for night 2 of KCON LA.
A Preview of KCON LA Day 2
Rookies on Sunday
Although rookies, ITZY is arguably one of the biggest name groups on the KCON LA 2019 card. While their elder girl group in JYP Entertainment, TWICE played KCON LA last year, they take the stage this time around. The group has put out two title tracks in "DALLA DALLA" and more recently "ICY." The group is early in their career but has undoubtedly already seen success, with music show wins and streaming statistics that represent a big three group. On Sunday, ITZY will be making their live debut in the United States.
Rookie boy group VERIVERY has participated in every KCON since their January debut. What sets this performance apart from their one in New York back in July is a recent release in "Tag Tag Tag" off of the EP Veri-Chill (their three releases have followed a trend of having "Veri-___"). While the group isn't a big one, it could certainly use the opportunity of this KCON to gain some fans with their performance.
Boy Groups on Sunday
One of the top rock bands in K-pop, N.Flying, will be performing at KCON. Up there with The Rose and even JYP's Day6, N.Flying have put out many songs, but easily their most successful song is "Rooftop," which was released earlier in 2019. The song reached #1 on the Gaon Music Chart, being the only song from the group to do so. 
JYP's younger boy group Stray Kids has traveled the world, and they certainly have experienced a KCON before, but on Sunday they will be in the Staples Center for the first time. In their second year, the nine-member group has already amassed a large discography of five EPs and one special album. In their most recent mini-album, Clé 2: Yellow Wood, the group put out the track "Side Effects." What sets Stray Kids apart from many is their involvement in the songwriting and production of their music. "Side Effects" is no exception to this, with the production sub-unit 3Racha making the track with TAK and 1Take. The group's electronic dance music style will be showcased in LA for the first time on Sunday.
SEVENTEEN will be appearing on the second night of KCON LA. They were one of the many groups who also appeared at KCON NY earlier this year. While not being an old group per se, SEVENTEEN are one of the older groups of the KCON LA lineup. With projects dating back to 2015, the group has put out a large amount of music. Their most recent single called "HIT" is a song with a very intense choreography that should look good live. The group has a large number of songs to choose from. For reference, when the group played at KCON NY this year they performed six songs.
Girl Groups on Sunday
Unfortunately, the lone soloist on Sunday, Chungha, was announced to be taken off of KCON LA due to visa issues. She joins ONEUS and EVERGLOW in the list of groups sidelined from this show due to visa complications.
Fromis_9 are seemingly favorites of KCON, as they have played every KCON event since KCON NY 2018. The group will make their sixth consecutive appearance at a KCON, growing significantly success-wise since their first appearance. The group's most recent mini-album, FUN FACTORY, was a big one for the group. While previous albums and EPs sold 20k, 20k and 36k respectively, their latest project sold 60k. Safe to say, things are looking up for Fromis_9. Their most recent music video "FUN!" is worth watching. The catchy song is paired with the video which parodies many famous ads. Fromis_9 might see some familiar faces in the crowd when they play on Sunday night.
MAMAMOO's Return To KCON
For quite some time, MAMAMOO has been one of the more unique girl groups. Often putting forward a more chill or R&B type of sound, the group has always stood out. Returning to KCON with after a three-year absence from the festival, MAMAMOO will be bringing many new songs with them as well. They had a busy 2018, putting out a four-part series of EPs, which produced songs like "Starry Night," "Egotistic," "Wind Flower," and "gogobebe." They've also recently put out single release "Gleam," as well. The ever-standing out four-member group will be a unique performance.
With KCON Thailand on The Horizon
KCON will live stream the concert on their website, with performances being uploaded online in the weeks after. KCON's next stop is in Bangkok, Thailand in September, running the 28th and 29th at the IMPACT Arena. The current lineup for the show is EVERGLOW, IZ*ONE, Kim Jaehwan, ONEUS, Stray Kids, The Boyz, AB6IX, ATEEZ, (G)I-DLE, ITZY, NATURE, and VERIVERY.