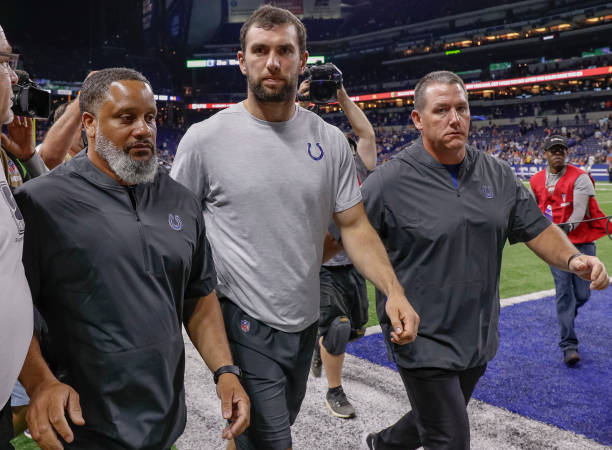 "Every NFL player is injured. It's only a matter of degree," Allen Robinson tells Sports Illustrated during a story where the magazine followed a few players around during the NFL season. The NFL is the most popular sport in the United States, mostly because of the explosive plays and big hits. However, as sport psychology continues to grow as a field, the psychology of injury also needs to be further explored.
This violent style of play has received criticism, leading the NFL to put more effort into making the game safer. Purists are crying that the game is getting softer, believing that the league is actively trying to eliminate what makes it great.
However, the effort to minimize the long term risks of playing football are making it more and more acceptable for players to speak out about the injuries that they play through on a weekly basis.
The Psychology of Injury in the NFL: Concussions, Early Retirement, and Playing Hurt
When Playing Just Isn't Worth it Anymore
Indianapolis Colts quarterback Andrew Luck sent shockwaves through the sports world when he suddenly announced his retirement from the NFL at only 29 years old. Luck was the feel-good story of the league in 2018, winning the Comeback Player of Year award, and putting up arguably his best season ever. Many had written him off as washed and injury-prone before 2018 started. After all, Luck had missed the entire 2017 season while trying to recover from offseason shoulder surgery.
And 2017 was just the tipping point from other injuries that caused Luck to miss ten other games between 2015 and 2016. These injuries included a lacerated kidney and torn abdominal muscles. Prior to his retirement announcement, Luck was dealing with an ankle injury that was rumored to be putting him in danger of missing the start of the season.
Instead, Luck decided that it wasn't worth it. Despite being scheduled to make almost $60 million dollars in the next two years. Some criticized Luck for being soft. Most Indianapolis Colts fans were just disappointed that their franchise quarterback, who finally played a full season just the year before, had decided to hang it up with just over two weeks until the start of the regular season.
But there wasn't a player in the NFL that didn't respect and understand his decision.
Ridiculous Standards and Ridiculous Pain
"You don't feel normal until after the season… Usually, mid-February," Allen Hurns, former wide receiver for the Jacksonville Jaguars, says. His teammate at the time, Allen Robinson tells Sports Illustrated, "Fans don't see this part of it. They booed us yesterday. They don't understand a damn thing."
Fans also booed Luck as left the field when news of his retirement was leaked to the media. "They get paid to play a game," many will argue. And they get paid a lot. But more and more long-term consequences of playing the game come to light every day. And more and more players feel it just isn't worth it.
Back in 2014, the San Francisco 49ers thought they found a gem in rookie linebacker Chris Borland. A third-round draft pick, Borland took over the starting role midway through the season and was a candidate for NFL Defensive Player of the Year. However, he also happened to enter the league right when concussions amongst players were starting to make national news. After only one season, Borland decided to call it quits.
"I just honestly want to do what's best for my health," Borland told Outside the Lines. "From what I've researched and what I've experienced, I don't think it's worth the risk."
Playing Games Isn't Always Fun
Aside from the fears of the long-term effects of football, the immediate toll it takes on the mind and body are also undeniable. Former New England Patriots tight end Rob Gronkowski knows this all too well. Gronk made a name for himself making big plays on the field and living it up off the field. However, Gronkowski was also known for struggling to stay on the field throughout his time in the NFL.
During his nine-year career, Gronkowski missed a combined 29 games. He announced his retirement at the end of last season, at just 30 years old. He tearfully speaks about the mental toll that football was taking on him:
"I want to be clear to my fans … I was not in a good place. Football was bringing me down."

–Rob Gronkowski on his decision to retire pic.twitter.com/zEek2QNPjH

— NFL on ESPN (@ESPNNFL) August 27, 2019
Gronkowski missed just three games in his final season but was banged up most of the year. When a player is hurt and misses practice, he doesn't stay home. Instead, there is rehabilitation. Many times it isn't just about physical rehabilitation, but also mental recovery as well.
According to the American College of Sports Medicine, negative emotional reactions to injury rehabilitation can include things like sleep disturbances, irritability, lack of motivation, disengagement, and even substance abuse. Athletes might have unreasonable fears of reinjury or even become out of touch with the severity of their injury. They can sometimes feel guilty about letting their teammates down and obsess over the question of returning to play.
The Cost of Being an Iron Man
Hall of Fame quarterback Brett Favre is known as the NFL's Iron Man. Favre holds the NFL record for most consecutive games started at 297. This streak started in 1992, and ended in 2010, almost 20 years later. Those outside the game throw around the stat in admiration of the quarterback, who was inducted into the Pro Football Hall of Fame back in 2016.
Favre admits that he was addicted to alcohol and painkillers, and even attended rehab between his MVP seasons. Favre recalls trying to quit, saying, "I hit rock bottom and I said, I'm going to flush these down the toilet, the remainders," Favre said. "And I remember when I poured them in the toilet and it started to flush, I almost crawled into the toilet to go after them. Because I thought, what in the world did you just do because I had such a dependency on those."
Now, to put Favre's addiction to Vicodin completely on football is irresponsible, but he likely started using them initially to deal with NFL pain. Luckily for Favre, he got over his addiction and went on to keep starting in the NFL for over ten years, but some players are probably not quite as lucky.
Favre still claims to suffer from memory loss, stating that he played through a lot of concussions throughout his career. Favre will probably argue that it was all worth it. After all, he was elected to 11 Pro Bowls, won three straight league MVPs, and a Super Bowl. Again, other players don't get as lucky.
Teams Quickly Move On
Allen Robinson was nursing various injuries when Sports Illustrated followed him during his 2016 season. None of them were what a player would consider serious, as he didn't even miss a game. However, just minutes into the 2017 season, Robinson suffered an NFL player's worst nightmare when he tore his ACL. It was a contract year for Robinson, and the Jaguars decided to move on from him, to his displeasure.
It's a familiar refrain in NFL; teams cutting the cord as soon as a player shows any signs of regression. And they often push players to play through injuries, despite knowing that this can cause serious issues for them. Ryan Harris, formerly of the Pittsburgh Steelers talked about an infected bruise on his leg. Pittsburgh knew that Harris needed surgery on it, telling him he needed to go to the hospital for it, but first needed him to start in a game.
Harris would never play another NFL game.
This is common. Players are well-aware of how replaceable they are, and that there is always someone behind them trying to take their spot. Most don't go out like Luck did, on their own terms. Most do all that they can to stay in the game even after their bodies have broken down. Former NFL offensive lineman Rich Ohrnberger chronicles his final days in the NFL in a thread on Twitter, noting how he had to crawl to the bathtub every morning to get over his back pain:
I wasn't sleeping because I couldn't find a comfortable position to alleviate the pain. I was miserable because of the pain. I was afraid because I wondered if the pain would ever go away… but I kept playing. I didn't want to let down my family, coaches, teammates, or myself.

— Rich Ohrnberger (@ohrnberger) August 26, 2019
In the End, It Is Still a Game
Barry Sanders was another player who left the game in his prime, mostly on his own terms. He gave a simple answer to the Washington Post when he retired back in 1999:
"I'm just really not feeling like playing. It's just getting to that point. It's not the same game. Really, I've been battling for the last few years. As I've gotten older, the game has changed in my mind." The takeaway here is that the game Sanders left felt different than the one he left. It wasn't fun anymore, and no one wants to do something that they do not enjoy.
Undoubtedly, there is so much that goes through a player's mind when considering retirement. As Ohrnberger states, players don't want to let anyone down. Luck gave almost tens of millions of dollars a year and dreams of a championship. He dealt with boos from the same fans that cheered him on just hours before.
But players also think about the risk of not remembering those big plays they made on the field, or worse, not being able to remember their loved one's faces. They wonder if the intense pain they are feeling will ever go away.
Yes, they are getting paid to play a game, something that sounds like a dream to most. But when that game takes such a toll on the mind, body, and spirit, it isn't worth it anymore.