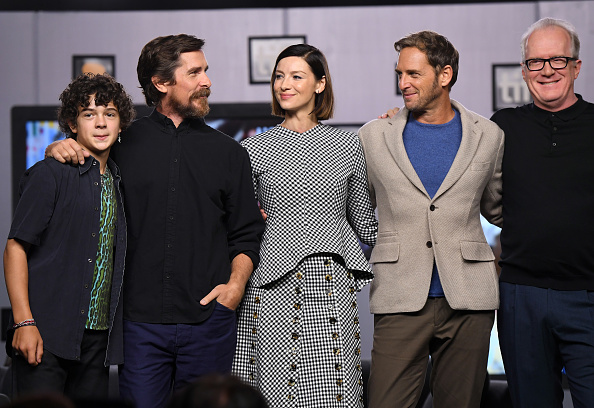 Matt Damon and Christian Bale are both Academy Award-winning actors and have teamed up for a high-speed biographical drama which premiered on Monday evening at the Toronto International Film Festival.
In the movie Ford v Ferrari, the two A-Listers lead an all-star cast as the film focuses on a team of Ford engineers and designers who aim to build a vehicle capable of outracing the Ferrari racing squad.
Ford v Ferrari Makes Premiere at TIFF
A Throwback Film
The American drama is directed by James Mangold who's perhaps best known for directing Logan and Girl Interrupted.
Given that the events of the movie take place in the 1960s, Mangold directed what some critics might consider an old fashioned film.
However, the 55-year-old director from New York City has no issues with that particular label.
"We don't mind if you call it old fashioned. I think people miss movies that weren't shot entirely in a room with green backings," said Mangold during a press conference featuring cast and crew on Tuesday in downtown Toronto.
No Egos on Set
The 48-year-old Damon accompanied the cast and crew for the Monday Gala screening at Roy Thomson Hall but was not present at the Tuesday press conference. However, that didn't stop his peers from singing his praises.
"He's a really superb actor," said Bale.
"He's so cooperative. He's from the school that you cooperate with each other, you don't compete with each other."
Camaraderie a Key to Success
Tracy Letts who plays Henry Ford II in the movie echoes Bale's point about the strong camaraderie among the cast members.
"It was a true ensemble of spirit and I really think that flows from Jim (Mangold) and Matt and Christian. Everybody was looking out for everyone else," said Letts.
"In such a big movie it's rare and it's hard to find. I'm really proud of that."
Ford v Ferrari Making the Rounds
The world premiere of the movie took place at the Telluride Film Festival in Colorado on August 30th.
Ford v Ferrari is scheduled to screen five times at this year's Toronto International Film Festival with the fifth and final showing taking place on Saturday, September 14 at the Ryerson Theatre.
The film, which cost approximately $98 million to produce, is scheduled to open in theatres across the U.S. on November 15th.