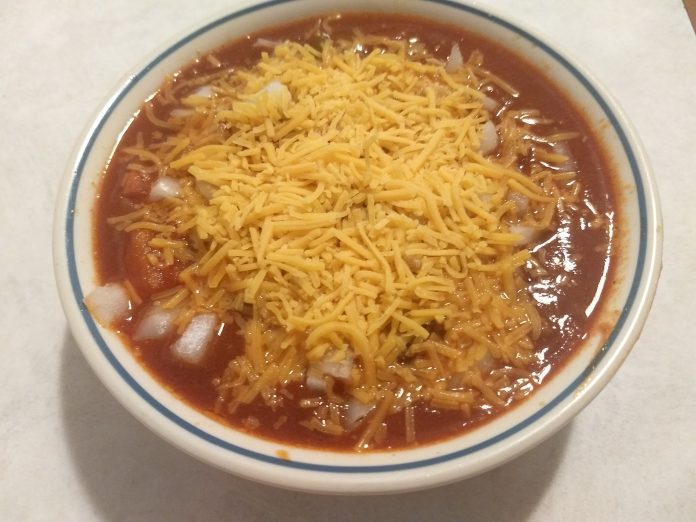 Today we bring you my recipe and directions for winning chili. This is a basic chili recipe that has won contests several times. The flavors, the spice, and the zip will leave your guests wanting the recipe before they leave your house. Yes indeed, football season means it is chili season!  
Winning Chili: A Game Day Recipe
The recipe and ingredients are for a two-gallon pot. You will need to adjust the recipe to fit the size of the pot you're using. You will also have to adjust the amount of spice and peppers to suit your tolerance for heat. This batch is around medium on the heat scale. If you want to turn it way up, add in more ground cayenne pepper. If you do turn it up, you had better have sour cream available to soothe the mouths of your wimpy guests. I am listing it as an optional ingredient below, but it is your call. 
Ingredients
Ground 80/20 chuck – 3 lbs.
Chuck roast – 2 to 3 lbs., cut into small cubes
Olive oil
Large/jumbo can of crushed tomatoes
Large can of diced tomatoes
Brooks chili hot beans – 2 large cans
Red kidney beans – 2 cans
7

jalapenos,

 chopped
3

serranos,

 chopped
2 large sweet onions, chopped
Chili powder
Cajun spice
Granulated garlic
Cumin
Lawry's seasoning salt
Pepper
Ground cayenne pepper for more heat
Sour cream (optional)
One 12 ounce beer
Prep Work
The first order of business is to get chopping on your peppers and onions. If you want to take it easy on the heat, de-seed the peppers before chopping. The seeds and fleshy inside of the peppers add more heat to your chili. If you are going for nuclear fission, leave the seeds in while chopping.
Once the peppers and onions are ready, take a sharp knife and cut the chuck roast into small cubes. You should then have three nice sized piles of goodness ready to go.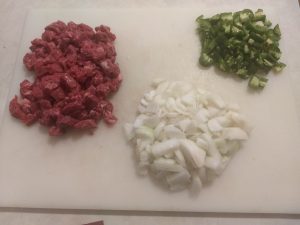 Saute Time
Add all three piles to your pot and drizzle in three to four tablespoons of olive oil. Give all of the ingredients a good stir so that they are coated in olive oil. Now it is time for the first stage of seasoning. Add your desired spices and stir up the contents of your pot so they are all covered. Saute everything for 15-20 minutes on medium heat while stirring every five minutes.
It is now time to add in the ground chuck to your pot. Lay the ground chuck directly on top of the simmering pile of goodness. If you are lucky enough to own a meat masher, you will thoroughly enjoy how easy it makes this process. If not, you can use a potato masher or a large sturdy spoon. Mash your ground chuck into little pieces and stir it in with the rest of the pot.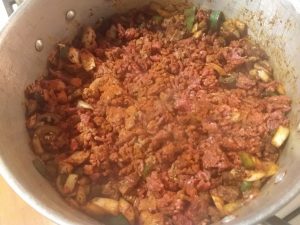 Now it is time to add in stage two of the seasonings. After you added in the spices, continue to simmer on medium and stir every five minutes. It may take 25-30 minutes to finish cooking all the meat thoroughly so be patient.
Once everything is cooked through, add the crushed tomatoes, diced tomatoes, and all of the beans. (I don't drain the fat, but some people do. It is your call.) After you give the chili a good stir, it is time for stage three of seasonings. Add in your spices and give it a taste. It is at this time that you can add in the 12-ounce beer stirring it gently into the pot.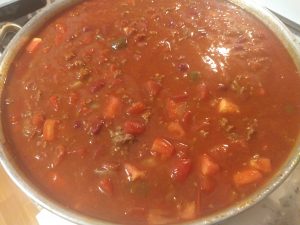 Simmer Time
Remember that your delicious chili needs at least one to two hours simmering before it can be served. You should re-taste the chili every 15 minutes to check the flavor and heat level. If needed, you can reseason again until you get the taste or heat level you are after. 
Winning Chili Serving Time
It is time to serve up your winning chili. It is best served with chopped onions, oyster crackers, shredded cheese, and if necessary sour cream on the side. Make sure that you have warned your wimpier guests if you chose the "nuclear fission" heat level on your chili. There is nothing worse than seeing someone react in horror as if their mouth is on fire.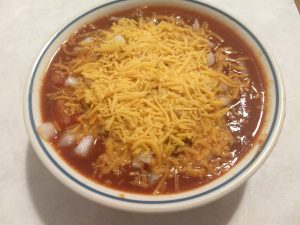 Winning Chili Wrap Up
Your tailgate party guests completely enjoyed your chili, even the ones still sucking on ice cubes. This is a simple, easy recipe that brings great flavor and potentially some heat. It is also recommended that you make your chili one to two days in advance. There is something about chili that is allowed to ferment a day or two that makes it even better. Trust us on this one!
As the NFL season continues lwos.LIFE will bring you Game Day Menus each week. There are plenty more for you to enjoy so stay tuned and get grilling!