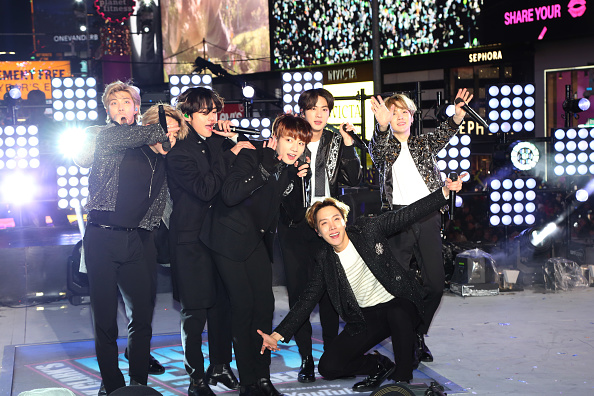 Another year of K-pop music has passed us by, and with that, there are some awards to give out. But hold your horses, we can't do that just yet. First, let's recognize all of the nominated artists for the awards. Because, between you and me, I already who's going to win. But, the nominations are important, as while every category gets only one award, many more deserve to be recognized.
A second article will be released this week discussing the nominees for the "smaller" awards. The main attractions will be discussed today in seven categories.
A Look At The 2019 lwos.life K-pop Awards Big Award Nominees
Group of the Year
Group of the Year will follow the same format as last year. That being, the winner of group of the year will either be a group who won "Boy Group of the Year" or "Girl Group of the Year." So, everyone listed below for those two categories are also eligible for this one.
Boy Group of the Year
BTS
EXO
Stray Kids
TXT
BTS
Continuing to be the global representative for Korean music, BTS had a successful 2019. After wrapping up their world tour "Love Yourself" in early 2019, they went on to hold the "Speak Yourself" extension of the tour. This saw the group draw numbers at massive venues like the Rose Bowl, Wembley Stadium, Stade de France, as well as return to places like the Seoul Olympic Stadium. BTS most notably put out mini-album Map of the Soul: Persona which included "Boy With Luv," featuring American recording artist Halsey.
EXO
2019 was a year of expansion for EXO. As D.O. and Xiumin enlisted for military, the group kept active. Chen and Baekhyun made their respective soloist debuts, while Chanyeol and Sehun launched sub-unit EXO-SC (which is up for an award too!). Coming back together (apart from members in the military), EXO ended the year with Obsession, a late yet very strong contender for album of the year.
Stray Kids
Stray Kids settled into the K-pop scene in no time, seeing early success with songs like "Hellevator" and "District 9." Only further building on their EDM-pop sound in 2019, Stray Kids doubled their amount of title tracks in their discography. This included songs like "Double Knot" and "Side Effects," but most notably had "MIROH." With a very strong international following, Stray Kids have prospered in 2019.
TXT
It shouldn't come as a shock to people that TXT, who is the brother group to BTS, didn't take long to take off. The group hit the scene in early 2019 with "Crown," in the mini-album The Dream Chapter: Star. Surprisingly, TXT put out their first full-length album before 2019 wrapped up, putting out The Dream Chapter: Magic, including title track "9 and Three Quarters (Run Away)."
Girl Group of the Year
BLACKPINK
ITZY
Red Velvet
TWICE
BLACKPINK
The ever-so-popular and arguably polarizing BLACKPINK had a 2019 of milestones. On a smaller scale, the YG Entertainment group mirrored the work of BTS, putting out minimal music but succeeding in growth. The group started its first world tour, visiting many countries on numerous continents. This included appearances at Coachella and a media tour that saw the group in North American media. This all centered around their April EP Kill This Love, featuring an identically titled music video, currently sitting at a mind-blowing 699 million views on Youtube.
ITZY
Despite only being around for a year, the group ITZY has the recognition of a group that has been around for more time. From JYP Entertainment, the five-member girl group hit the scene with "Dalla Dalla," later adding "ICY" to their collection as well. 
Red Velvet
Now having been established in the K-pop scene for more than "some" time, Red Velvet has gotten into a groove of putting out a few songs a year. But, while this is the case, the group has been able to keep a pretty broad definition of what their sound is. Further mastering R&B and many types of pop music in 2019, Red Velvet continued to prove their versatility to the world. Through a trio of projects last year, Red Velvet put out three title tracks: "Zimzalabim," "Umpah Umpah," and, most recently, "Psycho." Also, after visited the United States for the first time in 2018 (one date), the group did an eight-concert tour of North America in 2019.
TWICE
If TWICE's success in past years could be equated to anything, it would be a baseball player that hits nothing but home runs. This pattern did not break in 2019, with Korean singles "Fancy" and "Feel Special"  being clear highlights of the year in releases. Not only that, the group launched the "TWICELIGHTS" concert tour, which saw the group visit North America for the first time (apart from festival appearances).
Song of the Year
Chungha – Gotta Go

EXO – Obsession
TWICE – Fancy
Stray Kids – MIROH
Chungha – Gotta Go
After her run with I.O.I expired in 2017, Chungha has had success building herself as a soloist. Prior to 2019, Chungha's top hit was "Roller Coaster." She wasted no time in 2019, putting out "Gotta Go" on the second day of the year. With a dance backing track that has a prominent use of flute, Chungha really showcased her vocal ability in this song. Point and case, the bridge into the final chorus of the song.
EXO – Obsession
In their sole 2019 appearance under the flagship EXO banner, SM Entertainment's group put out title track "Obsession." The gritty and aggressive rap breaks and verses mixed to perfection with smooth r&b makes the song a masterpiece. Despite coming in at the 11th hour, "Obsession" makes a good case to win the award.
Stray Kids – MIROH
In what I would argue is the best song Stray Kids have put out so far in their short career, "MIROH" qualifies itself as a song of the year. It masters the crossover between mainstream EDM and pop music. The mix between strong chorus vocals and intense pre-chorus raps make it a great song to get pumped up to. And, while it only earns them brownie points in this, it's worth mentioning that the members themselves wrote and produced the song.
TWICE – Fancy
In a music scene that often rehashes the tropical dance-pop sound, TWICE showed in 2019 that when something is executed well it will never sound old. Being released in April, "Fancy" by TWICE was still talk of the town for K-pop fans as the year was winding down. No doubt, the hit-making talent has is seen in every release that TWICE has, but this one felt like a level higher than their other work.
Album of the Year
DAY6 – The Book of Us: Entropy
EXO – Obsession
MAMAMOO – reality in BLACK
Red Velvet – The ReVe Festival: Finale
DAY6 – The Book of Us: Entropy
Serving as a sequel to their EP The Book of Us: Gravity, DAY6 put out full-length album The Book of Us: Entropy in the fall. The album not only had the amazing title track in "Sweet Chaos," it featured numerous b-sides that are good. While DAY6's rock band look makes them different in the Korean idol scene, but because of making music like this are never treated as outsiders.
Read the review of DAY6 – The Book of Us: Gravity here.
EXO – Obsession
EXO continued to prove their value not only on title tracks but also on b-sides with Obsession. With the identically titled song "Obsession," the album also had many other notable songs like "Groove," "Trouble," and "Jekyll." It's shown in the numbers that some songs people write off listening to b-sides, but it would be a big mistake to do so with this album.
MAMAMOO – reality in BLACK
2019 was a slower year for MAMAMOO in comparison to 2018, where they put out five title tracks and three mini-albums. 2019 saw less, although it included their first full-length album in years, reality in BLACK. The title track "HIP" along with many other unique songs made it an album with replay value.
Red Velvet – The ReVe Festival: Finale
Returning winners of the Album of the Year award, Red Velvet returns this year with a late contender in The ReVe Festival: Finale. The album was a culmination of their "ReVe Festival" trilogy done in 2019, which produced songs like "Zimzalabim" and "Umpah Umpah" earlier in the year. Adding onto the collection of songs that those two releases produced, this album included great songs like "Psycho," "In & Out," and "La Rouge."
Mini-Album/EP of the Year
BOL4 – Two Five

BTS – Map of the Soul: Persona

GWSN – The Park in the Night Pt. 3

TWICE – Fancy You
Bolbbalgan4 – Two Five

Highly regarded Korean indie duo Bolbbalgan4 saw another successful release in 2019, putting out Two Five in the Fall. Along with the masterpiece of a song titled "Workaholic," the EP also included four other songs. With all songs following a similar style apart from the very top-40 sound that "25" had, Bolbbagan4 continued to show how they've near perfected their style.

Read the review for Bollbalgan4 – Two Five here.
BTS – Map of the Soul: Persona
The major project of the year for K-pop's lead group BTS was a major success. Start to finish, the mini-album Map of the Soul: Persona is a well-polished production. Whether it's more heavy rap-based songs like "Intro : Persona" or "Dionysus," or the more calm, vocal-based songs like "HOME" and "Jamais Vu," there was a lot to unpack. That's without even discussing the great title track "Boy With Luv" featuring Halsey, or b-side "Make It Right" which saw a remake with American artist Lauv later on in the year.
Read the review for BTS – Map of the Soul: Persona here.
GWSN – The Park in the Night Pt. 3
In a release that went under the radar of many, GWSN put together a great project in The Park in the Night Pt. 3 in 2019. When you look past the quite-odd names for all of their song titles, it's easy to enjoy the wide array of styles presented in this mini-album. 
TWICE – Fancy You
While TWICE put out three projects this year, their most prominent once was the April release FANCY YOU. The six-song project had many catchy b-sides, and of course also the title track "FANCY." Songs like "STUCK IN MY HEAD" and "HOT" stood out as b-sides that made this EP so valued.
Read the review for TWICE – Fancy You here.
Music Video of the Year
BLACKPINK – Kill This Love
EXO – Obsession
NCT 127 – Superhuman
TWICE – Fancy
BLACKPINK – Kill This Love
BLACKPINK went over the top with set design for the  "Kill This Love" music video. From explosions on-cue with choreography, or diamond plated war tanks or a bear trap large enough that the group had room to all stand and do their choreography in it, the set was over the top. 
EXO – Obsession
There is no doubt that EXO's recent song "Obsession" was given a proper music video. The video saw amazing sets and filming locations. The lighting and editing and felt very on-point for the concept. More than anything, the fashion and makeup in the video was what stuck out. While EXO undoubtedly projects a hyper-masculine image, some of the styling in the video challenged society's stereotypical masculine image. And above that, it all matched the video and concept well.
NCT 127 – Superhuman
The futuristic concept portrayed in NCT 127's "Superhuman" music video was what easily made it one of the best of the year. Despite the heavily editing and polished scenes where there was no shortage of things to look at, the focus of the video never strayed away from NCT 127's members, who were spotlighted perfectly in this video. Matching the energy of the explosive song itself, watching the music video start to finish feels like a roller coaster ride. It builds up throughout and culminates at the end, giving an exciting journey that some try and fail to achieve.
TWICE – FANCY
TWICE showcased what felt like a totally new side to them in their 20th single as a group, presenting "FANCY." While no doubt maintaining the colorful look that they're known for, the group arguably put their bubblegum pop style on hold for a more fitting look to accompany the electropop sound. The video saw fantastic editing that used the bright and neon colors alongside dark backgrounds. While the editing was far from realistic, it didn't come off as cheap or fake. And, it would be a crime to discuss the video without discussing the catchy and even viral choreography within.