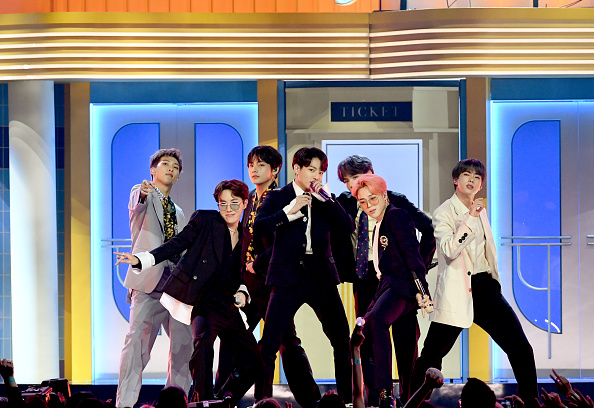 A two-night compilation of BTS concerts will be broadcasted on April 18th and 19th for free on Youtube. The "Bang Bang Con" will show clips of past BTS concerts that were recorded from 2015 up to their most recent concert special.
BTS Presents "Bang Bang Con" For Free On Youtube
The film festival of concerts will happen on the BTS Youtube channel "BANGTANTV," beginning both nights at noon KST (11 PM EDT, and 8 PM PDT).
Kicking off the broadcast on the 18th, the 2015 concert "2015 BTS Live <화양연화 On Stage>" will air. After that, the 2016 concert "2016 BTS Live <화양연화 On Stage: Epilogue>" will play. "BTS 2014 Live Trilogy: Episode II The Red Bullet (2014 Memories)" and "BTS 3rd Muster [ARMY.ZIP+]" will air.
The second night of the broadcast will feature 2017 concerts "BTS Live Trilogy Episode III The Wings Tour In Seoul" and "BTS Live Trilogy Episode III The Wings Tour The Final." Also on the final night will be "BTS 4th Muster [Happy Ever After]" and "BTS World Tour 'Love Yourself' Tour."
Canceled Concerts
BTS was meant to begin their "Map of the Soul Tour" on April 11th, starting a two-weekend residency at the Olympic Stadium in Seoul, South Korea. Those dates were canceled due to the ongoing COVID-19 outbreak worldwide. 
The 16 American and Canadian dates which spanned from late April to early June were postponed, with a later date yet to be announced. Now, the tour is set to begin on June 28th with two nights at the Fukuoka PayPay Dome in Fukuoka, Japan.
The most recent album from BTS is MAP OF THE SOUL: 7, a 20-track release including singles "ON" and "Boy With Luv (feat. Halsey)."