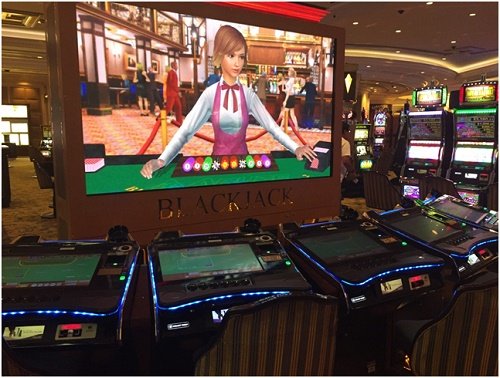 If you're not already familiar with it, cloud gaming is a way to play games that involves using remote servers in data centres. You don't need to download the game onto your console or PC. Instead, you can stream the game onto your device and interact with it while the server renders it for you. 
Could Cloud and Casino Gaming Meet Some Day?
Cloud gaming works
Cloud gaming tech may still have a little way to go yet, but it's extremely popular. The use of the internet has opened up lots of possibilities, allowing people to play games on their mobile phones or on a Chromebook or other laptops and more.
Part of the reason cloud gaming is so popular is that it works so well. Increased internet speeds have decreased lag times and made it possible to play games without them freezing, which can cause incredible frustration and, depending on the game you're playing, put you out of the game when you finally catch back up with the action. A stable, reliable internet connection is important.
What does cloud gaming use?
It's almost a case of needing nothing more than a device, an internet connection and some sort of screen. It's possible to play cloud games on a console, a PC, a mobile phone or on a tablet.
You'll need a little bit of cash behind you as well. Often, cloud gaming requires a subscription, the installation of an app on some devices to access the services, and access to Bluetooth technology.
In terms of the games available, first-person shooter titles are prolific in the world of cloud gaming. Role playing games are also common. Of course, the tech is still finding its feet, to an extent, but as it grows more and more advanced, the number of titles and types of games players can access is likely to increase.
As for consoles, you can play cloud games on PlayStation, Xbox and Nintendo. The beauty of cloud gaming is that you don't necessarily have to store the game on your device anymore. Xbox has rapidly made itself the main player the cloud gaming industry.
The further rise of cloud gaming
Cloud gaming is packing a serious punch and there's even the hint that the world will one day see the end of traditional console gaming. The world can expect to see more and more cloud-based games as this style of gaming establishes itself ever more firmly.
Along with the normalisation of cloud gaming, the gaming industry is seeing new trends. 5G is facilitating cloud gaming even more. Esports tournaments have become popular, something which businesses need to consider, and so has virtually reality gaming, too.
Will cloud gaming affect mobile?
One of the strongest aspects that cloud gaming has going for it is the fact it doesn't require a console. You can stream games directly onto your device, whether that's a smartphone, tablet or other device.
Mobile operators have missed out on the mobile games market and on video-on-demand services, such as Netflix, but cloud gaming offers them a way back in that they're not likely to want to miss. They can muscle in on the action with their own cloud gaming services.
The one problem they and anyone else operating in the cloud gaming market may face is contending with the extreme loyalty of hardcore gamers. These gaming enthusiasts might be able to persuade a friend or family member to take up gaming on a particular console, but they themselves struggle to change their ways. They've often invested a lot of time and money into gaming on a specific console or with a particular brand, and they then find it hard to switch to a new console or console manufacturer.
Casino gaming online and cloud gaming
One area of online gaming that has grown popular has been online casino gaming. The greater accessibility of various types of games means that people are starting to forego a night at a land-based casino in favour of a night in playing table games or on the slots at an online casino with friends.
Another reason this type of gaming has become so popular is the reduction of risk. For example, online casinos offering free to play pokies are proving to be particularly popular, as new players get to grips with games they aren't familiar with. Once they feel confident enough, they can stop playing practice games, credit their account and then take part in cash games.
Cloud gaming provides opportunities for players to engage more with games, and in the world of online casino gaming, operators may well start to expand the variety of their offering even more with cloud gaming. They know that variety is a crucial ingredient in keeping players engaged, and that if they don't provide this, players will move on to another site or app.
This is something they need to consider seriously. The global cloud gaming market is expected to grow at an annual compound growth rate (CAGR) of 48.2% from 2021 to 2027. Easy access is a contributing factor.
Cloud gaming, despite still trying to find its feet ever so slightly, is becoming more and more popular as technology advances. Operators in the online gaming industry should be taking note of this and investigating how they can incorporate this type of technology into their own offering to attract and retain players. Free games is one possibility.