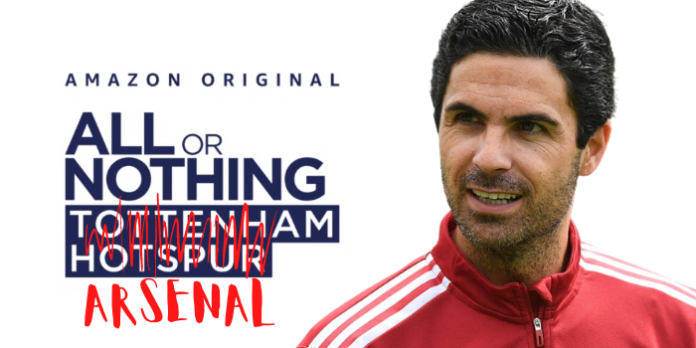 Following Tottenham Hotspur's appearance during the 2019/20 season, Arsenal's 'All or Nothing' appearance in 2022 covering the upcoming 2021/22 season, will need to heed warnings from their rivals experience on the Amazon documentary series. Arsenal announced their participation in the series via their official club website saying;
"All or Nothing: Arsenal will take our fans behind the curtain during a crucial season as we focus our efforts on challenging for domestic success and returning to elite European competition."
Arsenal's All or Nothing Appearance Could Bring Highs and Lows
Reality or Theatre?
Arsenal have been quick to explain that they want to provide fans with an intimate experience of their club with Mark Gonnella, the Media and Communications Director stating;
"We are looking forward to giving our fans around the world a unique insight into how we work day to day. We have one of the biggest global followings in the game and one consistent thing we hear from fans is their desire to see more about what happens behind closed doors at the club. All or Nothing will give our fans and sport lovers an opportunity to learn more about what makes Arsenal such a special club, our trophy laden history and our ambitions for future success."
Pitched as a documentary series, All or Nothing jerked from reality to theatre when covering Spurs when at times it felt very staged and almost comical rather than being in any way insightful. The odds on the same happening again with Arsenal are likely to be high and if you need to check on odds for any upcoming sporting events visit oddsninja.com
Tottenham's period as part of the show started with the sacking of popular manager Mauricio Pochettino and was met with outrage by many fans at the time on social media;
And there's me thinking our club couldn't be any more humiliating 👀🤷🏽‍♂️

— Kenny Pogue (@pogue_kenny) March 14, 2020
Won't be watching that rubbish. Poch should still be there in my opinion.

— Tom Ryan (@tomrodneyryan) March 14, 2020
One fan at the time even went as far as to call the participation in the series 'disgusting.' In many ways the show further disconnected the club and its fan base and Arsenal would be wise to take that as a warning.
Sensationalism
Danny Rose is seen in the Tottenham series having a frank and brutal exchange with new manager Jose Mourinho about lack of playing time but it was apparent that both were aware of exactly where the 'hidden' cameras were and the scene felt more like pantomime than a revelation of how a club is run from the inside.
When Mourinho tells the Sky News report showing in his office to 'f***k off' it may raise a smile but it is unlikely that was a live situation and more a scripted set piece and it set the tone for the whole series.
Rather than reveal life at a football club the series merely sensationalises and leaves fans with questions not answers.
Arsenal's All or Nothing Appearance Should Tread Carefully
Arsenal fans would be wise to take this latest instalment when it airs with a pinch of salt and see it for what it is – entertainment for entertainments sake.
The club itself should also be warned that when you have a fragile connection between club and fans, entering into a docuseries like All or Nothing can create friction so Arsenal's All or Nothing appearance will be one that needs to be careful and avoid the pantomime of Tottenham's time as the focal point of what is basically more nothing than all.