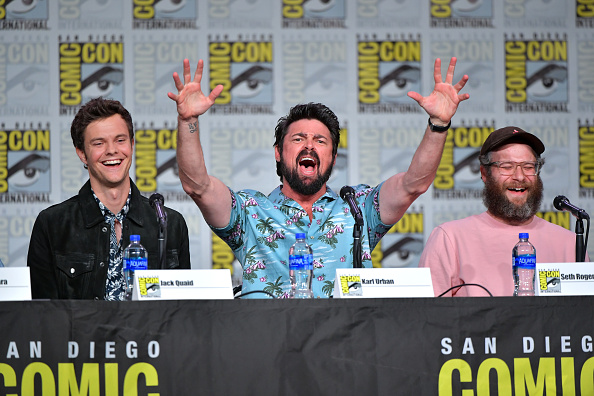 The pandemic caused a stand-still in all aspects of the world back in 2020. While others may think that Hollywood is virtually unstoppable, even they had to succumb to the strict restrictions put upon the world. Lockdowns caused many temporary shutdowns to TV and movie productions leaving fans excited about the possibility of these shows returning in 2022.
Luckily, as 2022 opens, and the world is slowly but surely exiting this global health crisis, some of our favorite shows are ready to come back to our television screens, smartphones, and in whichever way you consume the medium.
One shows has a confirmed date for this year, and some, we wish would have confirmed dates. Here are some spectacular shows to watch out for in 2022.
Shows Returning In 2022
Invincible
A gritty, violent, and surprisingly charming adult-oriented animated show premiered on Amazon Prime Video last year in the form of Invincible. Starring Steven Yeun of The Walking Dead fame, as he plays the normal teenager by day Mark Grayson and saves the world before homework by night as the titular hero Invincible.
This animated series was a thrill ride from start to finish in its first 8-episode season run. We will not go into spoiler territory as we want you to enjoy and judge for yourselves. However, the ending in the first season left fans wanting more.
Fortunately, Amazon Prime Video confirmed that there will be a second and third season to the beloved series. With Steven Yeun stating "it's gonna be bonkers" referring to the second season of Invincible.
Last Airing Date: April 29, 2021
Speculated Release Date In 2022: Q1 2022
Stranger Things
It's been a long while since we've heard from Eleven and friends. It's been almost three years since Strangers Things last aired on streaming platform giant Netflix. Season three ended on a very high note which left fans puzzled that The Duffer Brothers waited this long to release a follow-up.
The series as a whole is still beloved and the last season remains fresh in the mind of longtime fans. Here's hoping we get to explore "The Upside Down" once more in 2022.
Last Airing Date: July 4, 2019
Speculated Release Date In 2022: Q2 2022
The Boys
The only series on this list that has a confirmed date for 2022 is The Boys. This R-rated comic book series turned massively successful television was a tremendous hit for Amazon Prime Video back in 2019.
The Boys offered fans of comic book superheroes a little food for thought. What if these mighty world-conquering superheroes were prissy, entitled, power-hungry brats behind the scenes? The series' extremely intriguing plot and passion for over-the-top violence left fans wanting more as each season passes.
If fans thought that waiting over one year for the second season in 2020 was hard, then they would've been taken aback by the two-year wait we all had to endure before season three drops. The Boys are back and they are bloodier than ever.
Last Airing Date: October 9, 2020
Official Airing Date In 2022: June 3, 2022
The Mandalorian
Dedicated Star Wars fans were ecstatic when Disney+ released The Mandalorian back in November 2020. The series' amazing success paved way for two spinoffs in the form of The Book of Boba Fett and Ahsoka.
Season two of The Mandalorian left fans salivating at thought of a follow-up, as the fan service for that final episode of season two had everyone in a frenzy after watching it. It's been over one year since we've seen Mando and Baby Yoda flying through space at lightspeed. Here's wishing that the force is with us in 2022.
Last Airing Date: December 18, 2020
Speculated Airing Date in 2022: TBD 2022