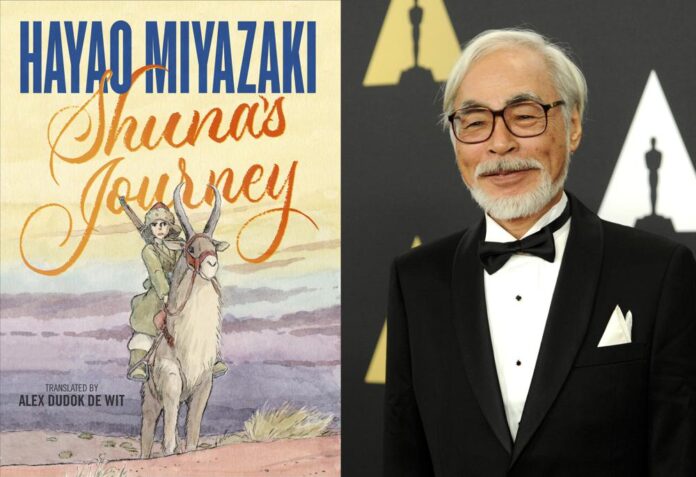 The Associated Press reported on February 22 that a graphic novel by master Japanese animation auteur will be published in the U.S. for the first time—nearly forty years after its initial release in Japan. Titled Shuna's Journey, the Mizayaki graphic novel is Miyazaki's adaptation of a Tibetan folk tale about a prince who travels to a faraway land to end a famine afflicting his people.
In Miyazaki's retelling, the prince, Shuna, journeys to a far-flung place of wondrous natural beauty to recover golden grain to end his people's famine. During his adventure, he also falls in love with a slave girl named Thea. The graphic novel bears similarity to later works of Miyazaki's like Nausicaa of the Valley of the Wind and Princess Mononoke. Shuna's royal status and quest resemble Prince Ashitaka's in Mononoke, while his tie to nature and goal to end an ecological disaster resembles Nausicaa.
Shuna's Journey
As per the Associated Press, Alek Dudok de Wit is translating the Miyazaki graphic novel from Japanese to English for the Macmillan imprint, First Second. Originally published in 1983, fans worldwide can enjoy the novel on November 1, 2022.
First Second's editorial and creative director, Mark Siegel said in a statement, "Fans of Princess Mononoke and Nausicaa of the Valley of the Wind-there are millions of us-will delight in finding early hints of these masterworks in gorgeous watercolor pages by Miyazaki's own hand."
Miyazaki's work with Studio Ghibli spawned beloved films like Kiki's Delivery Service and My Neighbor Totoro. His 2001 film Spirited Away won the Academy Award for Best Animated Feature. His 2013 work, The Wind Rises, was nominated for the same honor. Fans of Ghibli films and Miyazaki's filmography will undoubtedly delight in this obscure work. The graphic novel touches on familiar themes in Miyazaki's creations, like the relationship between humans and nature.
More From LWOS Life
Make sure to stay tuned to LWOS Life for more on this and other stories from around the world of entertainment, culture and more, as they develop. You can always count on LWOS Life to be on top of the major news in the world of entertainment; whilst also providing you with editorials on everything from beer to movie reviews.
Featured image credit: AP