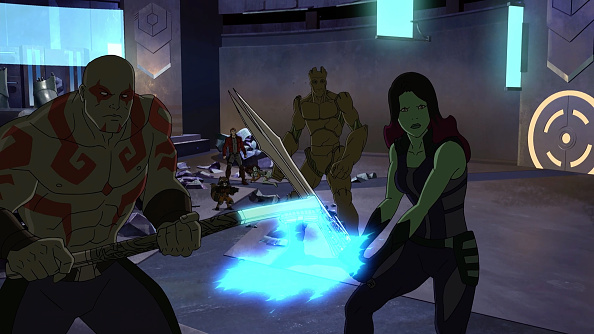 There's no doubt that Marvel has fixed its roots deep inside today's pop culture generation. With the MCU running on an all-time high demand, newer comics popping out on the bookstores, and tons of merchandise sold every day, the Stan Lee brand is doing really well. There are multiple factors that are influencing its growth on such a magnanimous scale. One out of them is the ever-expanding array of superheroes and characters that it brings in front of the world.
This wide and versatile range of superheroes that Marvel has delivered in the past 80 years is totally phenomenal. There are still a lot more characters yet to join the cinematic front, while hundreds and thousands have already shared their presence in the nostalgic comics. Not only the boys and men, but also the wonderful girls and women of Marvel have come a long way through the decades. After all, female superhuman characters are a benchmark of Marvel's creativity.
Today is International Women's Day, and while we are LWOS Life believe that every woman is a superhero, here are all the female Marvel superheroes who have inspired us out of their fictional selves.
Wanda Maximoff AKA Scarlet Witch

By Avengers vs. X-Men #0 (March 2012), Fair use, Link
Well, we've all seen what Wanda is capable of, haven't we? Definitely not a great enemy to pick up a fight with!
Wanda Maximoff is a native of Sokovia and is one of the planet's most powerful Chaos Magic wielders. She is a master manipulator of Chaos Magic and can warp reality into anything that she desires. From creating cities out of nowhere, to bringing the dead back into a fictional reality, Wanda does it all.
However, the one thing that differentiates her is the emotional side that she possesses. When emotionally triggered, Wanda can either be extremely aggressive or highly mature and sensible. Her love in WandaVision is a sign of how a woman carries her family on her shoulders throughout her life.
Read up on Wanda's full life story here: Scarlet Witch (Wanda Maximoff)
The widely beloved Jessica Jones is here!
As a child, Jessica's father accidentally crashed the family car into a military truck, causing an unknown chemical to crash through the windshield and onto her. Returning from a coma, Jones found her superhuman self and tested the deep waters of sense and responsibility.
She discovered her true ambitions of helping people and working for the good, when she opened her own private detective firm, Alias Investigators. Juggling between the ordinary and extraordinary sides of human tendency, Jones fought for the betterment of her people till the end. She is a true symbol of what free women can achieve through sheer hard work and concrete will power.
Witness Jessica's entire story here: Jessica Jones

By [1]
Marvel Comics, Fair use, Link
How can we forget one of the most powerful female superheroes of the MCU?
Carol Danvers had long dreamt of space exploration. And yes, she did grow up to become not only the leader of Alpha Flight, but also one of the most powerful spacefaring Super Heroes in existence. Even before she became a superhuman, she had accomplished a career that she could be proud of.
Danvers has shown how high women can soar if given the liberty to do so. She achieved greater heights with every flight and fought several battles to save the Universe. In addition to leading Alpha Flight, she has also served as a leading member of the Avengers.
Discover Captain Marvel's full story here: Captain Marvel (Carol Danvers)

By Black Widow #1 (April 2010), Fair use, Link
Natasha Romanoff is a character that has etched their way into our hearts a long time ago. Ever since the first Iron Man movie, Romanoff has been viewed as the fighter woman, who can take up an entire room full of armed assassins.
She was born in the Soviet Union and was orphaned as a child. Despite being treated to an unbelievably horrid environment, Romanoff never gave up. She trained to become the fighter-spy that she was destined to be, and used her skills for noble causes.
Natasha represents how strong women can be, and how the world fails to realize their true potential by underestimating their caliber. Black Widow portrays the journey of a girl into a woman, where the strong develops into stronger and good into better.
Discover Black Widow's entire story here: Black Widow (Natasha Romanoff)

By Shannon Maer / Marvel Comics – Fair use, Link
Gamora is certainly an established space character that most of us feel relatable with. Constant mood swings, hyperactive tendency and a slightly loving mentality is what makes her unique and understandable.
Having had to watch her parents' death and the wiping of her entire planet by the "Mad Titan" Thanos, Gamora did not give in. She was raised to be the "deadliest woman in the galaxy," and she left no stone unturned in becoming one. She endured Thanos' tortuous mind games and humiliation, and always found some way to deal with the evil forces in the galaxies.
Gamora shows us the feminine fighting spirit, which aims at washing away the bad elements of the society. She showcases her endurance to the hardships thrown at her, however showing us how vengeful she can be after.
Dive into Gamora's full story here: Gamora
Honorable Mentions:
In addition to the listed female superheroes, there are hundreds of such characters that dwell in the world of Marvel. Some of them are the Wasp, Shuri, Okoye, Squirrel Girl, Yelena, Kate Bishop and a lot many others. All of these female characters display the evergreen feminine prowess and glory that the women across the globe find their expertise in.
To all such wonderful women of the world, a Happy Women's Day!