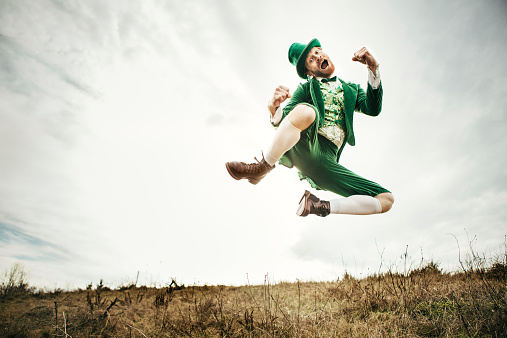 Ever since I was a little girl, I've wanted to celebrate St Patrick's Day in the heart of Ireland. Thanks to budget restrictions and life getting in the way, today will be another year spent wishing I was in the pubs and parades of Dublin. However, this doesn't mean I won't be celebrating in my own way, river-dancing in my living room.
If you'll also be at home this St Patrick's Day or just want to jazz up your Thursday, I've got the answers to your questions. Here's how you can honor the patron saint of Ireland from the comfort of your own home:
What Should I Be Drinking?
Ireland and alcohol are ancient partners in crime. You'd rarely find one without the other. St Patrick himself is no exception and was said to be very fond of whiskey. So fond, in fact, that he once cursed a bartender who didn't fill his glass the whole way.
While you could opt for the American staple of "Green Beer", I don't think I've ever seen a single one of these served in Ireland. I did some digging, and it seems like the first time somebody used green beer for a St Patrick's Day celebration was a Dr. Thomas H. Curtin in the early 1910s New York. However, according to the Smithsonian, he used a laundry whitener to create the hue, so I'm not sure if you'd want to drink this one!
If you really can't do without it, you could make your own by adding a few drops of green food coloring to the light beer of your choice — or you could just crack open a Guinness like the rest of us. It's the most popular choice, with more than 13 million pints of the black stuff poured every St Patrick's Day. If you'd prefer the taste of Guinness to be a little sweeter, add some Ribena (blackcurrant cordial) to make a Guinness Black. Just don't order this one in a real Irish pub, or you might be thrown out. You've been warned.
Now for the proper stuff. For hard liquor drinkers, Irish whiskeys are some of the best around. While often overshadowed by their eastern cousins in Scotland, Irish whiskey has a rich history in the Emerald Isle and will knock you on your ass any day. Any self-respecting Irishman will tell you that their whiskey must be drunk neat, but I am here to tell you that it also tastes great with ginger ale.
Another popular way to consume your whiskey is via an Irish Coffee. Now, while I could give you a recipe to make the perfect Irish Coffee, the truth is that it's a very personal drink, so I'd really only be giving you my favorite way to drink it. You'll want to try a few different combinations of your favorite coffee and your favorite whiskey to find the perfect balance of flavors for your tastes.
Since I can't have caffeine, I skip the coffee altogether and head straight for the generous amount of whiskey. I'd recommend choosing either Bushmills, Jameson, or Tullamore Dew. But whatever you do, just don't use Proper Twelve…
What Should I Be Eating?
Ireland has always had a complicated relationship with food. Thanks to constant invasion and colonization from the Vikings and the British over its history, the Irish people were left with little resources and developed a traditional cuisine focused on locally available ingredients with basic cooking techniques and little reliance on spices or sauces. Modern Irish cuisine still uses these traditional local ingredients but is blended with modern global influences and presentation styles.
St Patrick's Day should always be celebrated with the most traditional of Irish foods, the Guinness Stew. There's nothing more hearty than a steaming bowl of stew on a cold day, and the Irish peasants knew how to make the best kind; eating it feels like a hug for your stomach. A good Irish stew is simply made with lamb (or beef), potatoes, and onions. Throw in some Guinness and seasonal vegetables like carrots, parsnips, or leeks, and you have a modern classic that I'd happily eat on a daily basis.
To accompany your stew, try a few slices of soda bread. It's super easy to find a good recipe online if you feel like baking your own. Still, for the rest of us lazier folk, you can usually find fresh soda bread in supermarkets or your local artisan bakery if you're feeling fancy. Another traditional side dish is Colcannon, a type of creamy mashed potato with bacon and cabbage. If cabbage isn't your thing, you could swap for kale or try Champ which uses spring onions instead. Traditional versions of Champ used stinging nettles for flavor since they didn't have anything else!
If you're the kind of person who wakes up early enough for breakfast, there's the Full Irish Breakfast. Introduced by the British conquest, every county has its variation. My family comes from the north, so I only recognize the Ulster Fry as the correct version of this timeless classic. There's a never-ending debate about what should be included. Regardless, the consensus is usually that it can only contain things fried in bacon fat — sausages, bacon, black and white puddings, potato pancakes known as Boxtys, and soda bread toast. Most modern plates also have button mushrooms, tomatoes, and baked beans. I like to cook my bacon in Guinness to add an extra kick to my St Patrick's Day morning.
For those with a sweet tooth, "Irish dessert" recipes are mostly a variation of adding Guinness or whiskey to your standard baked goods. Since chocolate is one of the main flavor notes for Guinness, the two pair very well together — especially when you add Bailey's Irish Cream frosting to the mix. No matter which dessert you choose for your St Patrick's Day festivities, make sure you use Kerrygold butter to do so as it adds a unique Irish flavor.
And make sure you get some Taytos to snack on!
What Should I Be Doing?
The traditional St Patrick's Day activities involve drinking copious amounts of alcohol and pinching anybody not wearing green. Viewing choices include great Irish entertainment like Father Ted and Take Me Out Ireland (trust me, this is comedy gold), or if rom-coms are more your thing, there's Leap Year and P.S. I Love You — just make sure to have some tissues to hand for the latter if you're prone to weeping.
For music, there are classic Irish boybands like Boyzone, Westlife, and The Script. If you're not into the joy of organized male harmonies, there's always Snow Patrol or traditional folk music. Personally, I spend my festivities drunkenly singing along to The Dubliners in my living room while I attempt to Riverdance under a lot of green fairy lights. I appreciate that I'm basic; you don't need to remind me.
At the end of your St Patrick's Day celebrations, you need to 'Drown the Shamrock'. At the end of the night, dunk a shamrock into the last glass of whiskey for a toast to the patron saint of Ireland. Afterward, you should toss the plant over the left shoulder. This tradition comes from the legend of St Patrick himself. Remember that cursed bartender with the skimpy measures? The story goes that when St Patrick returned to the bar a little later, the bartender was filling everyone's glasses of whiskey to the full. He decreed there and then that whiskey should be drunk on his feast day and placed a shamrock into his glass. The drink became known as 'Pota Phadraig' or 'Patrick's Pot'.
If you happen to have an Irish person nearby, giving them a quick peck is supposed to give you the powers of charming, eloquent, and persuasive speech like an Irishman if you can't make it to the Blarney Stone. However, I would suggest asking them first.
Whether you're celebrating in Ireland, at a local street party, or in the comfort of your own home like me, St Patrick's Day is a time to come together with your friends and family and get royally sloshed.
Slàinte!
More From LWOS Life
Make sure to stay tuned to LWOS Life for more on this and other stories from around the world of entertainment, culture and more, as they develop. You can always count on LWOS Life to be on top of the major news in the world of entertainment; whilst also providing you with editorials on everything from beer to movie reviews.
Featured image credit