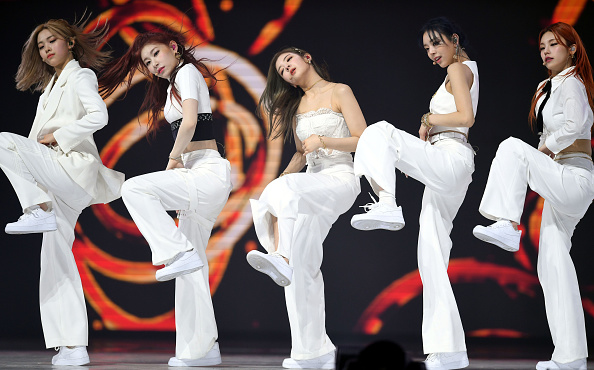 ITZY did it again, as they bring their brand of "girl crush" to Japan with the release of their spectacular first-ever Japanese single Voltage on March 22, 2022. Ahead of the official release of their debut Japanese single album on April 6, 2022, the music video for Voltage would drop; delighting MIDZY worldwide.
Less than 24 hours later, the music video for the Japanese single has already garnered over 1.7 million views, with no signs of slowing down. I give my insight on another amazing showing from the girls of ITZY. Without further ado, let's get into it!
2022.04.06 Release
ITZY JAPAN 1st SINGLE『Voltage』よりタイトル曲「Voltage」の先行配信が順次スタート!🎧
各配信サイトにてぜひチェック🎶
https://t.co/SXKlNjPM9p
#ITZY #Voltage

— ITZY JAPAN OFFICIAL (@JYPEITZY_JP) March 22, 2022
Oozing With Vibe and Feel
ITZY is no stranger to empowering beat-driven anthems since they debuted back in 2019. Voltage amps up the ante with a seamless blend of beat-heavy EDM and the "take no prisoners attitude" of pop-punk and rock. The song is a relentless barrage of confidence from start to finish. And, if there are instances of calm sprinkled throughout the song, it's just a setup for another amazing vocal line or rap barre.
MIDZY who loved Loco and Wannabe will love this new offering from ITZY, as aesthetically and attitude-wise, it shares a lot of similarities with the hit Korean singles.
Choreography and Music Video
The visuals from the music video are off the charts. While ITZY is never short on their powerful auras, the MV of Voltage showcased the fierce and fiery sides of the girl group. Not to mention the choreography added and enhanced the listening experience, as the precision of the dominant 4th gen K-pop girl group was once again on display; leaving fans awestruck with their picture-perfect, attitude-laced dancing.
Powerful Lyrical Message
Not even 24 hours into the release of Voltage's MV, eagle-eyed MIDZY quickly put up the lyrics for everyone to see. While there's no official statement on what the song means, English-translated lyrics of the song just scream power. It evokes emotions of harnessing your true power regardless of the circumstance or things thrown at you.
The performance of ITZY hammered the point home as you feel their intensity throughout the song. Again, they're no strangers to this type of messaging. DALLA DALLA, ICY, Wannabe, and Not Shy are just some of the prime examples of how ITZY promotes self-empowerment to their listeners.
I love how the imagery fits the tone of the song perfectly. And, as I read the English-translated lyrics, it enhances your enjoyment of this song as a whole. MIDZY, rejoice, as ITZY keeps on churning out the hits left and right, and Voltage is certainly one of the many they've had and will have.
ITZY Electrifies
Ryujin, Yeji, Lia, Chaeryeong, and maknae Yuna absolutely showed out in this outing. The vocals are wonderful, and the rap lines are beyond strong. If this is just the first of many Japanese singles from ITZY, then we cannot wait for what's to come. However, one thing's for sure, ITZY never disappoints, and they certainly did not disappoint with Voltage.