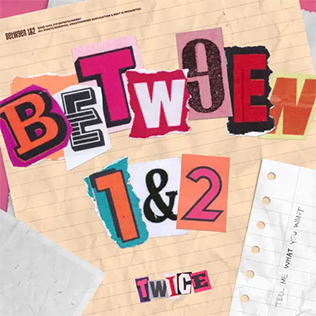 JYP Entertainment's top K-Pop girl group TWICE makes their much-awaited return in 2022 with their 11th mini-album titled "BETWEEN 1&2." The latest EP, released on August 26, 2022, marks TWICE's latest Korean outing since officially renewing their contracts back in July.
BETWEEN 1&2 is also their first Korean comeback since releasing their outstanding 2nd full-length Korean album "Formula of Love: O+T= <3" and their recent hit Japanese single "Celebrate."
ONCEs and the K-Pop world, in general, were understandably excited for this latest comeback, as the teasers radiated futuristic themes but also early to mid-2000s aesthetic, which left many eagerly waiting for what TWICE will come up with next.
Finally, the mini-album is out now, and we've had some time to listen to the whole album. We decided to give our insight opinion on the lead single "Talk That Talk," and recommend some great B-sides found in BETWEEN 1&2. With all that out of the way, let us review the latest outing from the "Nation's Girl Group."
ONCE💕 Did you get <BETWEEN 1&2> albums?
We all got one✌️🙌
Show your albums using #MY_BETWEEN1and2
https://t.co/uT33FA7p9S

❣Listen "BETWEEN 1&2" HERE👇https://t.co/ipcfsZGYmw#TWICE #트와이스#BETWEEN1and2 #TalkthatTalk pic.twitter.com/Yt7HFaKQDp

— TWICE (@JYPETWICE) August 26, 2022
"Talk That Talk"
Talk That Talk's sound is reminiscent of dance music and remixes most would typically hear in the mid to late aughts. However, while Talk That Talk sounds like it could be a mega pop-hit in the decade it borrowed its aesthetic from, the song is distinctly TWICE's style.
It's a song that picks up steam with each passing part, and the catchy chorus is a great climax that elevates the song to another level.
The song is never stagnant, as there are little nuances, namely Nayeon's high note in the last chorus of the carrier single that contributes to the song's evolving pace and elements. While it may be simple, that pitch change really gets the juices flowing, leaving the listener to immediately want to press the repeat button to hear that part once again.
We would be remiss if we didn't mention Chaeyoung and Dahyun's rap lines, which is possibly one of the best DubChaeng has ever done. Overall, Talk That Talk is an amazing track, and all nine members had the time to shine, making this outing a strong candidate for a "Song of the Year" nomination.
Notable B-sides:
"Queen of Hearts"
A song that easily could've been a lead single, "Queen of Hearts" is definitely a good follow-up song to Talk That Talk. It's breezy, fast, and put on display the supreme vocal prowess of the TWICE members.
"Basics"
"Basics" truly stood out to us due to it featuring members, like Jihyo, Sana, and Mina, showcasing their rapping chops. Momo also builds off her "Hello" coming out party by busting out her own rhymes and barres. It was very refreshing, and quite a nice surprise for fans that want the members to branch out and try different things.
Talked the Talk, Walked the Walked
TWICE's music has aged like fine wine. Time and time again, the JYP Entertainment queens have proved why they're the standard bearers of the K-Pop industry. BETWEEN 1&2 provided more than enough variety with catchy party anthems, quintessential K-Pop hits, and somber ballads that make this outing a "no skip" type of affair.
We're giving the outing a 9 out of a possible 10 rating. Fans would ask, "why not just give it a perfect score?" Well, TWICE manages to top themselves every time, and with almost seven years into the business, we're confident they will do it again. It seems like TWICE is kickstarting a new era of their career, and BETWEEN 1&2 is an amazing place for "the story to begin again."
What did you of TWICE's new mini-album "BETWEEN 1&2"? Let us know in the comments what you think, as well as your favorite songs on the new EP!
Featured Image Credit:

By Apple Music, Fair use, Link