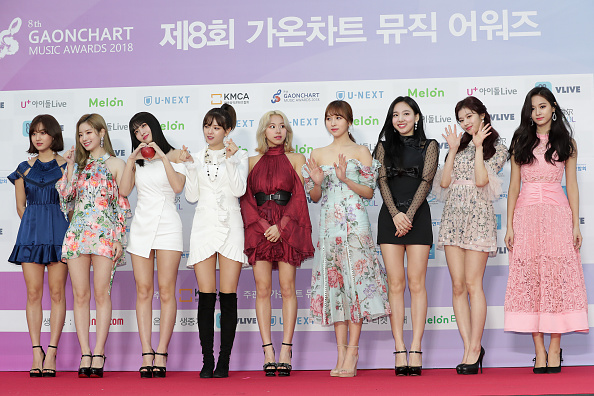 TWICE absolutely dominated the year 2021. The nation's girl group released two full-length albums, one being their third Japanese album titled Perfect World and their 10th EP to date Taste of Love. Their third and final release of the year certainly does not disappoint one bit as expected. TWICE's third Korean studio album Formula of Love: O+T=<3 was released in November of 2021. And, I must say, It is absolutely my favorite K-pop album of the year.
This album was an outstanding gem filled with the things we love about TWICE as well as exploring new and exciting things TWICE has not done before musically. The variety offered in this outing makes this album such a treat to listen to from start to finish. What exactly made me love this particular album that stood out above the rest, you might ask? That's precisely what I'm going to tell you about as I dive deeper into my personal favorite K-pop album of 2021.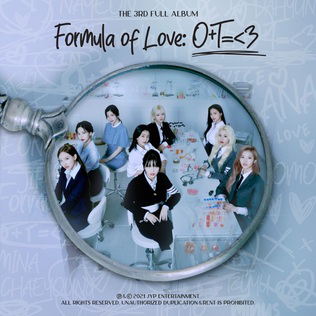 Perfect Experimentation
ONCE that loved the "wild edge" concept era of TWICE, that ultimately endeared them to us, as well as the precedent Eyes Wide Open established, that being the more mature side of the girl group, will absolutely adore Formula of Love. It is indeed a perfect marriage of the two eras combined in one album while exploring new elements that make this album feel fresh and a treat to listen to. I implore you to listen to songs the likes of Moonlight, Icon, and, Cruel to hear the range this album offers. It tapped heavily into different genres like RnB, Hip-hop, and '80s synth-pop as its foundation while retaining that special K-pop flavor. The lead single Scientist is the prime example of this.
The track represented how far the girls have gone in their evolution and in the process honor their roots. The whole song sounds deeper and more subdued but the song never loses its flair and keeps the audience wanting more as it reaches its climax. That very statement is applicable to the album as a whole. TWICE has matured through the years but it never feels forced and it always felt very natural and due for the course. The concept of "maturity" in the entertainment industry, especially music, is always chalked up to either darkness or edginess.
TWICE, on the other hand, proved that elegance and beauty can be a source of maturity and they did splendidly well without forgetting and changing who they are. The K-pop darlings also never ever forget to incorporate their own brand of TWICE charm that made them legends of this industry. The album felt very genuine and took huge labor of love to do. It really shows how much TWICE loved and enjoyed making this album.
Together Divided: Sub-group Songs
The inclusion of sub-group songs is a spectacular addition. It jumped out to me immediately. And, right off the bat, I know what you're thinking, "We love the OT9 together" and so do I. However, this is a gamble that paid off and showed the immense talent each and every TWICE member possesses. It provided a platform that we don't usually see because they're such a cohesive unit and it further accentuates each individual member's hidden strengths.
SaiDaHyo
Let's start off with Sana, Dahyun, and, Jihyo or SaiDaHyo and their sub-group track titled Push & Pull. Dahyun and Sana came out swinging. Dahyun's vocal performance was superb and Sana's rap parts were a delight to hear because we barely hear that aspect of her musical talents. With Jihyo at the helm, being the established talented vocalist that she is, complimented both of her fellow member's venture into more unfamiliar territory style-wise.
NaMoChaeng
Next up is Nayeon, Momo, and, Chaeyoung or NaMoChaeng's girl-boss track called Hello. I was taken aback by this song altogether but in an extremely good way. This song was stuck in my head for days and made a very strong impression. Hello is definitely Momo's ultimate coming-out party as she delivers her rap parts and bars in spectacular fashion. It sounds and feels so confident and is really a big highlight of this track. Speaking of highlight, we all know Nayeon as this incredible vocalist and she showed that in the chorus of this song.
However, that's not what stood out above the rest. It's her rapping skills. Her delivery remains extremely cute but it had enough attitude to get you hooked. And, how can we forget about the "Baby Beast" herself Chaeyoung? She showed off her smooth and cool voice in the chorus alongside Nayeon and gave us that excellent attitude-fueled, hip-hop-inspired bravado in her rap parts as she always does.
JeongMiTzu
I want to preface this part of the piece by saying Jeongyeon is an amazing singer. Yes, we all know it but I just want to reiterate that fact. She is somehow one of the most respected singers in K-pop and simultaneously being underrated. She anchors this whole song, titled 1, 3, 2, with her rock-solid, steady vocals and supports her members really well. Tzuyu really benefited from having such an extended time in the spotlight as she shows off how angelic her voice really is. Last but certainly not least, Mina the ever graceful "Black Swan" of TWICE. Mina showed out and dazzled us with her unmitigated elegance and sentimental-sounding voice. While surprising us, alongside Jeongyeon, by running down some Rap bars in such an exciting way.
The Story Continues
TWICE remains unrivaled. This album further solidifies the fact they have no weakness in their game. Across different types of genres, they have truly shown how much they can excel no matter the style. As they make their way to the West for their North American World Tour, this album feels like a new beginning for them. TWICE has broken all the notion when it comes to "primes" and the shelf-life of a girl group in K-pop. They remain amazing and are still very much the top girl group of K-pop.
As they venture out to further their reach and grasp over the music industry, Formula of Love: O+T=<3 is the first step in their quest for worldwide dominance. If you haven't checked this album out yet in its entirety, I highly recommend it. It's guaranteed to provide you with anything and everything that you're looking for in an album.
TWICE – Formula of Love: O+T=˂3 (Full Album)
More From LWOS Life
Make sure to stay tuned to LWOS Life for more on this and other stories from around the world of entertainment, culture and more, as they develop. You can always count on LWOS Life to be on top of the major news in the world of entertainment; whilst also providing you with editorials on everything from beer to movie reviews. 
Featured Image Credit