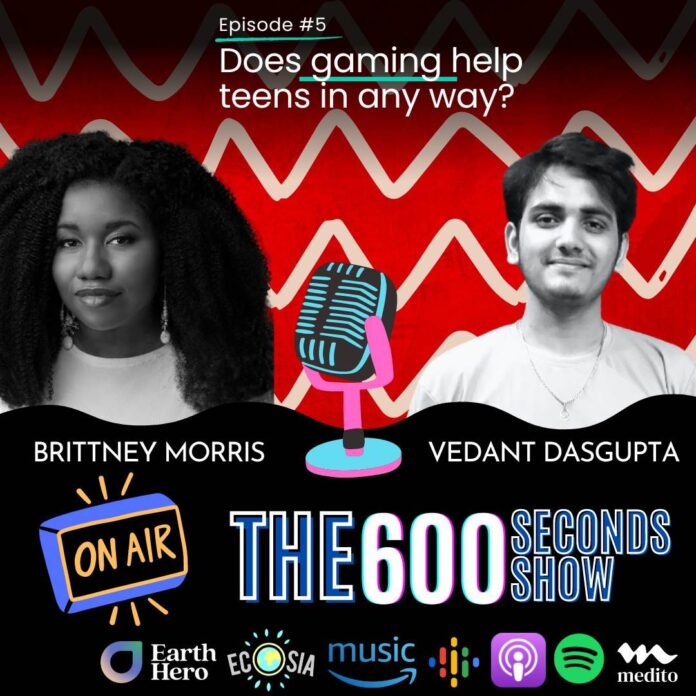 Entering into the second last episode of my podcast, I decided to invite to my show, someone whom teenagers could relate with. Having discussed mental health and environmental stress in the previous episodes, this one was focused on helping teens know more about the writing and gaming industries.
Books and video games have always attracted adolescents towards them, and even though parents tend to lay more emphasis on the former, video games have also proved to be quite impactful in a teen's life.
While hardcore violent games are thought to have a negative influence on teens, most games outside this genre have guided teens toward better decision-making, logical approach, and mathematical solutions. While not all bookworms tend to be successful, not all gamers tend to be failures.
To help my young audience get an insight into the new-age gaming industry and to help them discover interesting career options, Brittney Morris helped me through this wholesome conversation.
Brittney has not only penned exceptional bestsellers like Slay, The Cost of Knowing, and Marvel's Spider-Man: Miles Morales – Wings of Fury but is also onboard the writing team of Insomniac Games, who are the studio behind the most anticipated games of 2023, Spider-Man 2 (PS5). Let's learn more about Brittney's interesting work field and how she turned her passion into a profession.
Image Source: https://www.authorbrittneymorris.com/videogames
About Brittney Morris
Our newest guest, Brittney Morris holds a BA in Economics from Boston University. She's the woman behind Marvel's Spider-Man: Miles Morales – Wings of Fury and her bestsellers including Slay and The Cost of Knowing.
She spends her spare time reading, playing indie video games, and enjoying the Seattle rain from the comfort of her apartment. Brittney was chosen as a Novel-In-A-Day participant in 2016 and is a four-time NaNoWriMo winner. She is also an active informal mentor in #PitMad and #DVPit and also a 2018 Pitch Wars mentor.
Image Source: https://www.authorbrittneymorris.com/about
Brittney on Enjoying Gaming and Writing
On how she ended up combining the elements of games, sensitive adolescent topics, black individuality, and a young audience in her novel Slay, Brittney says,
"I've loved games all my life, especially indie games. So many deals with super heavy topics, like That Dragon, Cancer deals with a terminal illness. A Cat Lady tackles schizophrenia, depression, and self-harm. So expressing feelings and emotions through games has always made sense to me. And when it came to writing a novel about my experiences while navigating through majority-white spaces, a virtual reality game just made sense."
Image Source: https://www.authorbrittneymorris.com/
We talked extensively on various topics revolving around teen interests, appropriate gaming and writing habits, and much more. To listen to the quick ten-minute interview, visit the following link: http://li.sten.to/w60tn7uh
Brittney's upcoming YA novel, The Jump is coming out to your nearest bookstores and online booksellers on March 7, 2023. Check out her amazing new story and pre-order your copy now: https://www.amazon.com/Jump-Brittney-Morris/dp/1665903988
More From LWOS Life
Make sure to stay tuned to LWOS Life for more on this and other stories from around the world of entertainment, culture, and more, as they develop. You can always count on LWOS Life to be on top of the major news in the world of entertainment; whilst also providing you with editorials on everything from beer to movie reviews.