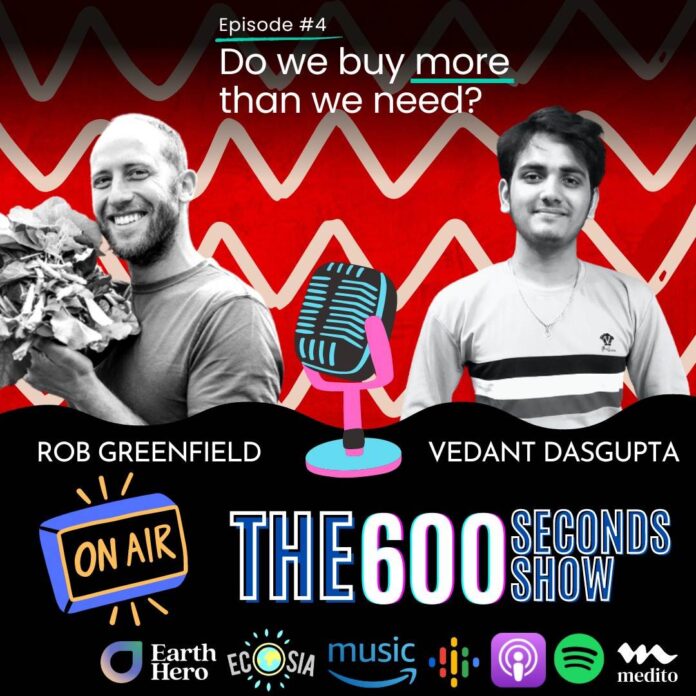 In my last episode, I invited Isaias Hernandez on my show to help teenagers understand how easy it is to care for the environment. After receiving a solid response to that episode, the next guest on the podcast might get an even bigger reception.
Most teens are not aware of how they can begin their planet-protection campaigns or about sustainable living. They assume that marching on the streets with thousands of people behind you, or planting hundreds of trees at once, is the only way to begin.
But, today's guest proves that wrong by providing alternate means to begin your contribution towards saving the planet. Obviously, our increasing carbon footprint on the planet is one of the biggest issues of modern mankind. However, the reduction of these carbon emissions is a lot simpler than most would believe.
Image Source: robgreenfield.org
And to help adolescents and adults alike in understanding this, I invited Mr. Rob Greenfield to my podcast. Greenfield is an environmental activist, a humanitarian, and an avid adventurer. He has made a reputation for himself worldwide by raising awareness over sustainable lifestyle and the ways one can achieve a less environmentally harmful standard of living. Here's more on the interview, which was supported by the Earth Hero App, an initiative which helps masses take action on reducing their carbon footprint.
About Rob Greenfield
It was the year 2011 when Greenfield embarked on his journey of exploring nature and raising awareness about eco-friendly living. But in 2013, his movement gained traction when he cycled 4,700 miles (7,600 km) across America on a bicycle made of bamboo to inspire Americans to live more sustainably.
He rode his bicycle for a staggering 104 days, during which he had only created about two pounds of trash. Throughout the journey, Greenfield carried out multiple campaigns educating people about taking action toward sustainable living.
In 2014, Greenfield left his home with only $2000 in cash, and without any credit cards. He later donated his last $421 to a non-profit in Wisconsin and planned on traveling to NYC without any money. He depended solely on dumpster diving as his source of food, through which he showcased how careless Americans are regarding food waste.
Image Source: robgreenfield.org
During his Food Waste Fiasco campaign, Greenfield said,
The stats are enormous—$165 billion worth of food thrown out each year, or about half of all the food we produce—but it's hard for people to wrap their heads around numbers. Seeing a beautiful display of a couple of thousand dollars worth of perfectly good food pulled from dumpsters near them does the trick, though.
The solution intended by him was for grocery stores to donate the food that they would otherwise throw away. In September 2015, Greenfield began a journey across South America to travel over 9000 kilometers in about 72 days.
He managed to do this with no money, by instead relying on the goodness of others, making money from working, and sleeping rough. The entire journey was filmed by documentarian James Levelle for the Discovery Channel in a 6 episode mini-series, to demonstrate how sustainable human lives can be.
In October 2016, Greenfield had his most viral and appreciated campaign when he spent a month in New York City, wearing all the trash he produced during the month on his body by storing the trash in a suit with clear plastic pockets. The suit was designed by "trashion" designer Nancy Judd and was symbolic of the American standard of consumerism.
Image Source: robgreenfield.org
Rob Greenfield on Sustainable Living
When I asked Mr. Greenfield what was the most unexpected food item he had come across while dumpster diving, he said, "Well, one day I found a lobster that was still alive!" On the topic of minimalism, Rob said,
"We need to be aware of what things we need for our mission of leading sustainable lifestyles, and what things we need to satisfy our ego. Once we make that differentiation, minimalism is quite simple to adopt." 
We touched down on a plethora of interesting topics revolving around sustainability over our conversation and how the youth can embark on this journey right from this moment. To listen to the quick ten-minute interview, visit the following link: li.sten.to/iroer6u5

More From LWOS Life
Make sure to stay tuned to LWOS Life for more on this and other stories from around the world of entertainment, culture, and more, as they develop. You can always count on LWOS Life to be on top of the major news in the world of entertainment; whilst also providing you with editorials on everything from beer to movie reviews.