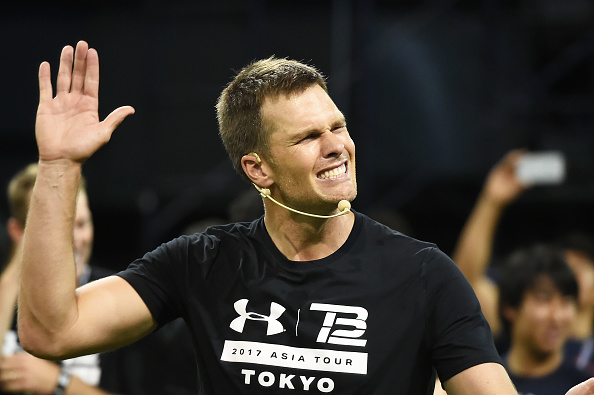 Everyone knows about the Madden curse. Almost every year since the NFL video game hit shelves, there's been a NFL player on the cover, and more often than not, it seems like bad things happen. Their numbers go down, they lose a bunch of games, and their careers are changed forever. Is the cover really cursed?
The Madden Curse: Fact or Fiction
Every villain needs an origin story (Two-Face certainly did), and the same is true for the Madden curse. Garrison Hearst was named the first-ever Madden cover athlete during the 1998 season, which had been an iconic one. He had over 2,000 all purpose yards, and was helping the San Francisco 49ers contend for what would have been title number six.
However, almost immediately after being named the cover athlete, Hearst broke his ankle in a playoff game against the Atlanta Falcons. To make matters worse, there were complications during his surgery, and it took him two years to return to the football field. He rushed for over 1,000 yards in 2001, but he was never the same again. And thus, the curse was born.
We all know who Barry Sanders is, right? He was one of the best of all time! He dominated despite rarely having any help, and then he retired way too early. How early? Uh, almost immediately after being named the Madden cover athlete.
The good folks at EA quickly named Dorsey Levens the replacement cover athlete, as he had just accounted for over 1,600 all purpose yards and 10 touchdowns the year before, but things didn't go well for him either. He rushed for only 224 yards a year later, and was never the same again. Two curses, one game.
Eddie George seemed destined for Canton. The bruiser gave the Tennessee Titans some much needed muscle, and his 2000 season was his best yet. After rushing for 1,500 yards and 14 touchdowns, his Titans lost the Super Bowl by one, measly, yard. However, George had been reliable in the past, and it seemed obvious that he and the Titans would be back.
And back they were. George had his best season yet, and the Titans were rolling towards another Super Bowl. It seemed like destiny was on their side, cursed be damned. However, the 2000 Titans aren't remembered for George's breakout year. The 2000 Titans are remembered for a single moment. A moment George likely sees in his dreams every night. In a playoff game against the eventual Super Bowl champion, Baltimore Ravens, a pass bounced off his hands into the arms of Ray Lewis for a game-sealing interception.
After that, George registered then-career lows in rushing yards, rushing touchdowns, and yards per carry.The Titans haven't sniffed the Super Bowl since, and George never broke 1,200 yards again. Cursed, in the harshest way.
Remember the Minnesota Vikings of the late 90's and early 2000's? Daunte Culpepper, Randy Moss, and Cris Carter decimating defenses around the NFL. In 2000, Culpepper's first season as a starter, he threw for nearly 4,000 yards, and 33 touchdowns as the Vikings wrecked the NFL.
During the 2001 season, he was named the cover athlete for the upcoming Madden game. Know what else happened during the 2001 season? Culpepper suffered a season-ending knee injury. The next year, Culpepper struggled to return to form, and threw more interceptions than touchdowns. The Vikings were competitive again in 2004, but who knows what they could've done if Culpepper had been healthy, and uncursed in the two years before. Ringless, and cursed.
Surely, if anyone could break the Madden curse, it would be Marshall Faulk, right? Well, wrong, and don't call me Shirley. After his fourth straight year with at least 2,000 all-purpose yards, and his second straight year with at least 20 total touchdowns, Faulk was the obvious choice. He was one of the best backs of all time, and he was destined to break the curse.
Or so it seemed. In 2002, Faulk failed to reach 1,000 yards for only the second time in his career. In fact, he'd never reach the benchmark again, struggling to stay healthy and visibly declining, Faulk was never the same after being on the cover. And like the Undertaker at WrestleMania, the streak kept going.
Michael Vick is to Madden as Bo Jackson is to Tecmo Bowl. There was a point in time where the running quarterback was basically untouchable in the video game series, and so he was an obvious choice for the cover. In 2002, Vick proved to be an explosive player, launching bombs and juking out defenders as he rushed for 777 yards and eight touchdowns while passing for nearly 3,000 yards and 16 touchdowns.
What happened after Vick made the cover? He got hurt, and missed most of the 2003 season. A couple of years later, the dog fighting controversy emerged, and he was sentenced to jail time. Is that Madden's fault? No, but the 2003 season may have been.
Ray Lewis's Madden punishment was unusual. He didn't necessarily have a bad 2004, but it wasn't particularly great either. The Ravens missed the playoffs, and his numbers weren't anywhere near as good as they had been. The following season, Lewis was sidelined early with an injury, and was never really the same. The curse took it easy on Ray, but it still struck him.
Donovan McNabb is the best that never was. He put up great numbers with a truly mediocre surrounding cast, and played in five NFC Championships. But one thing that fans of the Philadelphia Eagles will always tell you about McNabb is that he got injured too much. What they won't tell you? Is that it didn't happen before he was on the cover of Madden.
After making the Madden cover, McNabb would miss 15 of the next 48 games with various injuries. The year before making the Madden cover, McNabb had easily his best season, throwing for nearly 4,000 yards, 31 touchdowns, and only eight interceptions, leading the Eagles to the Super Bowl. After the cover, he never got close to that kind of success again. Maybe Eagles fans should boo the curse instead of star quarterbacks… or Santa.
Who could possibly forget Shaun Alexander's 2005 season? 1,880 yards, a then-record 28 touchdowns, and a NFC Championship win! He helped take Seattle to the stinkin' Super Bowl, while he set NFL records! One of the best rushing seasons of all time, no doubt.
But after he made the cover? Forget about it. Injuries derailed his career, and he never rushed for 1,000 yards or double digit touchdowns again. He lasted two more years in Seattle before going to the Washington Redskins, where he'd eventually retire. This curse robbed the Seahawks worse than the refs in that Super Bowl.
Never ever forget that Vince Young was once rookie of the year. Hear that Dak Prescott?! Rookie of the year! For a second there, it was easy to see why. Fresh off winning what many call the greatest game of college football ever played, Vince Young was the talk of the town, and as a dual-threat quarterback, people believed in him.
Maybe they shouldn't have. After being named the cover of Madden, Young threw almost twice as many interceptions as touchdowns, and he was benched for Kerry Collins. He had a weird renaissance in 2009, where he rode Chris Johnson's coattails to a Pro Bowl, but the Madden curse crushed his career early and often.
Brett Favre was the very first retired player to make the Madden cover. Or at least, that's what we were told. Mr. Favre had different plans, coming out of retirement and forcing a trade to the New York Jets.
Did you forget that Favre was a New York Jet? It's really easy to, especially if you ignore all of the off-the-field nonsense that the legend brought to the big apple. Favre made the Jets competitive in a year when Tom Brady was injured, but then he suffered his own injury and the Jets imploded. The curse came out of pseudo-retirement for this one.
This year, the good folks at EA Sports tried to trip up the curse by putting not one, but two stars on the cover! With Larry Fitzgerald and Troy Polamalu on the cover, the curse couldn't possibly hamper them! But it did, because the curse doesn't mess around.
Larry Fitzgerald is a genuinely amazing human being, and the Madden curse hated Head and Shoulders commercials, so it went after Polamalu instead. The soft-spoken but hard hitting safety missed all but five games in 2009, and the Steelers struggled. Nothing quite like a bad guy team-up of the Super Bowl hangover and the Madden curse, eh?
In the culmination of a Cinderella story that started three years earlier, the New Orleans Saints finally won a Super Bowl in 2009, knocking off Peyton Manning and the Indianapolis Colts. Head coach Sean Payton played a big part, but it was quarterback Drew Brees and his 34 passing touchdowns that helped pave the way for the big easy.
After being named the Madden cover athlete however, things went from Cinderella to grimm. Brees threw twice as many interceptions as he had the year before, and while the Saints made the playoffs, he had to hopelessly watch on the sidelines as Marshawn Lynch had the run of a lifetime. Cursequake?
In 2012, EA Sports gave the power to the people. "Let them vote for a Madden cover athlete!" a developer screamed, overwhelmed by threats from players that didn't want the curse. Several fantastic players were suggested, but who did we vote for? Who did the American people pick? Peyton Hillis.
To be fair, Hillis' 2010 season was great. He rushed for 1,177 yards and 11 touchdowns while also adding nearly 500 receiving yards through the air. It seemed as if the Cleveland Browns may have discovered a star, finally.
What happened after he won the cover vote? 1,260 yards and six touchdowns. That doesn't sound so bad? It wouldn't be… if it were over one season. No, that's all Hillis managed to rush for over the last four years of his career. Injury, a decline in play, and character issues sunk that ship before it ever left the port.
Without a shadow of a doubt, Calvin Johnson missed the Madden Curse. After making the Madden cover, the man they called Megatron had nearly 2,000 yards receiving and simply couldn't be stopped. Many consider Calvin Johnson one of the best receivers of all time, and this season was a big reason why. Calvin Johnson, the man who dominated while playing for the worst team of all time, is also the man that broke the Madden curse.
Since LaDainian Tomlinson won it in 2006, only one man has won the MVP award without playing quarterback, and his name is Adrian Peterson. After missing the majority of the 2011 season, many speculated that "All-Day" had seen the end of his prime. Boy did he prove them wrong. Rushing for 2,097 yards and 12 touchdowns, Peterson won MVP, leading a Minnesota Vikings team quarterbacked by Christian Ponder to the playoffs.
After being on the cover? Nagging injuries cut his season short, and he never looked the same. The Vikings missed the playoffs, and Peterson has spent more games on the sideline than on the field since. Cursed? Absolutely.
Arguably the best corner in football, Richard Sherman is known for two things, talking trash and backing it up. While many think of Marshawn Lynch and Russell Wilson when they think of the 2014 Super Bowl Champion Seahawks, it's impossible to ignore the contributions of Richard Sherman and the Legion of Boom. The next year, Sherman had another fantastic season, and the Seahawks made it back to the Super Bowl. However, despite holding opposing receivers to one catch in the game, he had to watch Wilson's interception from the sideline as the Patriots won title number four. Cursed? Not really, but… how don't you hand the ball to Beast Mode there?
Odell Beckham Jr. exploded onto the scene in his rookie year, shattering rookie receiving records and making a one-handed catch that none of us will forget any time soon. Did he struggle in 2015? Not at all. His stats actually got better, with him bringing home a stat-line of 96 catches for 1,450 yards, and 13 touchdown. Not cursed.
Rob Gronkowski won the Super Bowl last season, but he didn't play in the game. In fact, the star tight end would only appear in eight games thanks to several injuries. Gronkowski missed the beginning of the season as he struggled with a nagging hamstring, and then a perforated lung and yet another back injury ended his season. Gronkowski ended up missing half of the regular season, and the entire post-season. Definitely a cursed season.
The Truth?
Football is hard. You take a lot of hits, and every single time you make a big play, a brilliant head coach is watching, trying to think of ways to bring you down. Sometimes, you just have bad luck. An injury here, a bad operation there, and your career is over. And frankly? Just because you make the cover, that doesn't mean you're good.
Daunte Culpepper wasn't exactly a Hall of Fame talent, and neither was Vince Young. Gronk has had injury issues since before he was in the NFL, let alone on a video game cover. And who the hell are Peyton Hillis and Dorsey Levens?
Is there a curse? Is new cover-boy Tom Brady going to have a rough 2017? I don't think so. However, as a fan of the Oakland Raiders, a team hoping to challenge the New England Patriots this year for AFC supremacy… don't be surprised if you see me at Walmart buying extra copies… just in case.