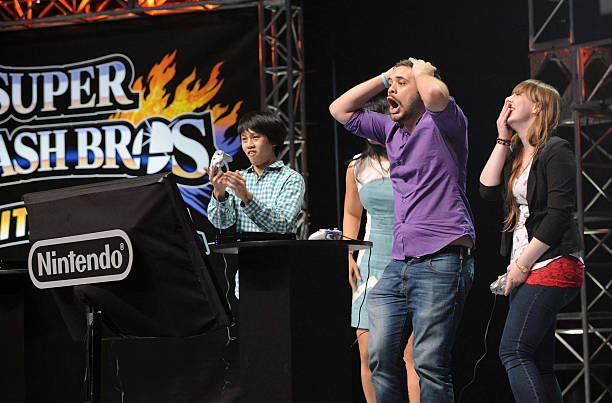 Revolution and evolution, EVO 2017 starts tomorrow, set to be the biggest fighting game community championship in history. The schedule and players are set, storylines are set to be discovered, and players are waiting to show that they will be the next personality to revolutionize in EVO 2017. The pre-party has commenced at Mandalay Bay, and Friday morning at 10AM the qualifying competition kicks off in the heart of the Las Vegas desert. Friday and Saturday will feature thrilling fights, all leading up to Sunday's finale at the Mandalay Bay Events Center. For those who cannot attend EVO in person, you can watch on the Twitch Stream here with the full stream schedule announced yesterday. For those who are new to EVO, or looking for the biggest headlines going into this weekend, below is your full introductory guide.
EVO 2017 – Revolutionizing the Evolution of Esports
EVO: Ambition Defined
For newcomers, you may be wondering what this crazy event is all about. For the fighting game community, EVO is the Super Bowl on steroids. More than a competition, EVO is about celebrating each other through the enthralling competition that is fighting games. Combine youthful joy with the intensity of competition, and the only adjective that describes EVO is ambition.
Veteran players are put on the same playing field as newcomers, making dreams possible. More than any other forms of competition, EVO is made special as newcomers can level the playing field with one swipe. Dedication begins for many of these players at a young age with joy. Unlike more traditional sports, EVO is a tournament that demands that joy persist to remain.
Through fighting games Super Smash Bros, Tekken, Street Fighter, and Ultimate Marvel vs. Capcom 3, players train by choosing and refining techniques with one characters. Through scouting their opponents, reactionary fighting combinations are built and subsequently practiced over and over again. Studying frame data (a pixel by pixel review of the game) reveals the intricate details of opponents. Hours are put into perfecting different situations. Akin to a football coach, fighting game players have a unique combination to react in a split second either offensively or defensively.
One of the special aspects of fighting games is each player build their own playbook. Esports is a competition where strategy is still being crafted. Thus, when that player celebrates their victory, that joy is not only in winning, but the vindication of their strategy.
What are you about to watch this weekend? There will be relaxation and casual play, corporations pushing their game, producers pioneering ideas. But the most special moments to watch will be on the stage as ambition in competition is personified. EVO is a moment where friends are made, dreams are realized, and players evolve their strategy to revolutionize the fighting game community.
If You Steal my Star
Super storylines are derived from enrapturing competition, a trend that EVO holds dear to its core. With more than 14,000 competitors in 2016 EVO, 2017 is going to be another smashing year. Every player will be fighting for the spotlight, and special stories will arise. Individual personalities will shine through and show that the fighting game community has more than one archetype of fighter.
One of the more intriguing matchups to watch will be the Super Smash Bros. Melee fights. The Melee community is one of the most dynamic and personable communities – they let you know they love the game. The two players to watch will be 2013 and 2014 champion Mang0 (who plays as Fox) and 2016 champion Hungrybox (who plays as Jigglypuff). Mang0 will be looking to steal the star from Hungrybox and establish himself as the model for fighting game champions.
When Mang0 won in 2013, he established the bar for all other Melee competitors. Magn0's Fox technique not only became the meta model for the community, but the model to overthrow. In 2015, Armada finally overthrew the Fox style by using the non-traditional Princess Peach fighter. (Yes, that Princess Peach from Super Mario Bros.) The Melee community has moved on from the Fox meta as a novelty of the past. However, Mang0 is primed to make a 2017 comeback and prove that he too can re-adapt his technique to catch up to the modern meta.
The other main competition to watch evolve will be Tekken 7. After a surge last year with 543 participants, Tekken 7 joined the 1,000 participant club this past week. The meta fighting style for Tekken 7 has yet to be determined globally, as in 2016 it had not seen a release in the United States. Saint (Jin-woo Choi) won in 2016 and will look to establish the dominating technique. Akin to March Madness from college basketball, the breadth of competition will breed new fighting techniques and wonderful stories, regardless of who wins.
Finally, Ultimate Marvel vs. Capcom 3 could spell the future of EVO with its success or failure. If enticing, it could become the cornerstone for the MvC series. Marvel Vs. Capcom: Infinite will be releasing for 2018 EVO, fans have already shown a larger interest in the third installment staying as the main title. In fact, Marvel Vs. Capcom 3 had to be voted in as the special title for EVO 2017.
You Will Feel my Wrath
Making opponents suffer through rounds of playing is one of the keys to winning at EVO. Fighting games are as much about psychology as they are technique. Similar to other sports, psychology becomes part of the technique. Winning is fundamentally about making others feel wrath when the star light is attempted to be stolen from underneath their feet.
No fighting technique dialogue can begin without the study of Street Fighter V. If you are new to EVO, then Street Fighter V will be the game to study. The meta technique will be changed at its core due to a game update earlier this year. Characters were recrafted and frame data had to be reanalyzed.
The best part of starting out by studying Street Fighter is the familiarity many have with the game. Even for those who are not gamers, odds are you played the second iteration of Street Fighter in an arcade. Characters in game show clear offensive and defensive movements. Combinations come down to the idea of patterns; offense is displayed in a pattern easily observed. The details are in depth, but similar to basketball, as the ease of motion makes the game enjoyable to watch.
Commentary from Street Fighter V will focus on technique due to the game's recent update. This will add to the viewing experience for first time observers. Seon-woo Lee (playing as Charlie Nash) will be looking to take the championship back and show that he has a fundamental understanding of the core mechanics of Street Fighter. After all, this is the legend of fighting games.
If you want further understanding of technique in fighting games, watch the difference between Super Smash Bros. Melee and Super Smash Bros. Wii U. A decade apart, the games styles have changed drastically. Hence, the reason Melee has held on for so long. Both games are easy to understand and beget action with fast-paced, offensive movements from familiar video game characters such as Kirby, Mario, and Luigi.
Contrasting the two techniques will show how far video game production has come. Melee is littered with specific frame data errors, and much of the game-day commentary will focus on this. Despite being over a decade old, the Melee community is filled with some of the most competitive players who seek to establish their technique as the meta year in and out.
Smash Bros. Wii U is less technique oriented, but also much easier on the eyes. Staggering and reacting is the name of the game, as much of the Smash Bros. Wii U technique is built upon quick observations and instituting sudden counters
I Will Make It
EVO at its core is about revolutionizing ideas and evolving the core of games. But, recall, every player comes in with the confidence that they will make it. They will be the one to top off the champion. And what makes it special is the ambition, competition, and heart each fighter puts in.
But EVO is fundamentally fun. Thousands will get their dreams crushed, raw emotion will be observed, and fighting champions will be crafted. But, each of them has a dream to make it – and that dream is special to watch play out.
Whether they make it wherever they go this weekend, or the next let this be more than a gaming event. Let this be the ambitious event that prompts you to make it.
I will be covering EVO all weekend on Twitter. Follow @haynes_LWOS and join in the conversation! 
Image Credit: