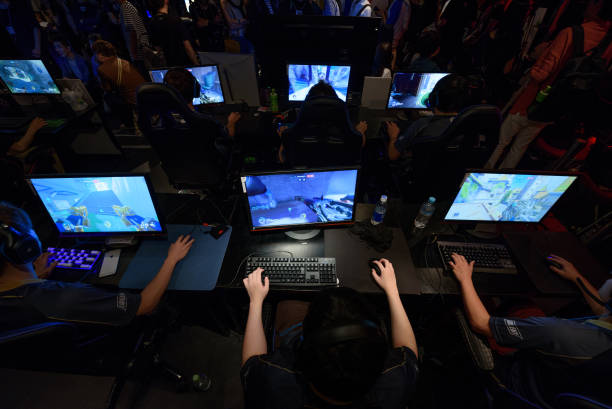 Any good league needs not only players, but players with personality and interest. The Overwatch League rosters are no exception and will be bringing the power of personality to esports. Not only have teams updated their rosters, but Overwatch League teams have also branded themselves with logos and names. While the business side of the Blizzard is still facing serious questions from investors as Cowen downgraded the market rating for Activision Blizzard, the personality and team shaping is full steam ahead. This dichotomy of business and entertainment over the first season of the Overwatch League will be the main storyline. And to win the narrative of public perception, Blizzard needs their team brands to take the onus in the league; and supporting brands starts with headline roster signings. Overwatch League roster signings for the San Francisco franchise headline the league with their dynamic personality and strategy.
Overwatch League Roster Signings – Profiling Contenders in San Francisco
Branding
Foremost, the branding of teams for specific cities is going to make the Overwatch League a compelling venue. The Dallas team is no exception, pointing to their Texas heritage with the aptly named franchise, "Dallas Fuel."
The bright blue logo is reminiscent of the Dallas Cowboys legendary blue logo. The branding design and name, 'Fuel' not only brings vigor, but irony in Texas' heritage of oil wealth. Further, the owner, Team Envy, has strong resilience in their logo as they are known as the, "Boys in Blue." Calling back to that logo is important to continue the rivalry between Team Envy and the Houston Overwatch team owned by Team OpTic.
Across the ocean in China, the Shanghai team brings a fiery and smart new style of branding with their "Shanghai Dragons." The bright red and S shaped dragon will emphasize the strategic nature of the team, while recalling to the heritage and importance of Chinese culture.
As the official Dragons press release details, the Dragon logo is more than a mere brand, but a part of their history. William Ding, the CEO of ownership group NetEase, has compiled a team that bring the best out of a logo. The onus being on a special part of history will garnish local pride and ownership in the team; thus, acquiring a reason to cheer for the new esports competition.
Roster Updates
The Overwatch League roster signings are coming slow and methodically, which points to the expectation the final announcements will be held for a celebratory event at BlizzCon. However, the San Francisco team (still brand-less) have announced eight new signings on September 28. Before the foray of the season, now is the best time to get to know the international group now representing the Bay Area.
Heralding from the United States are Nikola 'Sleepy' Andrews, Dante 'Danteh' Cruz, Matthew 'Super' DeLisi, Andrej 'Baybay' Francisty, and Jay 'Sinatraa' Won. From Sweden will be Andre 'IDDQD' Dahlstrom; from Spain Daniel 'DhaK' Martinez Paz; and from Mexico David 'Nomy' Ramirez.
And to note, Coach Brad has indicated they will be signing one more player to the roster, a player who may be a main Parah.
Nikola 'Sleepy' Andrews
Sleepy is no doubt an underdog to cheer for. Being in the younger competitive group, for all intents and purposes, he is still a teenager. Yet, his respect and maturity among other professionals have earned him a spot on the NRG San Francisco team. Coaches observed a player who put emphasis in team work through his demeanor in tryouts.
Sleepy is known for his highly regard Twitch streams and welcoming persona. He won't be the aggressive super star of the group, but his play style and profound joy of the game will make him a gran participant to cheer for.
Don't sleep on his quiet nature; Sleepy's adherence to the process is what makes him such an enticing player for the San Francisco team. Although lesser known, he has been working in monthly invitationals and other competitive zones to improve his play. His first chance came with Tempo Storm, a esports team who unfortunately fell through financially.
Proving himself on the big scene will be Sleepy's goal. Playing Ana and Zenyatta, Sleepy will be the key cog to keeping his teammates alive and well. San Francisco will be living and breathing on his precision and advanced scenario understanding.
Dante 'Danteh' Cruz
Danteh stands in contrast to sleepy in both play and personality. He is most warranted for playing Tracer and flexing to other DPS heroes. He has been active in the Overwatch competitive community since starting as a flex with Denial esports in February 2017.
Overtime, he has taken first in five different events, starting with the Academy Gaming Overwatch Weekly on December 26, 2016. He can often be found streaming on his Twitch Channel, where he will entertain through games more than Overwatch.
However, Danteh also carries a bold personality. On August 2, he streamed a Sombra exploit live, boasting that he would not be suspended for showing off the exploit. The exploit allowed Sombra to fall out of bounds and become unreachable to opponents. Despite his boasting, he was suspended for eight days until August 10.
Fortunately, making mistakes and learning is better earlier in the process. Danteh most likely has learned from his one-time harmless mistake and become a better teammate for it.
André 'IDDQD' Dahlström
IDDQD is the cowboy of the group – literally as he plays another tactical DPS character in the cowboy McCree. Heralding from Sweden, IDDQD has vast experience in gaming and in Overwatch.
The nickname IDDQD comes from a charming story of his childhood. The first game he attempted to play in his youth was DOOM. Yet, as most first games, he struggled with the initial concept. Thus, his father left the note, "Press §, write IDDQD" on the side of his screen. As DOOM players know, this is the cheat code for invincibility in the original Doom.
IDDQD is now the cheat code for the success of the San Francisco team. He is a veteran player, having been with multiple teams including Fnatic and NRG esports. He placed third in the 2016 Overwatch World Cup with another four first place victories in weekly Gosu Gamers events. His quick-scans as McCree will add a quick-hit personality to the team, and the needed experience of having observed multiple scenarios before.
Matthew 'Super' DeLisi
Super began his tenure in Overwatch as a Tank, possibly calling back to his days playing the competitive shooter Team Fortress 2. Over time, he has found himself playing as Reinhardt, Winston, and Tracer, sticking to the former.
His experience in the esports world began with -bird noises- in late 2016, but he quickly transferred to Hammer esports in January. Most recently, Luminosity Gaming Evil acquired his talents to serve as their tank. He is a protégée several teams in the Overwatch League were seeking.
Quieter, and more reserved than other esports players, Super sticks to himself. Reflecting his personality, his strategy as Reinhardt or Winston fulfills the thoughtful chess-master role. Thoughtfulness and reflection on his play will continue to spur on Super's competitive career, enabling him to learn and provide feedback as an on-field coach.
With four first place finishes across monthly and minor events, and a second-place finish in the Overwatch Carbon Series, Super brings a renowned and fast-paced 2017 into the 2018 Overwatch League. Super will have a super long career ahead of him if continues improving on what he loves.
Andrej 'Babybay' Francisty 
Babybay is the ninja soldier of the group, playing the dubious heroes Soldier: 76 and Genji. His experience in Overwatch began in August of last year, when he finished in the tenth range for the Overwatch Open qualifiers. Since that time, he has improved in his DPS play, taking seven first place weeklies and placing seventh in the first season of Overwatch Contenders.
Another reflective player, Babybay spends a lot of his time focusing on the map layout and the nuances of specific heroes. Hence, why he can play several different heroes to fit multiple scenarios. Mixing this with an aggressive, active point in game, and Babybay will be a more poignant leader in matches taking on the point guard role.
The on-point mentality may come from his start in Crossfire, playing competitively for team Carbon. Babybay will be a player who can mold to any strategy the team wishes to take, making San Francisco a dangerous long-term team.
Daniel 'dhaK' Martinez Paz
Dhak, arriving from Spain, may not be as known in the United States market as other players, but experience in the try out process made him an essential signing for the team. He quickly showed coaches that he can adapt and support any player with Lucio. Further, he also played particularly well with Sleepy (hence, why they make a dangerous duo).
Experience was a central tenant for San Francisco signing dhaK; he rounds out a cast of largely inexperienced player. Starting in March of 2016, dhaK played the game with a certain amount of joy that made him a great player to adopt. He shot up the leaderboards, taking five first place victories in weeklies from February to March of 2017 and a third placement in the Overwatch World Cup qualifier for Sydney.
Solidarity among flexibility is one of the best parts of dhaK's gameplay. He brings an excellent Lucio main that allows teammates to become true flex players. Watching how San Francisco's flexibility will last over different meta updates and new strategies will be one of the main narratives moving forward. However, players such as dhaK bring comfort in the notion of a fan favorite player.
David 'Nomy' Ramirez
Nomy is another versatile player, ranging from Reinhardt and Zarya, to the support Lucio. Nomy's main function as a tank, however, will make him a characteristically aggressive player. The nuanced understanding of how to play as Lucio has made him a more versatile and powerful Reinhardt.
Taking on the experiences of others, Nomy has been with the immaculate Immortals esports team. He will bring advanced scouting and understanding of some of San Francisco's best rivals. Nomy has played in fewer weeklies than others, but is a main stay in major events, taking first place in the Overwatch Carbon Series, Overwatch Winter Premiere, and third in Overwatch Contenders Season One for Europe.
The Overwatch League will be a chance for Nomy to pop in the North American scene after running into Visa problems that prevented him from competing in the Overwatch E-League Open. Since that time, he has only gotten better, and now will be primed to take point with his tanks as he and others buy into the esports dream.
Jay 'Sinatraa' Won
Sinatraa brings electricity to the group with his Tracer and Genji play. If anyone in the group plays Tracer, it will be Sinatraa as he finished number one in North America after season three of in game play. Yet, being only 17 years-old, Sinatraa will have to wait a few months before becoming an official part of the roster.
The upbeat personality of the young player can be found in his Twitch streams as he methodically dominates. There is a reason the San Francisco signed the protegee; Despite his inexperience compared to others, he brings quick-thinking and fine-tuned decisions.
Improving over the long-term and finding team chemistry over the season is why Sinatraa is part of the roster. Whether learning to come in as a rotational player, or coming in during the more intense moments of a match, Sinatraa's versatility and understanding epitomizes the San Francisco roster.
Conclusion
Youth and inexperience mask a highly talented roster. Coach Brad has built a team of characters willing to be aggressive, yet supportive of one another. The mix of personalities will pain a cohesive team learning to play together. The San Francisco team may take more risks, but at the same time, those risks will make them one of the scarier opponents in the Overwatch League.
Main Image: