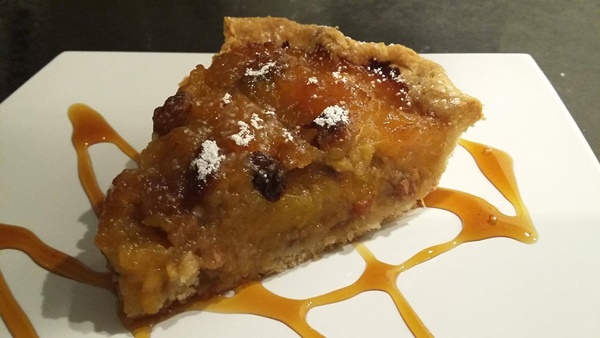 As the days shorten, our need to feel warm and content increases. So here is a dish which can be made in batches and frozen, making it readily available throughout the cold autumnal and wintery days. This sweet, yet nutritious and fulfilling dutch apple tart with roasted pumpkin recipe can be served as a cold dessert or as a steaming hot pudding. The rich aroma of cinnamon and the roasted pumpkin warms up any home.
Roasted Dutch Apple and Pumpkin Tart Recipe
Pastry
225g Self Raising Flour
60g Margarine
60g Lard or Trex
3 tbsp Cold water
Filling
¼ pumpkin peeled, de-seeded and roasted
2 baking apples, peeled, cored, chopped and stewed
1tbsp sugar.
100g Dried mixed fruit
1 tsp Cinnamon

Method
1. Grease a flan tin.
2. Rub the fat into the flour to create a mixture similar to breadcrumbs, stir in 2 tbsp water and mix. Add a further tbsp. water to form a dough mixture.
3. Roll out the pastry onto a floured worktop turning occasionally to avoid sticking, to a depth of 5mm. Lift and place into the flan tin and trim excess from the edges. Create a fluted edge using your fingers and thumb to alternate the edges. Place in a fridge overnight.
4. Mash the pumpkin using the back of a fork and mix into the stewed apple. Mix in the dried fruit, cinnamon and sugar. Leave this mixture in the fridge overnight so that all the flavours can infuse.
To bake
1. Pre-heat the oven on to 180c
2. Pour the fruit mixture into the pastry case, and place into the centre of the even.
3. Bake for approximately 40 minutes or until the pastry edges begin to turn brown.
Serving Suggestion
Drizzle honey onto a plate prior to service.
Best served warm to allow to cool for 30 minutes once removed from the oven.
Best served with a scoop of vanilla ice cream.
Main Image: