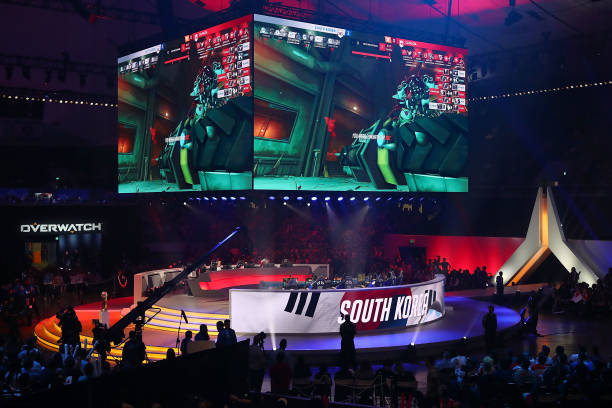 The underlying factor regarding esports competition is how well teammates cohere to the silent and deadly psychological factors of communication. In Overwatch, teams are formed around versatility and being able to silently adjust in different maps, hallways, and formations. As the Overwatch World Cup progressed to the final eight, those teams who proceeded to the bright lights of BlizzCon were the teams who epitomized silent efficiency. Subsequently, the Overwatch World Cup final matches not only provided poignant point captures and emphatic momentum shifts, but a studied clinic. The range of strategies, flow of capture, and most of all the jovial enthusiasm derived from team work made the 2017 Overwatch World Cup an esports event to remember.
2017 Overwatch World Cup – Capturing Momentum for the Win
Final Eight
One of the most telling matches of the evening came between South Korea and the United States. Perceptually, these were two of the favored teams due to the breadth and experience of players available. Jacob "Jake" Lyons and Jay "sinatraa" Won were dominating the Overwatch World Cup as DPS characters. The onus of Team USA was on speed and agility when pushing the point.
Yet, Team South Korea matched DPS efficiency with tanks for the close 3 to 2 finals victory. Kim "Mano" Dong-gyu and Kim "Zunba" Joon-yuk made evident Zarya would dominate as they poignantly drove through the United States defense. South Korea took the lead early, and worked as a team to never lose that initial momentum.
France and China offered a monumental swansong for Team France. Many of their players are entering retirement due to the Overwatch League not providing esports team Rouge a viable option, thus leading to a disbanding. France appeared as if they were having fun, and that fun lead to more relaxed and flowing play. China was decent, but frustratingly uptight; France walked away with a 3 to 1 victory.
Canada and Australia may have been the matchup of the final eight. Both teams struck with intention, planning, and ferocity. Genji was the story of this matchup, as both teams featured the ninja as their decisive factor. Initially Australia took the lead thanks to their Genji Ajay "Aetar" Umasankar being overtly agile. Canada was making mental mistakes, but showed resiliency as they communicated and clinched a tight 3 to 2 victory, hoping to carry that momentum to the final four.
Sweden and United Kingdom entered the evening with Sweden as a massive favorite, and throughout Sweden proved why they were a favorite. Kevyn "TivQ" Lindstrom and Sebastian "chipshajen" Widlund were both versatile and supportive (literally) of team Sweden and provided the emphatic structure needed for a 3 to 0 sweep.
Final Four
Canada and Sweden met in the semifinals, both hoping to carry their dynamic momentum. Canada was thriving from a comeback victory, while Sweden had quickly swept their opponent. The first match was quickly determined as the entirety of team Canada utilized tactics and their ultimate abilities with renowned timing. Nepal fell as Sweden was overwhelmed on all sides for a resilient overtime win.
A more aggressive attack and several full resets forced by Sweden gave them the needed shift. King's Row and Hanamura went to Sweden thanks to their quick strike method which kept Canada from coherently staying on point. One of the most important fundamentals in Overwatch is attacking strategically from all sectors of the point. For a subsequent example, if a DPS and tank do not come together to hit the payload at the same time, the DPS character's accuracy is thrown off as they attempt to take on everyone at once.
While Sweden emphasized throwing Canada off their payload methodology on King's Row and Hanamura, Watchpoint: Gibraltar and Oasis were about the momentum teamwork ultimately satisfies. Mangachu came through for team Canada to be the versatile domino needed. After establishing a unique strategy on the final two matches, Canada overcame favorite Sweden.
Strategically, Canada evolved to format two different matchup philosophies Sweden was not expecting. Using DPS characters supported by Lucio, they distracted Sweden from the point, and instead manipulated that attention to killing players. Canada was able to toy with mentality enough to pull off a victory and enter into the finals.
France and South Korea fought next for the right to play Canada in the finals. France was running on the emotion of their swan-song, but their last hurrah would not be enough to throw them over the advancing tanks of South Korea. Using pure strength, South Korea controlled Oasis for a hard-fought 2 to 1 victory.
Numbani was the map offering France to regain momentum, however, as they fought with poise. Knowing what to expect, France modeled a structure in which South Korea was forced to circumvent the point. Hence, South Korea first had to worry about personnel on the peripherals of the map instead of the point, consequently separating South Korea's tanks and DPS.
All in all, too much was too much; South Korea won Numbani 3 to 2. Both teams had key swinging moments where either made miraculous plays to force quick adjustments near the end of games. France would come back to win on Hanamura 1 to 0, but South Korea took Watchpoint: Gibraltar 3 to 2. France attempted a hail marry at the end, but South Korea's control and principles won.
Finals
Canada and South Korea throughout the World Cup had both emphasized an intrinsic focus to their play style and team formation. No matter what attempted miracle effort came for either, they had played the season with poise. Fundamentally, they stuck to what their players were best at, and used those skills to create momentous drives.
Most importantly, fun epitomized the atmosphere of the finals round.
Canada fought hard on Oasis, King's Row, and Hanamura, but their strategy fell short. South Korea, again, used strength to power their way through the different map sectors and points. However, Junkertown featured the perfect curvature of the streets that Canada needed to pull off a win. South Korea became clogged on the final point, and Canada built a dominating wall to take Junkertown 3 to 2.
Numbani was the next stage for South Korea to take the game match. However, Canada was not ready to die quickly. They jumped to a 4 to 3 lead early in the match after capturing several points with an aggressive, straight ahead attack of their own. Composed of DPS upfront, and snipers in the back, Canada moved swiftly through Numbani to post on South Korea.
South Korea, however, took a step back on the final match and analyzed everything. They used back lanes to quickly grab kill points on Numbani. Canada was caught off guard on point A, and immediately gave up control. Without momentum heading into point B, Canada let Yeon-oh "Fl0w3r" Hwang literally and figuratively DPS everyone to death.
South Korea is the 2017 Overwatch World Cup champions; congratulations on a hard fought and well-deserved championship season.
Monday Morning Support
After attending to the craziness of the Overwatch World Cup, two meta points stand above the rest. First, teams that adhered to a strategy, opposed to being reflectively flexible, were the winners. Identity and composure wins in Overwatch. The second point carries off the aggressive methodology South Kore won.
Identity is a common place attribute winning teams create in their play across sports. Being flexible in Overwatch is important, especially for those teams who need different identities due to a lack of strength at tank or support. However, flexibility does not beget a thorough understanding of how a DPS or tank will always attack. Canada and South Korea arrived to play each other due not because they were flexible in characterization, rather they were able to morph their model for any point on any map.
The second takeaway revolves around the importance of aggressive distraction. Through several matches, teams could create distractions that removed focus from the point, and transitioned that focus to killing players. Although players are needed to capture a point or payload, transitioning the other team's focus to individual players loses the overall perspective of the goal at hand.
Focus is the essential quality when playing Overwatch, and without looking at the goal, team chemistry fails. A sense of pervasive strategy is lost, and thus communication falls apart as team members lose concentration on defending or moving forward, and instead fall to the way side. Analyze determinism in strategy, and the most successful team may be found.
Main Image: