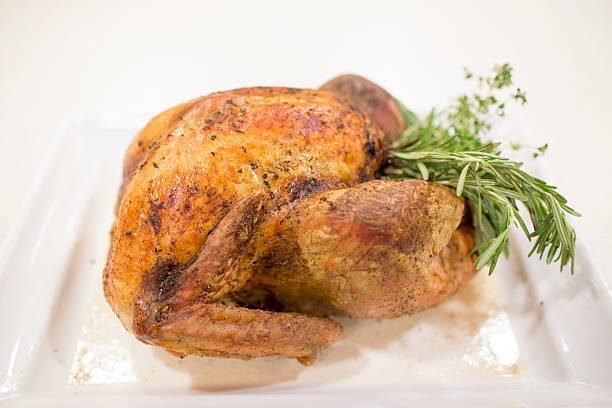 Our Dear Readers may not be aware that up here in Canada, we don't celebrate Thanksgiving when Americans celebrate it. Canadians celebrate Thanksgiving the second Monday of October, so a bit earlier than Americans. While the American Thanksgiving is celebrated in commemoration of the pilgrims and all that, Canadians celebrate a harvest feast according to the Christian calendar. That being said, many First Nations bands celebrated a harvest feast around this time of year a long time before the arrival of European settlers on their land. It seems, however, that the various celebrations all have one thing in common: turkey. Wild turkeys were once prolific across large parts of North America, so of course it became our holiday staple diet. The present author works at a heritage site in British Columbia, and thought it might be fun to share some of the turkey dinner recipes from the Trethewey House collection.
A Happy Heritage Thanksgiving Dinner
Traditional Turkey; Without a Twist
A traditional Canadian Thanksgiving dinner looks pretty much the same as an American. It's turkey, mashed potatoes, gravy, sweet potatoes, cranberry sauce, fall vegetables and pumpkin pie. Trethewey House Heritage Site in Abbotsford, BC, holds a fair sized collection of local heritage artifacts. Because British Columbians celebrated Thanksgiving over a month ago, and Remembrance Day last week, Christmas displays are now well underway on the heritage site.
Again, that entails pulling out the cookbooks and looking at turkey recipes. While restaurants all around the heritage site feature newfangled twists on the traditional dinner, staff opts for the more traditional approach. The cook books in the collection pre-date actual electric and gas ovens; hence, they won't tell you how hot to cook your food in the oven for. If you want to cook heritage style, you'll have to get used to that, along with "pinches" and "dashes"!
Turkey a la 1896
So how does one roast a turkey, heritage style? Using Mrs. Fannie Merritt Farmer's 1896 recipe from The Boston Cooking School Cook Book, we find out that we must dress, clean, stuff, and truss a ten pound turkey. Place the turkey on its side in a dripping pan and rub the entire thing in salt. Spread the breast, legs and wings with one-third cup butter, "rubbed until creamy and mixed with one-fourth cup flour."
Dredge bottom of pan with flour. Place in hot oven, when flour on turkey begins to brown, reduce heat and baste every fifteen minutes until turkey is cooked. The Dear Reader is told to use one-half cup butter melted in one-half cup boiling water. After this is used, you are to use the fat from the pan. Pour water into pan frequently to prevent flour in pan from burning. Don't forget to turn turkey frequently, too!
No Turkey Dinner without Stuffing
Once your turkey is cooked, Mrs. Merritt Farmer recommends you garnish with parsley or celery tips. You can even use curled celery and carrot discs strung on a fine wire. Mrs. Merritt Farmer tells us that turkeys often are roasted with certain types of stuffing. For the traditional chestnut stuffing she recommend:
8 cups of French chestnuts
½ cups butter
1 tsp salt
1/8 tsp pepper
¼ cup cream
1 cup cracker crumbs.
First the chestnuts are shelled and blanched, then boiled in water until soft. They are then mashed, using a potato ricer (yes, you can use a mixer, but why cheat?). Add half the butter to salt, pepper and cream. Melt remaining butter, mix with cracker crumbs and then combine mixtures.
Et voilà!  Next comes your gravy. This is made the old fashioned way, and you'd better know how to do this even if you're a millennial.
Piece de Resistance: The Gravy
To make your gravy, your salad and your mash, you have to do things by taste. In other words, feel free to deviate from the recipe, which is not very particular about quantities.
Pour off the liquid from the roasting pan. Skim off six tablespoons of fat, return it to pan and brown with six tablespoons of flour. Then you pour on (gradually, folks, gradually!) three cups of stock "in which giblets, neck and tips of wings have been cooked". This is why some modern turkey producers send the innards along in a little bag, stuffed inside the turkey. Always check for the bag before you start cooking…or don't, and learn the hard way. If these parts are not included, just use the liquid left in the pan after roasting the turkey. Now cook all this for five minutes, season with salt and pepper and strain.
Thanksgiving Mash-up
For the sweet potatoes, the Dear Reader should wash, pare and cook them for 20 minutes in boiling salted water to cover. To two cups of riced sweet potatoes add three tablespoons butter, one-half teaspoon salt, and hot milk to moisten. Beat until light.
The mashed potatoes are made much in the same fashion but with different quantities of each ingredient. To five riced potatoes add three tablespoons of butter, one teaspoon salt, a few grains of pepper, and one-third cup hot milk.
Mrs. Merritt Farmer recommends a traditional corn salad to go with the turkey. To make it, drain a can of corn (although Mrs. Merritt Farmer does not tell us what size can). The corn is then simply seasoned "with mustard and onion juice", then marinated in French Dressing for an hour. Before serving, you drain the corn and arrange it on a bed of lettuce or chicory.
Pie Crust, or The Part Where You Get to Cheat
Last but not least, your pumpkin pie. Mrs.Merritt Farmer includes many different recipes for a variety of crusts. The main thing to remember is that the crust is perforated. She also prefers a tin pan when baking pie. For one such crust, you need to mix
1 ½ cup steamed and strained pumpkin
2/3 cup brown sugar
1 tsp cinnamon
½ tsp ginger
½ tsp salt
2 eggs
1 ½ cup milk
This is to be mixed in the order given, then baked in one crust. Again, this is a recipe designed for a wood or coal burning stove. No temperature or time is given. I recommend following the instructions on the frozen pie crust box! Serve your dinner with a nice punch (1 c sugar, 1 c hot tea infusion, ¾ c orange juice, 1/3 c lemon juice, 1 pint ginger ale, 1 pint mineral water).
Happy Thanksgiving!
Main Image: