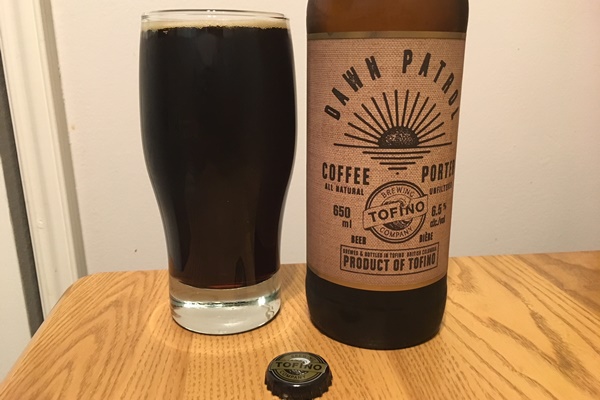 In this edition of B.C. Beer Reviews we are taking a look at a Vancouver Island brewery, Tofino Brewing. They have come out with a porter for the winter by the name of Dawn Patrol Coffee Porter.
This is an ode to a style that is popular during this time of year, and adding in a popular new trend: coffee. Let's dive in.
B.C. Beer Reviews with Nic Hendrickson: Tofino Brewing – Dawn Patrol Coffee Porter
Tofino Brewing does some interesting beers, one coming to mind is their Kelp Stout. While Dawn Patrol isn't as odd sounding as a kelp stout, it is something Tofino Brewing has dipped their toes into before.
Colour
The colour is a nice dark brown, almost black indicative of the style. In the right light there is a reddish-brown tint, but you have to get to the bottom of your glass first to notice that.
The reddish-brown tint when you get lower in the glass looks very much like the coffee that was introduced into this beer. It is a nice, inviting colour for a porter.
Nose/Aroma
The first thing you will notice when you pour this beer is the wallop of coffee notes. While that might make you think it overpowers everything else, it truly doesn't. The coffee notes, while truly at the forefront of the aroma, are just the tip of the iceberg.
When you get down to the point where you can move the beer around a bit in your glass you start to get hints of vanilla, albeit very subdued. There's just enough sweetness from that scent that you have to almost work to find it.
The last smell you will catch is a bit of a boozy one. Hints of bourbon sweetness compliment the vanilla nicely, but once again they do not overtake the dominant coffee smell.
The nose/aroma of this beer is exactly what you would expect from a coffee porter. While not groundbreaking, it is a very nice aroma and arguably the best part of this beer.
Tasting Notes
The one thing that goes without saying is that this beer tastes thoroughly of coffee. I know, that's not surprising. What is a bit surprising about that is that you do not get much of the coffee bitterness towards the end, which compliments the other notes nicely.
The chocolate malt in this beer shone through, complimenting the coffee and the following flavours nicely.
The one note that shone through nicely, and almost as much as the coffee, was the boozy bourbon flavour. You get a good deal of the sweetness that bourbon is known for. It compliments what is an otherwise coffee-forward beer nicely.
The final tasting note you'll notice is vanilla. Some palates will get this more than others, but this didn't come through much for me until the beer started to get a bit warmer. As the bottle neared its end the vanilla started to show up, but it was still in the background.
It should be said that another two people who had this beer got notes of vanilla earlier on, but they still didn't think it was an overly pronounced flavour. Nonetheless, even the trace amounts of it were a nice touch. However, it would have added a nice level of complexity alongside the bourbon and coffee if it shone through a bit more.
Other Notes
The first pour was not a hard pour, and it resulted in a very small head to the beer. The head retention on the beer was virtually nothing as it dissipated in a matter of seconds to a thin line on top of the beer.
When approximately halfway down the glass, the second pour came, and this time it was much closer to being a hard pour. This resulted in a thicker head (obviously), but the head retention was much the same as it was before.
One of the best things about this beer hasn't even been mentioned yet: the chocolate malt. It had a nice chocolate malt backbone to it, adding another layer of sweetness to this beer.
Final Grade
When looking at the past coffee porters I've had, this is a pretty darn good one. There is a nice nose/aroma to this beer, the colour is spot on with the style and shows some of the coffee notes as well, there is a complex layer of flavours and the malt profile compliments everything else nicely.
Grade: 8.5/10
If you want to see pictures of all, or most, of the craft beer I enjoy, follow me on instagram: nhendy5. You can also add me on Untappd to see all of my beers I review here, and some that won't make it into writing: RedArmyNic.
And on a final note, if you're looking to help families in need from B.C. during the holiday season, head over to bccraftbreweries Instagram account for all the information you need on donating to a good cause. You can win cool prize packages from more than a dozen breweries of British Columbia.
Main photo by Nic Hendrickson, copyright Lastword Inc., all rights reserved