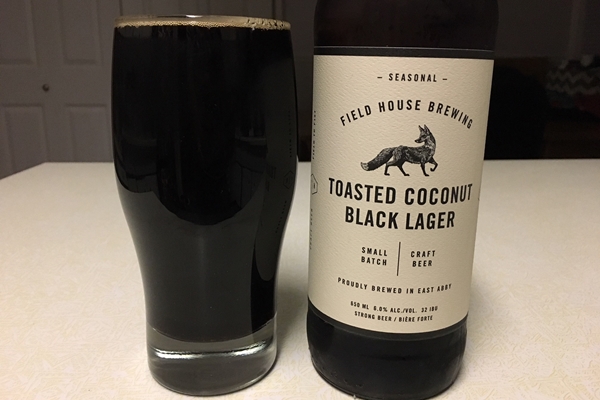 In this edition of B.C. Beer Reviews we are taking a look at the seasonal release from Field House Brewing. When the weather gets cold and rainy here in the Pacific Northwest, Field House releases their Toasted Coconut Black Lager.
This is a tasty take on a winter beer, and an interesting one at that. From the brewery that won Newcomer of the Year at the 2016 B.C. Beer Awards, this is another solid beer in a long line of good brews.
B.C. Beer Reviews with Nic Hendrickson: Field House – Toasted Coconut Black Lager
The Toasted Coconut Black Lager is a tasty take on a 'winter warmer' from the young brewery based in Abbotsford, British Columbia. This is the closest you will get to a stout (so far) from Field House, and it holds its own among winter beers.
Colour
The colour of this beer pours a very dark brown. The pour has a dark brown, almost black, tint to it that is closely resembling coffee. It is a very nice colour to see coming out of the bottle.
When your glass is full however, it is an even darker shade. It pours dark, and it looks even darker when in the glass. Categorizing this as a black lager is spot on with the colour.
Nose/Aroma
The nose/aroma of this beer has complexity to it that compliments everything else well. The first thing to hit your nose is notes of coffee and roasted notes. These, as always, compliment each other well and make for a fantastic nose on a winter beer.
At the back end of the scent is a small hint of coconut, but it is slight. It is certainly overpowered by the malt characteristics and the coffee aroma in the nose, but it is a nice touch to add another layer of complexity to it.
Tasting Notes
The first thing that hits you is notes of roasted malts. This is indicative of a 'winter warmer', and it isn't overpowering to the point where it dwarfs the other tastes in this beer.
You will also, like the nose/aroma, get strong tastes of coffee in this beer. It comes with a first hit of coffee, and the aftertaste has the nice bitterness you would expect from that, helping each sip to finish crisply.
While it is still in the background, much like in the nose/aroma, the coconut shines through. It is a nice touch to finish off each sip and adds a sweetness that the malt characteristic doesn't necessarily bring a ton of.
Other Notes
For being a black lager, it carries notes from two different styles that seem to lend themselves nicely to each other. You get a nice roasted flavour traditionally associated with Porters or Stouts that is complimented well with the crispness of the lager style beer.
One thing of note is that, even with a relatively hard pour, this beer has very little head to it. And much like the head, the head retention is minimal. However, this doesn't necessarily make a major difference in this beer, but is merely an observation that this beer seems to lend itself more to the lager style in this respect.
Another note is that the branding of the bottle is in a simple, yet hipster style. This falls right in line with the style that Field House carries and suits them.
Final Grade
The nose/aroma has a nice complexity to it and is greeting. It suits the time of year nicely, and it starts the beer off very well. The tasting notes follow in line with the expectations set by the nose/aroma.
The colour to the beer follows suit, and the crisp finish to each sip is a nice touch to finish it off.
Grade: 8.3/10
Want to see all of the photos for all the beers in B.C. Beer Reviews? You can even catch some that don't make it into these articles. Follow me on Instagram: nhendy5. You can also see all my reviews, in a much more concise fashion, up to 24 hours before B.C. Beer Reviews comes out on Untappd: RedArmyNic
If you liked this beer review, check out Field House on Instagram, and be sure to stop into their brewery for more beers like it.
Main photo by Nic Hendrickson, Lastword Inc., all rights reserved