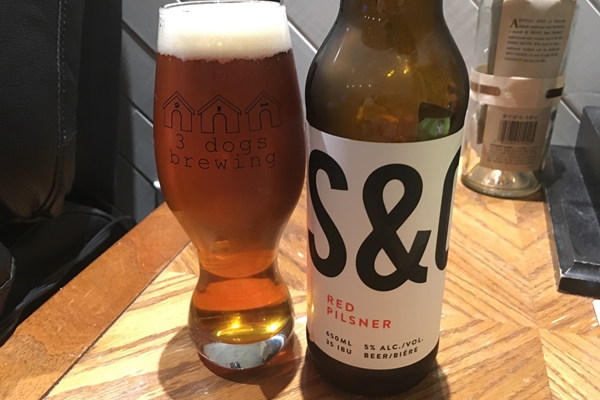 For the first award-winning entry in B.C. Beer Reviews we will be taking a look at the Red Pilsner from Steel & Oak Brewing. This beer took home second place in the International Lager category at the 2017 British Columbus Beer Awards.
B.C. Beer Reviews with Nic Hendrickson: Steel & Oak Brewing – Red Pilsner
This is an interesting take on a style that is literally everywhere. Whether craft beer or not, at a bar, bowling alley, sports game and everywhere in between, you can find yourself a pilsner to drink.
While in years past it may have taken a very experienced taster to find major difference, that is no longer the case. This is where beers like the Red Pilsner from Steel & Oak comes in.
It is a different take on the style without venturing out into fruit additives or anything overly "out there". They kept it simple, and it paid off with an interesting beer worthy of its silver medal finish.
Colour
They saw don't judge a book by its cover, but in this case you can judge the beer by the name on the label. The beer pours a light reddish, golden colour into the glass. When filled you can see the red colour to it shine through.
The reddish tint to this beer results in an almost caramel-like colouration to it. It is a very pleasing beer to look at.
Nose/Aroma
The nose/aroma on this beer is that of sweetness. There is a distinct caramel scent on the nose, complimented by a crisp scent usually attributed to a well done pilsner.
As is obvious, you get absolutely no hop aroma in the nose. A very nice nose/aroma to compliment what is already a nice looking beer.
Tasting Notes
The things to look for are right on the front of the bottle. Steel & Oak lists caramel, spice and crispness as the three characteristics for the Red Pilsner.
To tackle the first on that list, and most dominant, the caramel taste shines through. There is a sweet caramel taste reminiscent of the malt. It is sweet, but not so much that it is offputting in any way.
The caramel taste in the beer is undoubtedly the star of the show.
The next on the list was spice. This is where it strays just a little bit. There is a definite spice note to the beer, but it is difficult to taste at times as it competes with the caramel and malt characteristics.
It's a nice compliment to the caramel, but not much more. This isn't necessarily a bad thing.
And last, but not least, the crispness of the beer. Pilsner's are well known to have a crisp bite to them, and this one is spot on their. It is crisp and has the bitterness at the end of the taste that you would expect with the style. This crispness plays well as a finishing note with the sweetness of the beer.
Other Notes
The carbonation level of this beer was perfect. For the style you want it to compliment the crispness hand-in-hand, and it does just that. It is spot on with the style, and it makes for a very refreshing beer, even for those of you who are not partial to pilsners.
There is a distinguishable amount of lacing in the glass from this beer. Throughout drinking it there was a good deal of lacing all around the glass until the last drink. This could very well be due to an addition of Carapils.
Final Grade
It is hard to determine whether or not the Red Pilsner deserved the silver this year or not having not had the first or second place finishers, but it is a darn good beer on its own. It should be said that I am one of those people who generally do not choose to drink pilsners, but this is a beer I would gladly drink again and actively seek out.
Grade: 8.7/10
Want to see all the pictures on these articles up to 24 hours before B.C. Beer Reviews comes out? Follow me on Instagram for all of them, and even some that don't make it into the articles: nhendy5. You can also add me on Untappd to see a more concise version of all my reviews: RedArmyNic
Want to win prize packs from breweries in British Columbia? Head over to Instagram and find bccraftbreweries to donate to his holiday donation campaign and you can. All money donated will go to families in need of monetary help this holiday season.
Main photo by Nic Hendrickson, Lastword Inc., all rights reserved