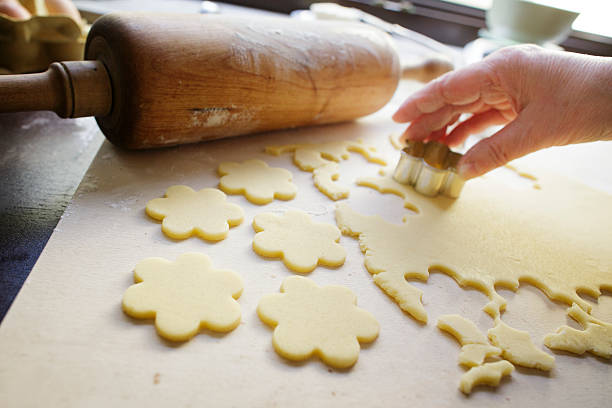 'Tis the season to be jolly, falalalala la la la' – unless of course you have a food intolerance or allergy. It seems that more and more of us are experiencing side effects after eating gluten – whether it be IBS, coeliac or just bloatedness. This time of year the carb loaded party foods are a no-no for some. However, many gluten free recipes can leave your mouth feeling incredibly dry and have a soapy kind of after taste. So here is a delightful, quick and easy Cranberry Christmas Cookie recipe that will leave you feeling in the festive spirit once more.
Gluten, Sugar Free Cranberry Christmas Cookie Recipe
Ingredients:
100g Butter
5 tablespoons of sweetener
50g Cranberries
175g Gluten free Plain flour
(options: Food colouring – I used green. Flavouring – vanilla essence 1tsp)
Method:
1. Pre-heat the oven to 190C
2. Cut grease proof paper to cover two baking trays.
3. Place the butter and sweetener into a mixing bowl and whisk until pale in colour and creamy in texture.
4. Whiz up the cranberries in a food processor, to chop them up into small pieces, then add them to the creamy mixture and mix using the whisk until fully incorporated.
5. Whisk in the flour until it forms a dough.
6. Sprinkle a little extra gluten free flour onto a clean surface, and roll out the dough to approx 0.5cm thickness. Use a cookie cutter, press down onto the dough to cut out the required shape. I used various sizes of star shaped ones, but ANY shape can be used.
7. Place onto the grease proof tray, then repeat the process until all of the dough has been used.
8. Place into the oven and bake for approximately 10 – 12 minutes depending on the size of shape. They will begin to turn a golden brown colour.
9. Remove from the oven using oven gloves, and leave to cool.
(N.B. I did put a very small amount of icing sugar and sprinkles on mine, and separated the layers with maltesers to give them height, therefore rendering my product not suitable for a diabetic. However, the biscuits themselves are.)
These biscuits can be adapted to suit any palette – you can change the fruit variety, add spices, change the shape or thickness. It's a great little recipe which can be made to suit any occasion.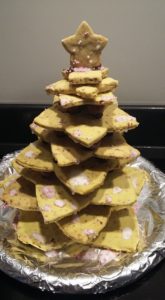 ENJOY!
"MERRY CHRISTMAS"
Main Image: