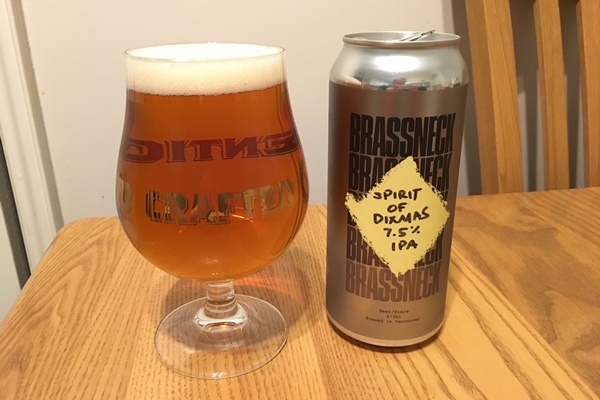 B.C. Beer Reviews is back on Boxing Day to bring you a new take on a Holiday beer. Where you would normally get a stout or a spiced beer, this is a traditional IPA. The Spirit of DIXmas IPA from Brassneck Brewery is not what you would expect this time of year, but a good one nonetheless.
B.C. Beer Reviews with Nic Hendrickson: Brassneck Brewery – Spirit of DIXmas
Brassneck Brewery is exactly what you would expect from a Vancouver brewery: hipster vibe, making the most of a smaller space and pretty darn good beer. This is showcased through their Changeling series and the Spirit of DIXmas.
The Spirit of DIXmas, however, is an interesting take on a seasonal release. Where you would normally expect darker beers, Brassneck brings you a very old school, traditional style IPA.
Colour
There is a deep amber hue, both in the pour and when the glass is full. This is spot on with a traditional IPA. Another thing about this is how fantastically clear it is. You can literally see straight through this one.
Nose/Aroma
Superbly fruity and pine scents pop right out of this beer. You notice these as soon as you crack it open, and even more when you are pouring it. You are smacked in the face with delicious tropical and somewhat citrus notes.
The citrus notes are much more subdued, and they sit in the background of the nose/aroma.
There is an almost muted scent from the malt/grain bill. It is very difficult to catch outside of the tropical fruit and citrus notes that dominate this beer.
Overall a delicious nose.
Tasting Notes
There are very present bitter notes throughout each drink. It is certainly not overpowering, but there is certainly a very strong bitter backbone to this one. The best way to categorize the bitterness would be strong notes of pine.
The fruity notes you get in the nose/aroma are still present, but not as powerfully. It adds a nice layer of complexity to the taste, making this beer more than a one-dimensional bitter IPA.
The citrus notes start to shine through a bit more as it starts to get warmer. Even though these do get much strong with time they are still very much a background note.
A nice, complex taste to this beer. Overall, very tasty if you like your beer on the bitter side.
Other Notes
The Spirit of DIXmas pours a decent head that is typically associated with traditional IPAs. The head retention is impressive as well. It holds its head for as long as you can hold off from taking your first drink.
The branding/labeling is unique to Brassneck Brewery. It has a very simple steel coloured back lay on every can. This is complimented with Brassneck in capital letters in layers behind a colourful blotch with the beer name and the ABV dead center. On the other side of the can is a picture of a random selection of their brewing equipment.
The carbonation level is moderate. This one is not exactly crisp and biting on the back end, but there is enough to have a nice crisp, clean finish to each drink to an otherwise very nice beer.
There is very little lacing to this one, surprisingly enough. There is a bit of lacing towards the top of the glass, but almost nothing after that.
Final Grade
If you like bitter beers, this is a nice change from the typical Christmas beer scene. It has a good bitter backbone that is clean and not at all overpowering. The typical piney notes that you would expect from a more "old school" IPA.
The colour and clarity are spot on with the style and done very well.
However, the nose/aroma is what really takes the cake in this beer. It smells absolutely delicious. This is all complimented nicely by the crisp and subtle carbonation levels in it.
Grade: 8.3/10
Want to see a beer featured in B.C. Beer Reviews? Comment below with your suggestion.
You can also see all the photos featured in B.C. Beer Reviews, and others that don't make it into these articles, by following me on Instagram: nhendy5. You can also see much more concise reviews of all the beers featured here up to 24 hours in advance by adding me on Untappd: RedArmyNic.
Main photo by Nic Hendrickson, Lastword Inc., all rights reserved