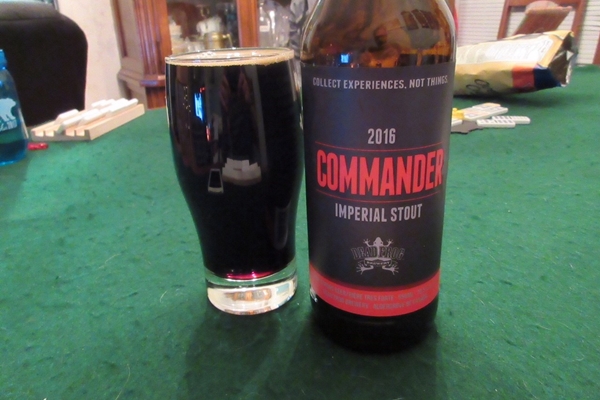 B.C. Beer Reviews is back to take a look at Dead Frog Brewing and their Commander Imperial Stout. This has been a mainstay in the Dead Frog lineup for quite some time. So, for the sake of seeing how it has aged, this will be taking a look at the 2016 version.
B.C. Beer Reviews with Nic Hendrickson: Dead Frog Brewing – Commander Imperial Stout (2016)
Dead Frog Brewing is one of the few breweries that has been around before the craft beer craze hit British Columbia. This has been in large part due to their consistent quality and multiple award-winning beers, with the Commander Imperial Stout being one of them.
Along with other beers, this edition of the Commander Imperial Stout won the gold medal for the North American Porter & Stout category at the 2016 B.C. Beer Awards. This is even more impressive when you take into account the company they had in the top three: the Stag & Pheasant Imperial Stout from Main Street Brewing and the Russian Imperial Stout from Moody Ales.
But enough about the awards it won, let's take a look at this one.
Colour
Simply put, this is dark as night. There is no seeing through this one. Both in the pour and when it is in the glass it is pitch black.
Nose/Aroma
The first notes that I caught in the nose/aroma were slight chocolate and coffee notes. These are very obviously a byproduct of the malt/grain bill used in the beer. Both of these notes are very obvious, but certainly not categorized as overpowering.
There is a nice boozy scent to this one as well. It is strong enough to notice, but it does not dominate the nose/aroma like boozy scents can. This is a fantastic compliment to the coffee and chocolate notes.
Tasting Notes
The first note you get, although very smooth, is a bit of a boozy taste. It is reminiscent of a whiskey barrel bite. It tastes like that type of alcohol, and it is certainly not sweet enough to be mistaken for bourbon. Dead Frog Brewing did a good job here.
As is the case with the nose/aroma, there is a very pleasant sweetness to this one. The bottle states that it is due to maple notes, but that is not nearly as obvious as the whiskey notes. There is a subtle chocolate taste to it, once again a product of the malt/grain bill here. This 'combats' the boozy notes perfectly.
The coffee notes you get in the nose/aroma are certainly the least present of the three.
This beer has aged very well. The biting note of the booze has mellowed out significantly. It has also blended fantastically with the sweet notes that are ever-present in this beer. The transition from one note to the next is extremely smooth.
There is very little hop notes to this beer. The bottle lists this one at 60 IBU from the usage of Bravo hops, but the aging has mellowed out the bitter and hoppy notes quite a bit.
Other Notes
The beer pours a moderate sized head. The head retention is average, but it really does not play any sort of significance to the nose/aroma coming through.
The labeling/branding is straightforward and simple. It has a black background with red lettering and a red stripe on the bottom of the label. The distinctive Dead Frog logo is there in subtle grey as well as their saying, "Collect experiences, not things".
The carbonation level is rather light. There is just enough to add a very slight crisp note on the back end of your palate, but you really do not notice it. For a 10.5% beer, this is surprisingly smooth-drinking.
Final Grade
There is a nice level of complexity to this beer to combat it being a one-trick pony. However, it is not complex to the point that there is too much going on. This finds the perfect medium between the two.
For a 10.5% Imperial Stout, it is surprisingly smooth-drinking. The carbonation level being light adds to that. It is not biting at all, which is somewhat surprising for a barrel aged beer.
Grade: 8.8/10
Want to see a beer featured in B.C. Beer Reviews? Comment below with your suggestion.
You can also see all of the photos featured in B.C. Beer Reviews, and some that don't make it in, by following me on Instagram: nhendy5. And you can see much more concise reviews up to 24 hours in advance by adding me on Untappd: RedArmyNic.
Main photo by Nic Hendrickson, Lastword Inc., all rights reserved