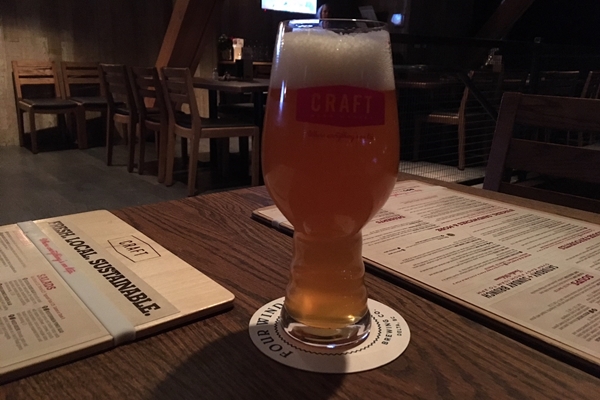 B.C. Beer Reviews is back again to take a look at a first-time entry. Mariner Brewing is a relatively new face to the B.C. beer scene, and their Northeast IPA is garnering some decent interest.
B.C. Beer Reviews with Nic Hendrickson: Mariner Brewing – Northeast IPA
Mariner Brewing is the first full-on craft brewery in Coquitlam, British Columbia. Breaking ground in a city of that size is both good news for them, and for the B.C. beer scene. This offers the citizens there to have a 'hometown' brewery, and people elsewhere to have another stop in the plethora of breweries in the lower mainland.
Let's take a look at one of their inaugural beers, their Northeast IPA.
Colour
This one is not as hazy as your typical Northeast IPA, but there is still a definite haze to it. It has a nice golden orange hue to it that is spot on with the 'hazy IPA' style that is becoming so popular.
Nose/Aroma
Pungent citrus and fruit notes smack you in the nostrils with this one. Tropical fruit notes are complimented nicely by citrus fruit notes like tangerine in the background.
There is zero malt/grain notes present in the nose/aroma. This hits the style spot on.
Tasting Notes
There is a very smooth and creamy taste to this beer. It drinks heavy, just like a Northeast IPA generally should.
You get the tropical and citrus notes almost immediately. They are not, however, anywhere near as powerful as they are in the nose/aroma
There is a very obvious bittering to this beer at the back end of your palate, but it is not pungent or resinous. It is well covered by the tropical and citrus notes that are everpresent in this one.
This is an overall very tasty Northeast IPA. Mariner Brewing hit the tasting note and the nose/aroma quite well with this one. It should be stated that this was off tap, meaning the flavours should pop out more than a canned or bottled beer that has been on the shelf for a bit.
Other Notes
This one pours a fairly significant head. The retention of the rather impressive head is equally as impressive. It stuck around as long as it took me to take my first drink of this tropical and citrus-scented beer.
The carbonation level is very noticeable. It is not biting, but it is certainly enough to give this one a nice, clean finish to each drink.
As stated in the tasting notes, this is a fantastically smooth-drinking beer. It is almost as smooth as drinking a 'session' beer. The glass will run dry in no time with how smoothly this one goes down.
The branding/labeling for Mariner Brewing is pretty sharp, to say the least. There is not a ton of flair to it, but they are certainly noticeable. The Northeast IPA is canned in a can with a bottom half of white and a top half of a nighttime sky with indistinguishable constellations.
There is a decent amount of lacing with this beer. There is not solid rings around the beer, but patches of lacing from the top to the bottom of the glass. This is certainly something you would come to expect of the style.
Final Grade
When judging it against other beers that claim to be a Northeast or 'hazy' IPA, this is a good representation of the style.
The nose/aroma is fantastic, with strong notes of tropical fruits and citrus side notes. The tasting notes fall pretty well in line with that, with very little surprises offered. This is not at all a bad thing.
The colour is hazy and a nice orange-ish hue to it makes it a very enticing beer to look at.
The best thing about this beer is how smooth it is. It would be extremely easy to crush a four pack of this beer on a nice, hot afternoon by the lakeside. It is very, very smooth and easy-drinking.
Grade: 8.2/10
Want to see a beer featured in B.C. Beer Reviews? Comment below with your suggestion.
You can also see all the photos used in B.C. Beer Reviews, as well as others not used, by following me on Instagram: nhendy5. And you can see much more concise reviews of all the beers featured in B.C. Beer Reviews up to 24 hours in advance by adding me on Untappd: RedArmyNic.
Main photo by Nic Hendrickson, Lastword Inc., all rights reserved