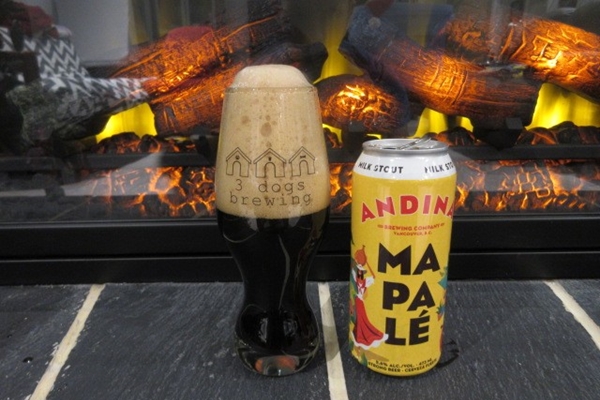 B.C. Beer Reviews is back to take a look at a first-time entry from Andina Brewing. We will be taking a look at what is a very popular style, the milk stout, and their take on it: Mapale Milk Stout.
B.C. Beer Reviews with Nic Hendrickson: Andina Brewing – Mapale Milk Stout
In case you are like me and were wondering where the name Andina Brewing came from, their website has a brief description.
It states, "Our brand is our essence, a reflection of our South American heritage combined with our developed identity as proud Canadians and more specifically British Columbians." It goes on to explain that the word Andina is how you refer to women from the Andes Mountains.
So there you have it! Now let's take a look at their Mapale Milk Stout.
Colour
Very dark brown, almost reminiscent of the colour of a darky nutty hue. It is even darker in the glass, fulfilling the mental image of a stout.
Nose/Aroma
The first thing that jumps out of the glass is a roasted aroma. This is from the use of roasted barley in the malt/grain bill. You also get hints of coffee in every sniff of this beer. Even in small amounts, roasted barley is known to impart these characteristics.
The malt/grain bill matches the milk stout style nicely.
This is definitely a very sweet nose/aroma, which is what you would come to expect from a milk stout. A bit of the sweet lactose aroma comes out to compliment the notes you get from the malt/grain bill. Very pleasant overall.
Another thing that you get, and they state this on the can, is a nutty aroma. It is hard to distinguish what nut it could be, but it is a very noticeable characteristic of the nose/aroma of this beer.
There is almost zero hop presence in the nose/aroma of this beer. That is just fine for this style.
Tasting Notes
The tasting notes match up well with the nose/aroma. The nutty and roasty aromas that you get follow through and become the dominant notes on your palate.
This is a very smooth-drinking milk stout. They state on the can that it is like drinking a nutty chocolate milkshake. You certainly get the nutty part of that, the lactose is definitely noticeable, but the chocolate taste is rather subdued in this one. Still a tasty beer overall.
Very smooth-drinking and sweet overall. If you are looking for a few words to sum it all up, those are them. It is a nice beer to warm up with in the colder months of the year, but would also be nice to sip on in the dusk of a summer night.
This one finishes fairly creamy, unsurprisingly. The creamy and coffee notes finish on the back of your palate and linger well after each drink is gone.
Other Notes
Andina Brewing has almost all of their beers labeled in the same fashion. A nice yellow background compliments the South American-style drawings on it. This one is pleasant, and the way the pictures are drawn look like a South American painting. Very pleasant labeling/branding on this can of beer.
This one pours a significant head. Even when you pour it slowly and meticulously it has a rather frothy head to it. The head that it has pours a very nice tan hue. Very inviting for the style.
The carbonation level in this beer is light, allowing the beer to be smooth and not have much crispness to it aside form the finishing coffee notes. Hits the style spot on and finishes very nicely.
Final Grade
The malt/grain bill and the lactose are very pleasant and present throughout smelling and tasting this beer. They hit the nail on the head for the milk stout style. Overall a very tasty beer, and one worth trying if you can find it.
Grade: 8.8/10
Want to see a beer featured in B.C. Beer Reviews? Comment below with your suggestion.
You can also see all of the photos featured in B.C. Beer Reviews, and some that do not make it in, by following me on Instagram: nhendy5. And if you want to see much more concise reviews up to 24 hours in advance you can also add me on Untappd: RedArmyNic.
Main photo by Nic Hendrickson, Lastword Inc., all rights reserved