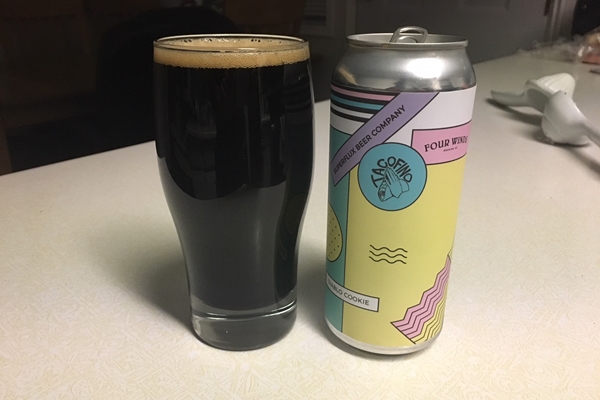 B.C. Beer Reviews is back to take a look at another collaboration beer. This was a collaboration between a relatively new brewery in Superflux Beer Company and Four Winds Brewing. Both have made themselves solid reputations, and this beer is certainly an interesting product of the teamwork.
B.C. Beer Reviews with Nic Hendrickson: Superflux Beer Company  – Diablo Cookie
Diablo Cookie is an interesting, and slightly intimidating, name for a beer. Its name says exactly what it is: a really hot cookie. There are a lot of smells and tastes coming into play in this one, and there are few beers that can match its complexity.
Let's take a look at this one.
Colour
This beer has a very dark brown hue to it. It pours a moderate brown of a normal porter, but looks much darker in the glass. You literally cannot see through this one.
Nose/Aroma
There is a significant presence in the nose/aroma of the malt/grain bill used in this one. This is something you would come to expect of a porter. You get a strong hit of what seems to be roasted barley right off the bat. That is just the beginning of what is a very complex nose/aroma.
Diablo Cookie's label states that cayenne peppers, cinnamon, vanilla, and ginger were used in the brewing process. Let's take a look at how each one came through here.
The vanilla is very noticeable in the nose/aroma of this beer, adding a nice sweet characteristic to it. The cinnamon is right up there with it in strength but plays second fiddle to the vanilla just a bit.
As for the ginger and the cayenne peppers, you do not get a ton of them in the nose/aroma. There are subtle hints of spice, but nothing significant overall from either here.
The malt/grain bill, vanilla, and cinnamon are the most dominant notes in this one for sure. This is a very tasty smelling porter, and it certainly hits the mark for smelling like a cookie.
Tasting Notes
This is quite possibly one of the most complex tasting porters I have ever had the pleasure of drinking. All the notes listed on the can are very noticeably present in this one, but they play well together and do not mask one another.
The first thing you get is the kick from ginger that you would typically expect. It throws you off balance a bit, but definitely in a good way (if you like ginger).
This is followed up by a heavy dose of vanilla, which helps to bring it back in the other direction and almost counteract the kick of the ginger.
The cinnamon is present throughout. It is not powerful, but it lingers on your palate throughout each sip of the beer. Very pleasant level of cinnamon as well.
The one thing that is the most interesting in this beer is the hot kick you get from the cayenne peppers on the back of your palate and into your throat. If you were wondering where the peppers came into play, you certainly are not anymore. There is a very solid amount of heat to this beer, but just enough to not be at an unpleasant level.
Overall, this is a massively complex beer. You would assume that with this many flavours coming into play that it would be a bit too busy and that you would miss out on one thing or another, but you don't. Great tasting beer.
Other Notes
The branding/labeling on the can is interesting, to say the least. There are all sorts of random symbols and linework accompanied by a nice mixture of pastel colours. Very pleasing to the eyes.
The head this beer poured was moderate. The head retention, however, was virtually nonexistent. It does not make a difference for this one.
The carbonation level is rather light. Enough to be noticed, but not enough to make any sort of difference on your palate.
As for the mouthfeel, it is fairly thin overall. The thin body and dry finish help to accentuate the effect of the cayenne peppers and make them more potent.
Final Grade
As you can tell by the name and the branding/labeling, this is a complex and somewhat weird beer. It is well-done and all of the ingredients shine through at one point or another. All in all, a great beer.
Grade: 8.8/10
Want to see a beer featured in B.C. Beer Reviews? Comment below with your suggestion.
You can also see all of the photos featured in B.C. Beer Reviews, and some that do not make it in, by following me on Instagram: nhendy5. And if you want to see more concise reviews up to 24 hours in advance, add me on Untappd: RedArmyNic.
Main photo by Nic Hendrickson, Lastword Inc., all rights reserved