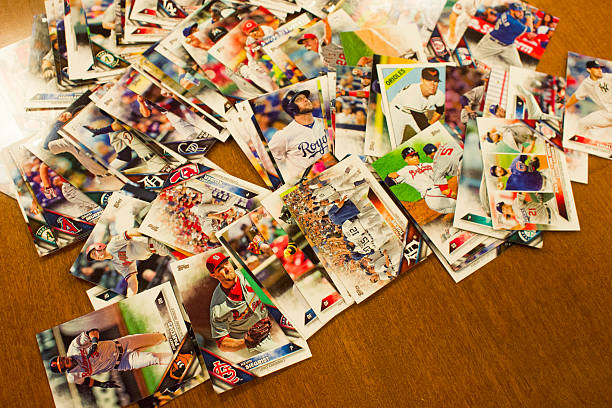 It feels so good to be back! You might remember my regular articles about three years ago in 2015 about card collecting and memorabilia.  Unfortunately I had to take a break as I had graduated college, was entering the workforce, and moved around.  I now have a full time job and have settled down both of which I am extremely thankful for.
Why do I Collect Sports Memorabilia? A Memoir
What did I miss in the collecting world?
So where does one start after being away for so long?  The card companies certainly didn't stop production while I was gone. There was some notable stories too. Panini recalled Dak Prescott autographed cards after Beckett determined he used an autopen to sign the cards. Panini guaranteed the autographs to be authentic and signed by Prescott to collectors. If only there was some guy who could have seen this kind of behavior coming from Panini. Say oh I don't know… like I did in 2015?
Nine year old Loren Smith wrote a letter to the Oakland Athletics, his favorite team, explaining he lost his entire collection (and home) to the California wildfires. The A's responded the only way they knew how, by offering to hook up his entire family with new gear and sending him some memorabilia to start a new collection. The story quickly spread and the baseball community came together to help Loren out. Several major and minor league clubs sent their own care packages, Topps sent their own care package, and the A's had a mailing address for fans to mail any donations to Loren. Of course I sent the little guy some A's cards including a few autographed and jersey cards.
Also the world's rarest Mickey Mantle baseball card was discovered. How rare? So rare that no one in the baseball card hobby had documented or cataloged the card's existence despite being made in the early 1950s.
Who am I and what do I know anyways?
While I gather myself and find my bearings for writing about cards after my absence, I thought this article would be a great way to introduce myself and explain why I collect. So hello, my name is Gabe Weeden, I am two weeks shy of turning 25 and have been collecting baseball cards for over 13 years now. I wrote almost 20 articles for LWOS three years ago on cards and collecting before having to take a break.
Now I'm back like Jordan wearing the 4 5. Like almost every little boy growing up, I dreamed of playing professional sports and collected cards. Of course back then I was young. Seeing big names like Mark McGwire, Sammy Sosa, and Derek Jeter was a big deal to me. Little did I know these were just base cards; I had no clue that cards came autographed, with pieces of game worn jerseys, inserts, refractors, numbered, etc.
Then my childhood friend and neighbor Ryan was also into sports opened my eyes. We were comparing cards when he showed me a special plastic box full of cards in cases. Inside were jersey relic cards and autographed cards; cards with pieces of bats. That was cool enough for a preteen boy, let alone that the player wore them in a game or used that bat in a game. I was starstruck; Here is a piece of baseball memorabilia in my hands! A little piece of history for me to own.
Luckily for me, one of the oldest running card shows in the United States was happening the same weekend for my birthday. Ryan and his dad invited me to tag along as a present.  Wall to wall in a Rhode Island hotel conference room, were dealers with tables and boxes full of cards. Fans. People who loved the game. Or so my little brain thought.
Sure they probably loved sports. But they loved making money even more. Regard, the first relic card I ever pulled was at this show, it was a dual jersey bat relic card of Josh Beckett numbered 216/250. He was still on the Florida Marlins and I still own this card to this day as a reminder of where it all started.
What keeps me going as a collector?
So why collect? Why do I do it? Sure there are other hobbies out there; some that are easier or some that are consider better investments. In my book there are two types of collectors: Those who are in it to make money and those who love the game, I fall into the latter.
I enjoy owning a small piece of baseball history. Every game is different. Every player has a story. It makes owning baseball memorabilia much more affordable for the average person. Collecting is a unique way to connect with a player. I own something Mike Trout wore and used in a game.  I'm touching a piece of cardboard that Bryce Harper touched and signed. To me, these are distinct opportunities to be part of the game I idolized growing up.
But who doesn't enjoy the thrill of a hunt? Opening packs and not knowing what it inside gives me that same euphoric rush that I can only describe as similar to scratching a lottery ticket. You know buying ahead of time you probably aren't going to win, but there's always that chance. And you can't win if you don't play.
Finally, cards are really becoming art. The graphic designers card companies who have to design these cards put a lot of effort into cards, putting creativity into the text design/font, the images of the player they choose to use, and the layout on the card. Gone are the days where you would just get the image of an player and some text at the bottom. Now they come in different colors and parallels.
But my favorite thing about collecting, the thing that probably keeps me going more than anything, is the people. Fellow collectors. Cards and memorabilia create a common interest, a bond for us to talk about.  I've met some fanatical collectors over the years, others who are eccentric, and some who are completely insufferable.
As a whole, the people are very friendly and welcoming.  Every card in someone's personal collection has a story.  Why did that card appeal to them that they don't want to part with it? What about that player/team makes that person want to collect them for life?  If I found 100 people with the same card in their collection, I'd hear 100 different stories about the card and its significance to them.
Collecting does not care about your age, gender, race, religion, political beliefs, job, hometown, or anything else.  It is a unifying bond that brings a large diverse group together whose reasons for collecting are just as unique as they are, a bond I am fortunate enough to be a part of.
Wanna share your collecting story or cards with me? Got a suggestion for an article? Leave it in the comments, email me or tweet at me.
Main Image: